Congratulations 2018 FH BASEBALL CHAMPIONS !!!
photo coming soon

Major League Champions
The Cage

PanCon League Champions
Cow Bay Contracting

photo coming soon
Int'l League Champions
Half Price Movers

Photo credits: Donna Schwab




2018 FH Baseball Post Season Schedules are Now Available!


Post Season Schedules for the Intn'l, Pan-Con and Major Leagues are now online. Click the "Post Season" tab on the SCHEDULES page for any of these leagues to see the dates and times of Division Playoff and Championship Games. Team names will be added to the schedule as they are known.



2018 FH Baseball Season Schedule is Now Posted


PLAY BALL !! -- Welcome back to another season of Forest Hills Baseball. Opening day for the 2018 Season is Saturday, April 7th.

The Official 2018 Season Schedule is now available online for the following divisions:





FH Baseball Managers and Coaches General Meeting




The next FH Baseball Managers and Coaches General Meeting is Wednesday, May 30th at 8:00PM at the FH Youth Activities Association Headquarters, 66-01 Fleet Street.

It is important that ALL teams from all leagues send a representative to this meeting. Please arrive on time!





Bench Dedication Ceremony for Carl Bobick - October 7th at 2PM



Carl Bobick

To all my friends and family, It has been nearly 4 months since my father lost his battle with cancer/liver disease. I am so grateful to have had the support system that all of you provided to me during these dark days. During this period, there have been many generous contributions made by awesome individuals in the Forest Hills neighborhood. These contributions were made to the Forest Hills Youth Athletic Association in honor of my father. I am extremely proud to announce that those contributions have been used to purchase a bench in honor of my Dad, Carl Bobick. On October 7th, we will be having a ceremony to dedicate the bench to Pop. We would like to extend the invitation to all of you great people who helped support us during our difficult time. If you would like to say a few words, anybody, we invite you to do so. The ceremony will take place on October 7th at 2:00 pm at the Forest Hills Little League fields at 66-01 Fleet Street. Thank you to all of the kind people who went above and beyond and made contributions so that this day could be possible. I look forward to seeing many of you there!

Much love everyone,
Eli Bobick
Upcoming Dates to Remember
April 7th - OPENING DAY
June 4th - All Star Games

For additional event information, click here to view our Calendar of Events.
The FHYAA lost one of its long standing volunteers
Coach Steve Boyle

Saturday August 5, 2017 - Steve Boyle was a wonderful father, husband, friend and coach. Ask any of the children what they thought of Coach Steve and with a smile they will tell you his bark was truly bigger than his bite. Steve was boisterous, passionate, dependable and a great asset to the Forest Hills community. He will be missed by all.

The Boyle family is holding a wake Thursday August 10th 2-4pm and 7-9pm at Krtil Funeral Home 1297 1st Ave (between 69th & 70th st) New York, NY. A mass will be celebrated Friday August 11th at 10 am Saint Joseph's Church 404 E 87th St (between York and 1st Ave) New York, NY 10128. We thank you all for the love and support during this difficult time.
Friday, June 2
It is with deep regret and much sadness that we inform the FHYAA community of the passing of Carl Bobick.
Carl passed away early this morning after a long and courageous battle with cancer. Carl was involved with the FHYAA and it's affiliated sports for over 25 years. Carl's greatest passion was seeing young children enter our program and watching them grow and improve their skills until they aged out as teenagers and young adults.
Carl will be greatly missed. The FHYAA extends our condolences to his entire family.
Larry Berkowitz
Executive Director
Forest Hills Youth Athletic Assoc.
Forest Hills Youth Baseball
Forest Hills Baseball - Fleet Street Fields
ADULT VOLUNTEERS NEEDED…
Because of this year's long winter and 2+ feet of snow still on the Fleet Street Fields, we unfortunately need adult volunteers to help us prepare the fields and grounds in time for Opening Day which is April 11th. We hope to start our preparation activities on Friday, March 13th (weather and field condition permitting).
Supervised activities include: raking leaves, shovel topsoil and infield mix, rock and debris removal, picnic and spectator area cleanup, light painting, gardening, pruning, portable fence setup, general ball field conditioning, turf maintenance, etc.
If interested in helping, please contact Larry at the clubhouse (718-544-2296) and leave your name, best phone#, email, activities you're able to help with and general availability (e.g. weekday hours and/or weekend hours). Someone will contact you soon thereafter. Also, if you are a professional plumber, electrician, carpenter or heavy machine operator, please let us know.
We thank you for your assistance and look forward to another great season!
2014 Opening Day Weekend Pictures - April 5, 2014
Opening Day Ceremony & Weekend pictures
Set 1 Ceremony and Weekend Pics (taken by Donna Schwab)
more pics will be posted soon
Thanks Donna for sharing the great photos with the league!
Infields #1 & #2 Get a Facelift !!



After consulting with many turf specialists, we concluded that the infield sod and running surfaces on fields #1 and #2 were in desperate need of repair. So we partnered with DeLea Sod Farms to help us renovate the infields. In less than two days, Michael Polikoff and Dexter assisted Jim DeLea and his crew to remove the sod from both infields, laser grade and level the entire infield area to a precisely crowned pitch using high-tech equipment, applied starter fertilizer, laid the sod and meticulously groomed the running surfaces. Thank you DeLea for a terrific job, we couldn't have done it without you!

Click here to view pictures of fields #1 & #2 before, during and after the renovation
Recently Added Picture Albums  click image below to view picture album
2011 Majors & PanCon AllStars
June 12th, 2011
Tree Planting Day
June 4th, 2011

2011 Opening Day Ceremonies
April 9th, 2011

2011 Opening Day Weekend
April 9th, 2011

click here to view--> | other picture albums |



Fleet Street Ballfields Tornado Cleanup Picture Albums click image below to view picture album



Tornado Cleanup
Day 1 - 2010

Tornado Cleanup
Day 2 - 2010

Tornado Cleanup
Day 3 - 2010

click here to view--> | other picture albums |

HELP US REPAIR OUR FIELDS
The FHYAA and Forest Hills Baseball Need Your Help !!!


On Thursday evening, September 16, Forest Hills was hit by a freak Tornado. The Fleet Street Fields lay directly in its path. Fields 2, 3, and 4 were severely damaged. At least 40 trees were blown down, the backstop on field 2 was destroyed, a water line from our sprinkler system was cut as a result of a falling tree, the bleachers on field 2 were damaged, and the scoreboard on field 3 was blown down and much of fencing on fields 2 & 3 were damaged. An electrical control panel from one of the light poles on field 3 was blown off. Numerous trees will need to be cut down as a safety measure.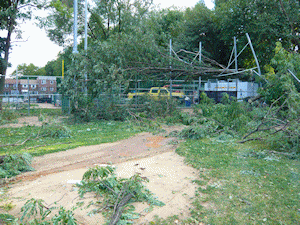 We need your help! The cost of the cleanup and repair will cost thousands of dollars. You can help by coming to the FHYAA Dinner Dance and Benefit Auction on Saturday, October 30, 2010. The event will take place at Bruno's On The Boulevard from 8pm until 1pm. Cost is $65.00 per person which includes cocktail hour, open bar, buffet dinner and dancing to the music of DJ Stevie Z. Halloween costumes are encourage but not required. We are now accepting reservations. Tickets will not be sold at the door. All adults are welcome.
To secure your spot, please send a check for $65 per person with your name and address to the FHYAA clubhouse at 66-01 Fleet Street, Forest Hills, New York, 11375, Attn: Larry Berkowitz. Download and print your response card
This event was previously scheduled before the storm hit. Now ALL proceeds from this event will be used for the repair and restoration from the storm. Please make your reservations now.
If you cannot come but can donate merchandise for the Benefit Auction and Raffles or make a monetary donation it would be greatly appreciated.
For more information call the clubhouse at 718-544-2296
Thanks for the Trees...
Forest Hills Baseball would like to thank New York Restoration Project and Million Trees NYC for donating over forty trees to our fields. The Forest Hills Baseball fields were hit hard by a tornado that ripped through parts of NYC last fall. As a result, the league lost over forty trees. The new trees will be planted all across the fields to be enjoyed by the community and the kids who come through each year. A special thanks to Brian Ross and Susan Kornacki who helped expedite the process.
FH Baseball is very grateful for your assistance.
Click here to view pictures of our kids and volunteers planting these trees !
Forest Hills Baseball Sponsors
click image to see our sponsors
Forest Hills Baseball would like to thank all of the local merchants and business' that have sponsored a team, purchased a field banner or yearbook advertisement this season. The league and our youngsters greatly appreciate your generous contributions.
Parents, please help support our community and sponsors.

Click here to see the FH Baseball sponsors.



Forest Hills Baseball In The News...



07/16/09; Queens Ledger - The Forest Hills Little League Rack Up Youngsters at 2009 Summer Baseball Camp

06/28/08; YourNabe.com - Boyle, Forest Hills down Bayside in District 26 first round
04/09/08; The Queens Gazette - Councilwoman Melinda Katz threw out first pitch for the Katz's Komets

06/02/1963; Long Island Press - Park City Defeats...
Important Notice for Parents
Please make every effort to have your child at the field 20-30 minutes before each game.

If during the game your child needs to leave the players dugout area, please notify one of the coaches.

Please make sure that your child's name or initials or written on their equipment (i.e baseball glove, bat, helmet...).

Please feel free to ask any of the coaches for assistance or advice, we love to talk.

If your child is unable to make a game or practice, please notify any coach within a reasonable amount of time.
Forest Hills Youth Activities Association
click logo for www.fhyaa.com
The official web site of the Forest Hills Youth Activities Association www.fhyaa.com. The FHYAA is dedicated to providing organized athletic programs for the youngsters of our Forest Hills, New York community. Please feel free to visit any of our web sites where you can get information about our leagues, teams, scores and game summaries. Find out if your game has been cancelled or rescheduled. Get valuable tips and drills for coaches, players and parents from the eteamz.com Instruction Section.

FINAL 2007 Little League Baseball, Tee-Ball, Pony and Girls' Softball Registration
click image to download and print
Forest Hills Little League, Tee-Ball, Pony and Girls' Softball Registration will take place on the following day(s) at FHYAA Headquarters, 66-01 Fleet Street, corner of Selfridge & Groton Streets (one block from Yellowstone Boulevard) adjacent to the Little League Baseball Fields. Due to limited facilities of playing fields, registrants will be accepted on a first come, first serve basis. For further information phone 718-544-2296.

Registration Dates:

Friday, January 5, 2007 (7:00PM to 9:00PM)
Saturday, January 6, 2007 (9:00AM to 12:00PM)

First 50 registrations are eligable to get a Limited Edition Coach Lenny Bobblehead

Registration Fees:

Little League (Ages 6-12) $150

Pony League (Ages 13-17) $185

Girls Softball (Ages 9-16) $100 New Program, full uniform, competitive rules...
Fees includes all expenses.

Registrant must appear in person with a parent or guardian who must present the registrant's birth certificate or certified record of date of birth. A $10 reduction for each additional sibling will be honored. Payment of the registration fee MUST be made at registration and may be in cash or check made payable to FOREST HILLS LITTLE LEAGUE. Download and print the FHLL Player Registration Form.





How To View Scores and Game Summaries


Please note that game summaries are displayed only if one was provided by the coach, manager or league official.

Click the Schedules link on the left-hand side of this page
Click the Division
Click the Game with a score to view the Game Summary.
or
To view recent game summaries, click headline below:
04/09/11 - Beautiful Start for an Opening Day!
04/14/11 - Way to Answer Back!




New FHLL and FHYAA Merchandise


Your purchase of the following merchandise will help support the FHYAA and the terrific programs they manage. Merchandise is on sale in the FHYAA clubhouse and each weekend (weather permitting) just outside the dugout entrance to field

#1 on the path that leads up to the ballfields.
Click item to enlarge image
FHLL Retro T-shirt ($10)
sizes: S,M,L,XL,2XL

FHLL Hooded Sweatshirt ($25)
sizes: S,M,L,XL,2XL

FHYAA T-shirt ($10)
sizes: S,M,L,XL,2XL

FHYAA Denim Shirt ($20)
sizes: S,M,L,XL,2XL

FHYAA Sweatshirt ($20)
sizes: S,M,L,XL,2XL

FHYAA Fleece Shirt ($30)
sizes: S,M,L,XL,2XL

FHYAA Golf Shirt ($20)
sizes: S,M,L,XL,2XL

FHLL Windshirt ($30)
sizes: S,M,L,XL,2XL

FHYAA Cap & Mug ($10 each)
one size fits all

Baseball Seam Bracelet ($10)
(3 for $25) one size fits all

Softball Seam Bracelet ($10)
(3 for $25) one size fits all

FHLL Baseball Caps ($10 each)
one size fits all

FH Softball Hoodie ($20)
sizes: S,M,L,XL,2XL

FH Softball Hoodie ($20)
sizes: S,M,L,XL,2XL

FH Softball Sweats ($20)
sizes: S,M,L,XL,2XL
For additional information on when and where to purchase merchandise, please contact Larry Berkowitz at 718-544-2296



Fleet Street Ballfield and Facilities Improvements - We've Been Busy!!


The FHYAA and FH Baseball would like to share with you some of the recent major field and facility improvements that have been made. We are very proud of these accomplishments and look forward to continuing these efforts thoughout the 2009 Baseball and Soccer seasons. Future projects and status will be posted on the web site as they become available.
 

New Lights for evening play on fields 1, 2 & 3
New scoreboard on field 3
New clay infield for girls' softball on field 3
New outfield fence on field 3
New golf cart to assist family members with limited mobility access the upper fields
New spectator stands for field 4
New baseball equipment (bats, helmets, catchers gear...)
New Fundraising support banners on outfield fences
Ongoing general grounds improvement projects
Ongoing FHYAA clubhouse building improvements


Danny, Jesse, Brett, Tom and Matthew clearing debris
click here to view more pictures
We would like to take this opportunity to thank our Facilities Director, Tom Brennan for his dedication, guidance and supervision of the many improvements that have been made. Additionally, we would like to thank our groundskeepers Dexter Phillips, Robert Schmuck and Carl Bobick for their continued support and hard work.

Special thanks to the following people for helping to get the fields in shape for Opening Day: Matthew Brennan, Larry Teper and Michael Polikoff. There are many other volunteers that assisted in these efforts, we hope to acknowledge them by name in the coming weeks.

If you are interested in volunteering your time or would like to donate money to assist with future projects and fundraising efforts, please contact Larry Berkowitz or any league official at the fields. Your support is needed and always greatly appreciated.