Vistancia Football: Welcome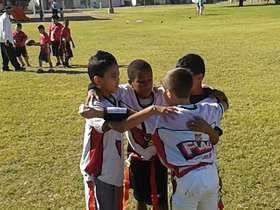 Arizona Cardinals NFL Flag Football Leagues
Football Arizona: Flag Football & Cheer
NFL FLAG Powered by USA Football provides opportunities for children age 5-17 to enjoy America's favorite sport. Players benefit by being physically active through non-contact, continuous action while learning the fundamentals of football, lessons in teamwork and sportsmanship.

Our program serves local Schools and neighboring communites from South Mountain to North Mountain up and down the central Phoenix cooridor. We accept all skill levels welcome and everyone plays.
The leagues are "kid" driven with instruction in basic athletic and life skills. Our goal is to provide within each athlete, parents and coaches a spiritual outlet through sports and to develop within each athlete, strong values and attitudes. Everyone plays!
Managed by Coach Mo, an Air Force Veteran with over 25 years of coaching experience, our leagues are designed to develop football players who possess or wish to develop skills necessary to play to their highest potential. On the field, our staff will instruct players and conduct a wide variety of drills aimed at perfecting their individual technique, physical and spiritual fitness.
To Join, text message or call (480) 217-0175 or email us at coachmo@live.com
Click Here to Register online
Tuesday, August 22
REGISTER FOR ARIZONA CARDINALS FLAG FOOTBALL
Cardinals NFL Flag Football registration and minicamp resumes Saturday's during practice & agility drills and registration on south athletic fields at Vistancia Elementary School. Registration is $100 for returning players with a jersey, $125 for new members.
Vistancia Football is open to all students in the Vistancia community.
Players should bring sneakers and/or cleats and comfortable athletic attire.
Click here for details, text Coach Mo for details at 6022289695 or email at us coachmo@live.com