Fort Osage Indians Athletic Association: Welcome
Thursday, November 21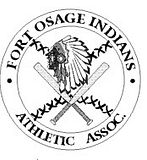 Welcome to the F.O.I.A.A. Website
FYI
2013 FORT OSAGE BASEBALL WINTER CAMP
Who: Grades 3rd thru 8th
When: December 27th 1:00pm-4:00pm
Where: Fort Osage High School Varsity Gym
Cost: $25.00
Go to the handout section of this website to download the form. Fill it out and bring with you on the day of the camp.
Friday, May 17
2013 Upcoming Events & Important Dates to Remember
Mark your calendars!
Make-up Picture Day - Saturday June 8th (Any questions contact Brian Williams 816-805-4701)
Picture Day - Saturday 5/11/2013 @ the ball fields
Draft Night - 03/18/2013 Fort Osage High School Cafeteria @ 7:00pm
Coach's Meeting - 03/12/2013 Fort Osage High School Cafeteria 7:00 - 9:00pm
Registration Deadline - 03/15/2013 CLOSED
Season Starts - 04/29/2013
Thursday, April 18
Rain Out & Weather Info
For rain-out and weather cancellations call -
Fort Osage & Blue Springs 816-292-2800
Oak Grove - 816-690-4003
Queen City 816-325-7999
Grain Valley 816-847-6246
Monday, February 18
Fort Osage Weather Line.
Please call this number for rain out information. The info will be updated 2 hours before the first game of the day.
816-292-2800, ext. 02
Thursday, April 18
2013 Rules
FOIAA Will Use USSSA Rules In 2013.
(New USSSA Bat Rules WILL NOT be in effect For The 2013 FOIAA Leauge but any USSSA sanctioned tournaments will have the new bat rule in effect.)
Monday, January 7
Suggestions for 2013 Season Improvements
It is our intent to continue to provide a constructive experience and a pleasant, family-oriented atmosphere for players and their families. We are making changes to improve the league and we want to hear your suggestions! Please let us know what you would like to see in changed and improved for 2013 and future seasons. Your input is greatly appreciated!
Thank you,
Board of Directors