Thursday, February 26
Welcome
Fobia started out in 1998. We like to have fun on and off the field. We like to participate in tournaments year around inlcuding the Las Veagas Tournament early in the year and the 6 vs 6 Summer Sizzler. Off the field we like to hang out take in professiona club and college soccer games too. We also like to attend each others weddings, graduations, and other special events.
We're currently playing in the highest division in the Orange County Wome's Soccer League. The league has two seasons - spring and fall. Spring runs from March through June and the Fall from September through January.
The team has a full compliment of equipment including 4 sets of team jerseys, training bibbs, balls, small training nets, a prortable full size net, and an equipment bag.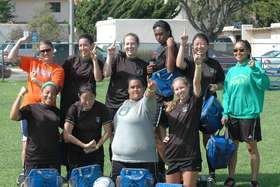 Fobia! 2012 OCWSL Summer Sizzler Champs
Monday, July 23


6 vs 6 Summer Sizzler 2012 - Champions!!




Champs again!

We took a team that had never played in the 6vs6 tournament and we lost the first game 6-4 against Washuz but you could tell that this group of players where not easly phased.

The second game was against the OCWSL Open division champs - The Has Beens who looked like the USWNT. To almost everyone's suprised we tied them 4-4.

Third game was against Focus who 3 tournaments ago beat a Very good Fobia team. They are fisical and that easily beaten the Washu. We tied them too 5-5. Coming from behind after giving up 2 early and easy goals. No problem - this team would not be phased.

We ended up finishing 3rd and played Focus again in the first round. We thrashed them 6-1. But only after as scoreless and nerve recking first 5 minutes were both teams missed a couple of shots.

This set us up against The Has Beens who also easly finished off their opponent. It was obvious they didn't give us enough credit - bunch of little 18 year olds. Ooops, we had them 0-2 before they realized they had their hands full. You could feel them cranking up the intensity. So much so that there was a small shoving match between some players and they were yellow carded. Each team had to play short for 5 minutes. They took advantage of this and tie us. We took the lead again only to have them catch us - twice. The game ended tied 4-4 and it went to PKs.

Here is where the girls really showed courage. Our only miss was due to a great save by their keeper but on the 9th penatly kick Corrin made a great save and we took home the blue cooler bags!!

Top: CJ, Allison, Stephanie, Casey, Allie, Alissa

Bottom Row: Keyana, Nikki, Corrin, Alexis

Not in Picture Jocelyn



Saturday, July 17


6vs6 Summer Sizzler 2010


Fobia will be participating in this year's OCWSL 6 vs 6 Tournament held on July 25th at Corona Del Mar High School. Come down and root us on. Schedule to follow.

Sunday, August 9


Summer Sizzler 2009




Fobia played in the 2009 Summer Sizzler 6vs6 Tournament. We had a great time! We won 5 out of 6 games coming in second. The first game was tough (as aways) then we breezed through to the finals. Luck wasn't with us as we missed several close shots - 1/2 foot here ... another there. Focus did want they had to do and we congratulate them.

Top row : Sofie, Alissa, Amy, Hillary, and Jeanette

Bottom: Tracy, Jacquelyn, Reauna, Amy, Amy, and Megan