Wednesday, December 3
Future Lady Knights
Welcome. The Future Lady Knights was formed in 1997, and is dedicated to help female athletes (3rd grade -8th grade), who intend on attending Assumption High School, Davenport, Iowa obtain a competitive and developmental basketball experience. The girls are on basketball teams with other girls who are going to Assumption. FLK teaches the girls individually and as a team the work ethic and fundamentals to be better basketball players and the life skills to become better persons. In 2014-15, the FLK is in its 18th year. FLK is inclusive and will give the opportunity to girls who are ready and willing to learn and develop their individual and team fundamental skills in a competitive setting. The degree of committment and competitiveness for the girls in FLK increases each year, especially in the upper grades.
Coach Rachael Milliman is in her second year as Assumption's Varsity head coach (2014-15). Coach Milliman played college basketball at Depaul University (2004-07) and at Univ. of Michigan (2002-2004). She was captain of the Depaul team that was ranked 10th in the nation and reached the sweet 16. She attended Luke Powers High School in Flint Michigan, and was the captain of her high school team that won back to back state championships in 2000 and 2001, and she was awarded All-State honors .
The Assumption varsity girls team are Three-Pete winners of Iowa State Championship, winning the Iowa State Championship in 2012- 2013, and 2011-2012, and 2010-2011 and won the school's first State Championship in 2007-2008.
In 2012-2013 and 2011-2012 the Lady Knights were the undefeated MAC conference champs, and in 2012-2013 were the MAC conference champs for 10 years straight. What remarkable decade for the girls basketball teams.
The seniors this year on the AHS varsity team in 2013-14 were Kennedy King, Sarah Matson, Madi Irmen, & Jamie White, (all former FLK players). They lead the juniors (Maddi Smith, Shannon Leon, Riley Behan, Erin Jennings, Christine Rohlf, Makenzie Roman, & Sikama, and the sophmores (Elizabeth Bush, Amy Yager, Belle Thrapp) and freshman (Jasmine Harris) to another State Qualifing team to play in Des Moines.
The 2012-2013 championship team were lead by seniors Hailey Schneden, Mary Kate Fennelly, Danielle Moore, Kate Fennelly, Morgan Pavlich, Kristen Ketellaar, and Megan Leabo, several of whom were starters for 3 years (and all are former FLK players). For 2013-14 the returning letterman seniors , who all were on the State Championship team, are Danielle Cabel, Maddie Irmen, Kennedy King, Sarah Matson, Grace Ambrose, Sydney Verdi, Madelyn Frommelt, Claire Bird and sophmore Riley Behan and Mackenzie Roman.
The state championship team of 2010-12 were blessed with Assumption varsity players of senior leadership of Melissa Youngblut, Emma Ambrose, Sam Johannsen, Abbey Strajack and Hailey Fox. The State Championship team of 2011-12 were lead by seniors Kate Herrig, Grace Fennelly, Kelsey Klein, Jasmine Binion and Katheryn Matson and sophmores Hailey Schneden, Danielle Moore, Kate Fennelly, Mary Kate Fennelly. All of the varsity players were part of the FLK program.
In 2009-10 the Assumption girls varsity basketball team lead by seniors Sam Thrapp, Allison Spinas Valinais , Morgan Steffen, Sam Hollunbeck, and Hannah Adams (all former FLK players) again were the MAC conference champions. For the 7th straight year the Assumption varsity girls were district winners in the State tourney and were playing for the state tourney trophy in Des Moines. The team was fun to watch all year and made it to the elite eight in Des Moines, finishing with a 22-3 record.
In 2007-08 the varsity AHS girls had a perfect undefeated season (27-0) and won the Iowa State Championship. All of the girls on the 2007-08 varsity team had all gone through the FLK program.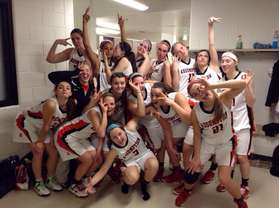 AHS varsity 2013.2014
Monday, August 24
FLK skills camp starts September 2015 to mid February 2016
The FLK skills camp begins Saturday September 19, 2015 at AHS at 8:00AM for the 3rd grade 9:15AM for the 4th grade and 10:35AM for the 5th grade.
Monday, August 24
FLK - is into its 19th year: Did you Know
FUTURE LADY KNIGHTS.
DID YOU KNOW…..
FLK was started to help the girls that were going to go to Assumption learn the fundamentals of basketball, both individual & team skills, and on a competitive basketball team by 6th, 7th & 8th grade. FLK is for those girls who intend to go to Assumption High School.Our players are taught sportsmanship, discipline, responsibility, commitment and how to expect to win.
FLK is a program that teaches the fundamentals of basketball to girls in 3rd to 8th grade.
The Freshman team at AHS has been 238-15 in the past 12 years (an average of 20-1/year).

In the five years before the FLK players reached the varsity as juniors and seniors, the Assumption girls varsity teams had a total record of 65 wins – 47 losses.

For

the past seven years thereafter, when the FLK players were on the varsity as sophomores, juniors and seniors, and the Assumption varsity record was 166 wins – 31 losses (81.2%). As of 2012, AHS won the MAC conference each year for 10 straight years and were undefeated 6 of 10 years.
A girl in FLK has the opportunity to have skills camp and plays league games in 3rd grade.

Skills camps continue for 4th and 5th grade and there are league and tournament games.

Tournaments are played in 4th, 5th, 6th, 7th and 8th grade teams in Iowa and Illinois.

The 7th and 8th grade FLK teams also play summer ball and have traveled to summer tournaments in Iowa, Illinois, Wisconsin, Missouri, Indiana and Ohio.
Girls in the FLK basketball program also do soccer, swimming, softball, tennis, golf, track, volleyball, dance, cheerleading, band, music, & mock trial.

Many of the FLK girls are on the academic honor rolls of their respective grade schools.

All the FLK girls go to Mass as a team in the summer when they travel to out-of-town tournaments.


Thursday, January 15


Tips for Parents


The Key to

Peak Performance


The role that parents play in the life of a young athlete has a tremendous impact on their experience. Here are some reminders to help keep this in mind.
Let the coahes coach: Leave the coaching up to the coaches. This includes

motivating your child

for practice, after game critiquing, setting goals, requiring additional training, etc. You have entrusted the care of your player to these coaches and they need to be free to do their job. If a player has too many coaches, it is confusing for him and his performance will usually decline. This doesn't mean there is anything wrong with spending time with your child on your own throwing the ball around or shooting hoops but do it as a parent not as a coach.
Support the program: Get involved. Volunteer! Help out with fundraisers, car-pool, anything to support the program.
Be your child's best fan: Support your child unconditionally. Do not withdraw love when your child performs poorly. Your child should never have to perform to win your love.
Support and root for all players on both teams: Foster teamwork. Your child's teammates are not the enemy, nor is the other team. When you childrens teammates are playing better than your child or the other team is playing better than your child's team, your child has an important opportunity to learn.
Do not bribe or offer incentives: Your job is not to motivate. Leave this to the coaches and their staff. Bribes will distract your child from focusing on team play.
Encourage your child to talk with the coaches: If your child is having difficulties in practice or games, or can't make a practice, etc., encourage them to speak directly to the coaches. This "responsibility taking" is a big part of the learning process. By handling the off-field tasks, your child is claiming ownership of all aspects of the game.
Understand and display appropriate game behavior: Respect the game. It has a long tradition. Thousands of people are involved because they love the game. Sportsmanship is learned and can be taught. What you do should be of the quality that you would want your activities and words recorded and then replayed for all to see. Remember, your child's self-esteem and game performance is at stake. Be supportive and cheer. To perform to the best of their ability, a player nees to focus on the parts of the game they can control; fitness, positioning, decision making, skill, aggressiveness, etc.. If they start to focus on things they can not control; field conditions, the referee, the weather, the opponent, etc., they will not play up to their ability.
Monitor eating and sleeping habits: Be sure your child is eating the proper foods and getting adequate rest.
Help your child set the right priorities: Help your child maintain a focus on schoolwork, relationships, church, God and other things in life besides sports. If the child has committed to a sport make sure that the committment is kept.




FLK 7th grade Champs in 2014 (class 2019) future AHS Champs
view full size
Monday, August 4
FLK 7th grade take Second Place at the Nationals in Chicago in July 2014
The FLK 7th grade team won Second Place at the summer Nationals in Chicago in July 2014. (In 2011 the FLK 6th grade team took second place at summer nationals in Blooimington Ill). The FLK summer 7th grade team is the fourth FLK team in 14 years to make it to the championship game at nationals.
The girls really came together during the 5 day national event in Chicago Ill. The 7th grade actually played as two evenly split groups at nationals. One team was third (lost in the semi-finals to the eventual champ). The other group took the final championship game to double overtime and lost by 1 point. As players and as a team, the girls evolved and grew. Each girl showed something new and improved in her ability. No girl ever quit. Each girl believed she could win and played like the team should win. As a team and as individuals, the girls proved their heart and ability. All week the girls played smart and hard, so that by the Saturday night when they were seated by the other coaches for single elimination play on Sunday, one group earned their first place seating and the other group was seated thrid. The third seated group took the silver medals.
The 2014 summer FLK 7th grade team are: Lea N., Ali T., Laureen H., Emma VanS. Ellie B., Jenny S., Lacey W., Anna VdH., Madi M, Olivia L., Ellie I., Olivia L., Sam R., Peyton H., Paige M., Eryn A., Sarah T. (hurt or on vacation during nationals were: Carly K., Laureen D., Josie B.), are establishing themselves as force. We , as coaches, have high expectations of the team for this winter season and are excited to get to coach each girl again.
Monday, June 27
8th Grade are UNI Champs June 25-26 2011 and Monmouth Champs June 18-19, 2011
8th grade (FLK 2010-11) team of

Shannon, Riley, Aly, Madi, Rahael, Ellie, Christine, Katherine and

Erin did a great

The 8th grade also won the tourney at Monmouth College on June 18-19, 2011,

going 5-0 beating a varisty team, a Jr varsity team, a sophmore/frosh team and 8th grade team.

The team is 10-2 for June 2011.



Tuesday, February 2


Honor Role 2009-2010




The FLK 8th grade is 28-7 (as of Feb 1, 2010) (80%)

Champions at Keokuk tourney (3-0)

Champions at North Liberty tourney (3-0)

Champions at Mid-Prairie (2-0)

Champions at Bettendorf Tourney (3-0)

Champions at Baseline Thanksgiving tourney (3-0)

Baseline tourney (2nd place 2-1)

Dubuque tourney (2nd place 3-1)

The FLK 7th grade are 17-15 (as of 2/1/10)

Champions at Mid-Prairie (2-0)

Bettendort Tourney (2nd place 2-1)

Baseline Tourney (2nd place 2-1)

Keokuk tourney (3rd place)



Monday, March 2


TEAM NEWS 2008-2009 - 8th grade and 7th grade Teams of the Month




The 8th & 7th grade FLK are featured as the Team of the Month for Janaury 2009 in the Iowa Sports Connection magazine and on its web site.

The last tourney of the season was the AAU 8th grade tourney at Des Moines. FLK was the only school team in the Final Four and took 4th place. All of the other teams in the final four were the recruited true "aau" type teams, not school teams. The FLK 8th grade girls beat the Dowling Mac 8th grade (43-35) and Xavier (29-21) and Ankeny (50-44) and one of the All Iowa Attack teams (43-29), in one of their best agames all year. In the quarter finals we meet the eventual tourney winner (All Iowa Attack -red) and played them closer than anyone else in the tourney, holding them to only 46 points (most of their other games were in 60-70 pts) and losing by only 23 (the closest of any one in the tourney). The All Iowa Atack, CR Panthers teams and the other similar "aau" teams have recruited players who try out for the travel team and live over 100+ miles from the gym which is the coach's home location. The girls on such teams do not go to the same high school. These type of teams have hand selected players who are selected after try-outs. The girls on those type of teams, travel a long way2+ each week to practice. They pay a thousands of dollars per season to be on teams with their paid coaches. Nevertheless the FLK teams have been able to compete with such teams year end and year out.

In February the 8th grade won the Cedar Rapids Washington tourney 3-0 and the MAYB Oskaloosa tourney 3-0, and the Keokuk toureny 5-0. At Keokuk they played good competition from that area of Iowa and from Missiouri. At Keokuk it five games in one day. Few teams can play that many games and win so beautifully. Each game was a remarkable thing to watch. The girls are understanding the game, improving as players and a s at eam. The seem to be having more and more fun each week.

If the girls continue to improve in high school as they have the past 2 years, they could win another state championship at Assumption. The team is now 52-10 (83.3%) for the 2008-09 winter season and having won 12 of 16 tourneys (& were 2nd in one tourney).

The 7th grade FLK won the Cedar Rapids Washington tourney 3-0 on Feb 7th, and took second place at the Washington Iowa tourney on January 24, 2009, losing by only 1 point in the final seconds to Washington (that purportedly had several 8th graders on it). This game of at Washington Iowa involved great play and great heart by the girls. The girls rallied from a 6 point deficit with about 4 minutes to play againts the home team that had a loud student cheering section. The 7th grade used its full court press to its advantage in the fourth quarter, and and were up by 5 points with a minute to play. Then two turn overs, a few phantom fouls and a "camp-out" in the lane allowed this one to slip away in the final seconds. Yet the girls learned some important lessons. You want to be up by 10 points going into the 4th quarter when you are playing the home team in the championship game on their court. "Home court advantage" has a real meaning. The 7th grade team has been in 9 championship games of the 15 tourneys that they have played, and have won 3, took silver in 5, and bronze in 2 tourneys .

The team is 34-18 (65.3%) for the 2008-09 winter season and were in 9 championship games of the 15 tourneys.

ALWAYS BE YOUR BEST!

When you think it doesn't matter
if you fail or pass the test.
Keep in mind the reason why
you should always be your best.

While the whole world may not notice
if you tried to give your all,
there is a person in you
to whom it matters if you fall.

That little voice inside you -
which directs your thoughts each day -
will make the final judgement
if you won or lost each day.

Never can you fail yourself
if you give it all you've got.
The world extends a hand to you
when you give life your best shot.

For all that really matters
when you're finished with your test,
is not the final score at all -
but did you do your best?

- Tom Krause
2004




Monday, August 10


TEAM NEWS - 6th grade




ALWAYS MAINTAIN A POSITIVE ATTITUDE

Many years ago, a large American shoe manufacturer sent two sales reps out to different parts of the Australian outback to see if they could drum up some business among the aborigines. Some time later, the company received telegrams from both agents. The first one said, "No business here... natives don't wear shoes." The second one said, "Great opportunity here... natives don't wear shoes!"

Friday, August 22


TEAM NEWS -5th grade




"I CAN ACCEPT FAILURE, BUT I CAN'T ACCEPT NOT TRYING."....
.......Michael Jordan



Sunday, August 9


Team News 4th grade


"The biggest mistake an athlete can make is to be afraid to make one."....anonymous

Wednesday, July 29


2009 FLK Girls of Summer




The 8th grade girls playing 2009 summer basketball were: Maddie Irmen, Grace Ambrose, Madeline Frommelt, Danielle Cabel, Sarah Matson, Jamie Miller, Kennedy King. On the injured reserve list was Rose Ripslinger and Elisa Castro. The girls improved greatly and played in 27 games winning most of their games in the in 4 tourneys and league games played and played at Bloomington Ill. , Pekin Ill. and Davenport Ia. We look for really good things from this group of 8-10 players in their final fall-winter season with FLK. (See the team photo above)

On the 7th grade summer team were: Madison Smith, Shannon Leon, Erin Jennings, Savannah Moeller, Alyson Coiner, Riley Behan, Catherine Crosby & Cara Mack. This core group of girls will have a jump ahead of the other FLK players that are expected to return to the team in the fall. The girls played 28 games in 4 tourneys and league games in Bloomiington Il., Pekin Il., and Davenport, Ia.



Monday, March 3


Assumption Lady Knights are Perfect Winning the State Championship and Finishing the Season 27-0




The Lady Knights are the girls 2A state champions, finishing the year 27-0, and defeating a great opponent, MFL Mar Mac, who was ranked no. 2 by the State at the end of the regular season. In the finals it was the no.1 ranked Assumption Lady Knights against the no. 2 ranked, then undefeated, Mar Mac Bulldogs in the final game on Friday night Feb 29, 2008. In a thrilling defensive oriented game the Knights won 46-27, holding the Bulldogs to the lowest score they had all year. Having been to the state tourney in Des Moines for the past four consecutive years and ending those years at the final four or elete eight level, this year things were to be different. This year the Knights got to the final game, for the second time in school history. This time for the first time in school history, the girls win the championship game and take home the State 2A championship trophy. The girls program has joined the Assumption boys program in expecting to be at state each year and win it.
This group of girls are a true team. Every girl sacrificed for the good of the whole team. Every girl tried to make her teammate better, and no one seemed to care about "stats". Each girl on the team may have been able to start at any other team in the conference. Indeed some say that the second best team in the MAC this year is the second team on the Knights.
In the final three games at state, the team lead all schools shooting .458 from the field and scoring an average of 58 points/game
Seniors Laureen Lybbert and Anne Smith were chosen to the all 2A tourney team. Senior Gabby Binion had a season high, and a school record, for assists. Laurren Lybbert was chosen 1st team All State team. Gabby Binion and Anne Smith were selected to the 2nd team All-State