FLETCHER HILLS LITTLE LEAGUE: Welcome
Please visit our new website by clicking
HERE
or by going to
fletcherhillslittleleague.com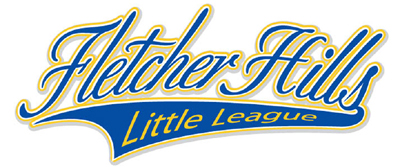 Friday, February 20
NEW WEBSITE!!!
Please visit our new website by clicking
HERE
or by going to
fletcherhillslittleleague.com
Tuesday, January 27
Important Dates!
Attention ALL FHLL Families…..the 2015 season is about to begin…please check the important list of dates and events below!
Feb. 28
Opening Day
Team Photos 7:30-11am
Opening Day Ceremonies 11:30am
Majors Field
Monday, January 12
Online Registration has ended.
If you have any questions regarding registration for the 2015 Spring Season,
please contact the Player Agent, Erik Weichelt at fhllerik@gmail.com
Tuesday, August 13
Join the Fletcher Hills L.L. Email Distribution