Florida Dixie Boys Baseball: Welcome
Monday, May 23
Welcome to the Florida Dixie Boys & Majors Website!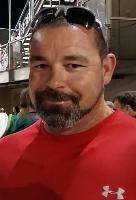 Brian Simmons
Florida Dixie Boys mourns with the passing of Brian Simmons. Brian served as Florida District Six Director. Visitation will be Saturday, May 28th from 9-11 am: First Baptist Church - 125 West Anderson Avenue- Bushnell, Florida 33513. The funeral will be held at 1:00 PM. In lieu of flowers, donations can be made to the Brian Simmons Scholarship Fund at South Sumpter High School!
---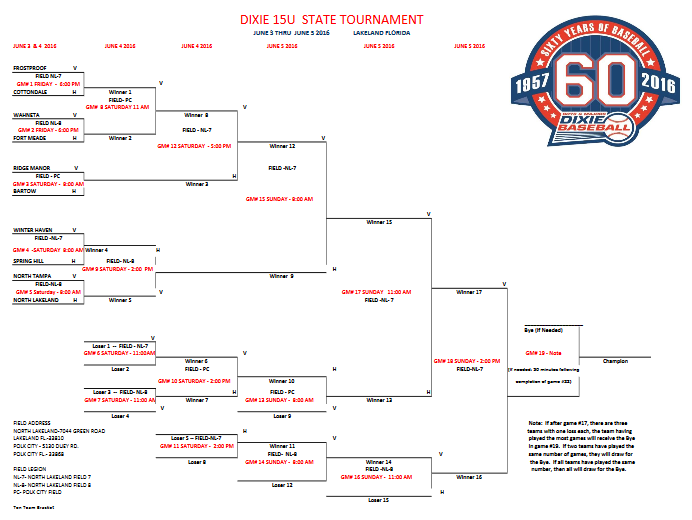 Dixie 15U Florida State Tournament June 3rd-5th, 2016 - Lakeland, FL
---
Check out the "Handouts" section to view the 2016 Florida Boys & Majors Dixie State Tournament Power Point Presentation.
The Florida Dixie Baseball & Softball meeting was held in Lake City, Florida on January 23, 2016. A good number of leagues were present. If you need rulebooks or have questions related to the program, Contact:
Frank Hagler, State Director C (850) 319- 3858 jack.hagler@westrock.com
or:
Denise Stallings, Assistant State Director C (407) 509-0492 denisestallings44@gmail.com
Florida Dixie Boys & Majors congratulates Spring Hill, Florida on winning the 2015 Junior Boys World Series held in Aiken, South Carolina. The Spring Hill team went 6-0 during the tournament to capture the title!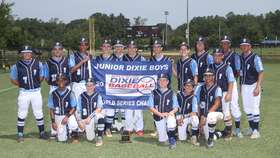 2015 Junior Boys World Series Champions