Florida Dixie Boys Baseball: Welcome
Thursday, March 14
David Scott Manley
March 23rd, 1969-December 3rd, 2013
David Scott Manley, 44, of Eustis, passed away Tuesday, December 3, 2013. Born in Staten Island, New York, he moved to Eustis in 2002 from Staten Island, New York. He was a Carpenter and was Catholic. David is survived by his wife, Lisa Manley, Eustis, FL; 2 sons, David Manley, Eustis, FL, Jonathan Manley, Eustis, FL; mother, Marylou Manley of New York; brother, Louis Manley, Merritt Island, FL; numerous nieces & nephews. A Funeral Mass will be held at St. Mary of the Lakes Catholic Church, Eustis on Saturday, December 7, 2013 at 11:00 AM. Entombment will follow at Greenwood Cemetery, Eustis. The family will receive friends at the Harden/Pauli Funeral Home Chapel, Eustis on Thursday, December 5, 2013 from 6-8 PM and Friday, December 6, 2013 from 2-4 & 7-9 PM. Online Guestbook available at www.hardenpauli.com Arrangements by Harden/Pauli Funeral Home, Eustis.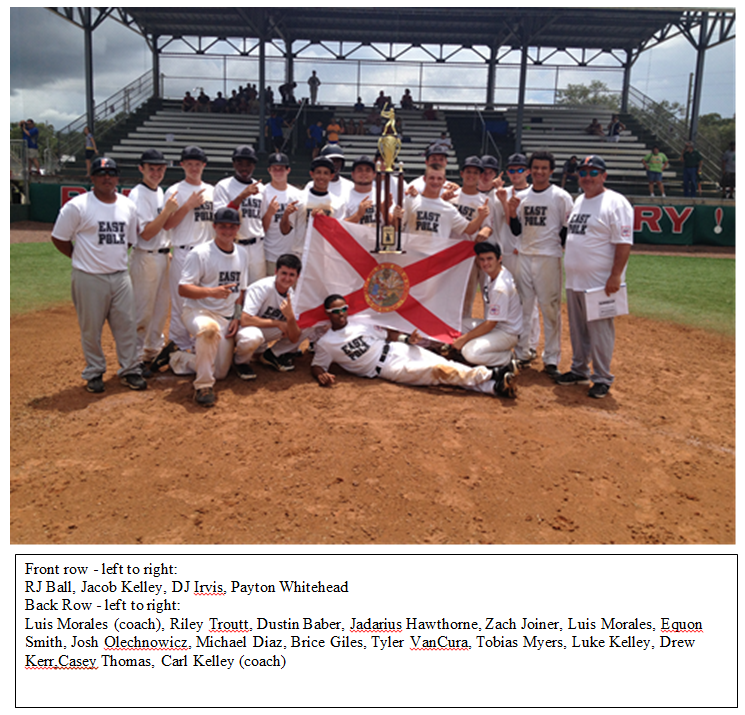 Dixie Boys would like to extend their thoughts and prayers to the Manley family during this time. David Manley was a two time Dixie Boys state championship manager. He will be greatly missed and we were blessed to have known him and have him as part of our organization.
Junior Dixie Boys 2013 Florida State Champions - West Volusia
---
Please help Florida Dixie Baseball promote education by donating to the Scholarship Fund. All donations should be sent to Rick Callahan; 2509 Avenue A, SW; Winter Haven, FL 33880. Phone: 863-294-8247.