Florida Dixie Boys Baseball: Welcome
2018 Dixie Boys/Jr Boys Florida State Tournament
Lynn Haven Sports Complex
Lynn Haven, Florida
June 28th - July 1st, 2018
Entry Requirements:
$200 Tournament Fee
in addition to Franchise Fee
No Gate Fee
2201 Recreation Dr, Panama City, FL 32405
www.cityoflynnhaven.com/document/lynn-haven-sports-complex
Check them out on Face Book: Lynn Sports Complex
The following are sponsor hotels for reservations
reference Lynn Haven Baseball for special prices:
TownePlace Suites by Marriott Panama City,
903 E 23rd Place, Panama City, FL
#888-236-2427
Courtyard by Marriott Panama City
905 E 23rd Street, Panama City, FL
#850-747-9116
***Reservations a MUST. This is a holiday weekend!***
15U State Invitational Tournament
June 15th - 17th, 2018
West Seminole Baseball @ Lake Brantley High School
991 Sand Lake Road
Longwood, FL 32779
***No sunflower seeds, please. Turf infield***
Host Motel:
Springhill Suites
205 SR 436
Altamonte Springs, FL 32714
407-865-6400
Special rates ask for WEB 15U.
$99.00 nightly rate, free breakfast, free WiFi & pool
Located next to Twin Peak, Cracker Barrel, Perkins several others nearby.
Located 4 miles from ballfield.
Entry Requirements:
$200 Tournament Fee
in addition to Franchise Fee
No Gate Fee
Pre-Majors/Majors State Tournament
Bushnell, Florida
July 6-8th, 2018
Entry Requirements:
$200 Tournament Fee
in addition to franchise fee
No Gate Fee
2018 Scholarship Winner, Graeme Daly
presented by Denise Stallings,
Assistant State Director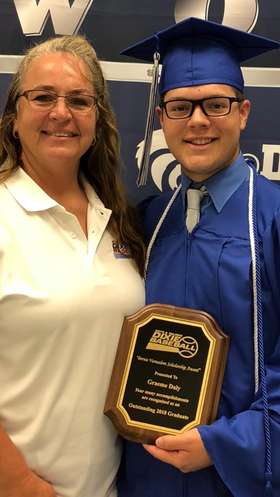 2018 Scholarship Winner
Handout:
2018 Approved Rule Changes