Welcome to the Florida District 14 Website!
Congratulations to the Windermere 11/12 (Major) Softball State of Florida champions! Way to go team!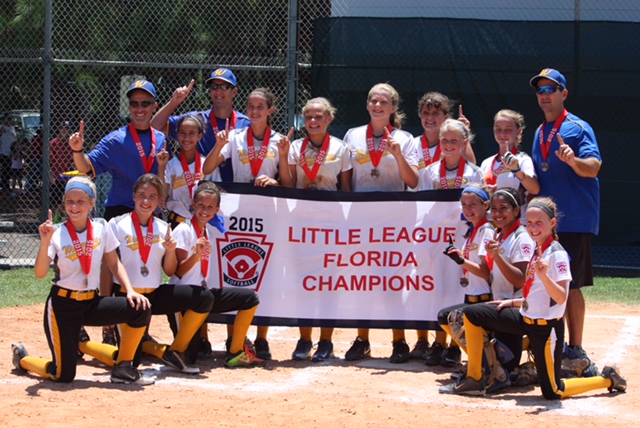 Congratulations to Section 3, District 11, Arlington Little League, the Florida State Senior Baseball Champions! Click on "State Tournament Schedule & Standings" on the left for the senior baseball state tournament results.

Congratulations section 5 50/70 winner District 3, Kissimmee!

Congratulations to our District 14 All-Star Winners! These teams advanced to section:

Minors - Windermere National
10/11 - Windermere National; also won section and finished 3rd at state
Majors (11/12) - Dr Phillips, also won section, advancing to state in Tallahassee July 31 to August 2.
Juniors - Ocoee Seniors - Windermere Minor (9/10) Softball - Windermere, also won section
Major Softball - Windermere, also won section and state, advancing to region in Warner Robbins, GA July 230- Aug. 3.
Congratulations to the 9-year-old Tournament of Champions winner Dr. Phillips!

Congratulations to our 2015 District 14 Top Team Winners:

Minors - Dr. Phillips Majors - Windermere Juniors - Windermere Seniors - Winter Garden

Section 5 Tournament Books can be found under "Handouts" then "Section 5 Tournament Information". Schedules and scores for the section 5 tournament will only be maintained on this website for those tournaments hosted by district 14 which is the 50/70 Intermediate Baseball tournament. For scores and updates on the other tournaments visit the website of the hosting district (visit the "Links" page if you need links to those districts' web sites).

We are mourning the sudden loss of former Windermere Little League president and long time district 14 umpire Scott Dillon. His family has requested in lieu of flowers, a Little League Athletic Fund be set up in his name, and that donations can be made directly to:

Scott Dillon Fund c/o of Florida District 14 LL 5323 Segari Way Windermere, FL 34786



Here is the 2015 Tournament Calendar! (revised June 3, 2015)

District 14 includes the following leagues: Dr. Phillips, Ocoee, South Lake, Windermere, and Winter Garden.

Approved boundary map/description for Florida District 14 Spring Season 2015 includes: Dr. Phillips LL, Ocoee LL, South Lake LL, Windermere LL, Winter Garden LL.

District 14 is part of Section 5 for the State of Florida. Section 5 also includes Districts 3, 23, and 24.

District 14 League Presidents And Staff and Section 5 Info

Little League, Inc. states that "Although leagues assess registration fees, which are used to purchase uniforms and equipment, maintain fields, etc., and very vital to the successful operation of the program, the fee cannot be a prerequisite for playing. The Little League philosophy does not permit any eligible candidate to be turned away". In addition, in Florida District 14, we do request that if you are unable to pay the fee that you work something out with the individual program. As a parent you should fulfill your obligation to support the program in which your child participates by volunteering your time and services. Emphasizing the spirit of Little League, rules require that every child plays in every game.

Click here for a handout that describes the Little League Baseball and Softball structure for parents.

Maps and Directions

Click on "Locations" for maps and directions to all locations within district 14 and our fellow section five leagues in districts 3, 23, and 24.

Game Schedules

You will find information here on any regular season inter-league games, district-level tournaments (top team and all stars), and district 14 hosted tournaments (section or state). Typically our softball teams and junior and senior baseball teams play regular season inter-league games.

Schedules are posted under "Schedules" on the left, as well as under "Handouts" (usually excel files).

Please note: scores are posted for tournament games only! Regular season scores are not maintained.

All aeriel photos courtesy of Google Maps!

Check out the league boundary maps for each league found under "District 14 LL Bouandaries"