Fishkill Little League: Welcome
Tuesday, August 9
Welcome to the Fishkill Little League Website
Follow us in Facebook
Wednesday, December 1
Headline Information
2014 Fall Ball Information
Registration will be closed on 8/14/2014. If you are interested in playing after that date send a note to fllbinfo@optonline.net and you will be placed on a waiting list if rosters are full.
The 12U team is now full, we will not be taking any more 11-12 year olds. If you are interested in getting on a waiting list please send a note to fllbinfo@optonline.net
fee: $85.00 for all age groups
Age requirements
Group 1:
Boys : ages 13-15
60/90 field ( junior league rules)
Group 2:
Boys : ages 7-12
46/ 60 field (Minor League rules)
Group 3:
Girls : ages 9-15
Age is determined by players age before the date of May 1st 2015. Age brackets are subject to change based on enrollment in league
* Season starts 1st week of September
* Saturday afternoon games
* Practice starts in August
* Dutchess County travel league
Online registration is available:
https://active.leagueone.com/Olr/Pages/Welcome.aspx?ClubId=13273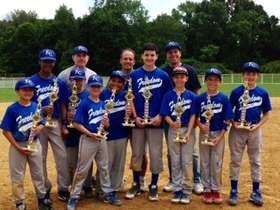 Freedom Ford 2014 Majors Champs
Tuesday, June 17
Congratulations to League Champs
Congratulations to Freedom Ford the 2014 Majors Champions!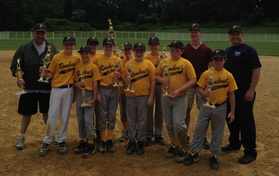 Rombout Fire 2014 Majors Runner Up
Tuesday, June 17
Rombout Fire Major League Runner Up
Wednesday, August 13
Join Extra Innings for their first annual Wiffle Ball Tournament:
Wednesday, April 23
Fishkill Little League Apparel Now Available
Fishkill Little League apparel is now available for purchase through Goal Evolution, located in the Wiccopee Plaza in Hopewell Jct. (http://www.goalevolution.us/Home.html)
Goal Evolution will also be at our Opening Day ceremonies taking orders for favorite teeshirts, sweatshirts and pants.
Monday, September 29
Volunteer Information
Fishkill Little League is ALWAYS in need of adult volunteers!
We ask for parents/guardians to volunteer AT LEAST two hours per season. There is a $40 fee per family which will be returned to you after you volunteer two hours).
We need adults to umpire games (training IS available!), volunteers to work at the concession stand, volunteers to help with field maintenance as well as Opening Day help and fundraising.
Your time and effort are truly appreciated by both the Board of FLL as well as EVERY player on EVERY team!
In order to volunteer in FLL as a coach and/or manager (even assist on the field with your child) you must complete the Volunteer Application form and submit it with a copy of your drivers license (it should be valid).
Please return the completed form (along with a copy of a valid Driver's License) at in-person registration, email a copy to fllbinfo@optonline.net or drop it off at the Shepheard Concession stand once the season begins. The application form can be found in the Volunteer section of HANDOUTS.
Handout:
VolunteerApplication
Next Board Meeting
Board Meetings will be held on the first and third Tuesdays of each month at 7:30 p.m., Fishkill Police Station.
Board of Directors Elections
We still have board positions available. If you are interested and need more information send a note to fllbinfo@optionline.net
Monday, April 4
Umpires needed for Baseball and Softball
We are looking for adult umpires for the 2014 season on both the baseball and softball sides.
Any teenager 16 years or older that needs community service can umpire games towards their required hours.
For information call Brian Doyle at 845-896-2045
Thursday, April 17
Little League Approved Bat Information