Firebirds Swim Team: Welcome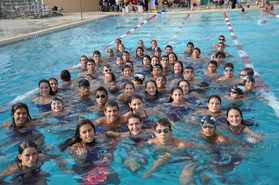 Firebirds 2012-2013
FIREBIRDS SWIMMING
  In the Fall of 2000, the Firebirds competed in their first meet. With the support of Patricia Zulueta and the administration at Doral Academy, the team has grown in size and scope over the past 13 years. Today our members number close to 80.
   Firebird swimmers are scholar-athletes first and foremost. Our athletes are involved in community service projects year round. 99.9% of our swimmers have continued their academics in college. We currently have Div I swimmers among our alumni. 
   We count among our numbers the First All County Athlete from Doral Academy (Cat Silveira), numerous First Team All County selections ( Cat Silveira 4x, Chinyere Pigot 4x, Emily Silveira 2x, Melissa Moreno 1x, Diguan Pigot 1x), Miami Herald Swimmer of the Year ( Diguan Pigot), Miami Herald Coach of the Year (Coach Silveira), State finalists, Regional and District Champions, Academic All Americans, Academic Scholastic All Americans, and some of the best student athletes in Doral Academy Prep.
  We are very proud to have the first two state champions in Firebird history: Chinyere Pigot (50 free 2011) Diguan Pigot (100 Breaststroke 2012).
Monday, October 28
CONGRATULATIONS TO THE FIREBIRD SWIMMERS THAT HAVE ADVANCED TO REGIONALS!
ALL OF THE RELAYS
ALEX ARRIETA, AUSTIN ARRIETA, PABLO ARTEAGA. ADRIANO MARTINEZ, ADRIAN MOYA, MUMY LLENIN, ANDREA PEREZ-HICKMAN, NICOLE NIETO, KAREN SORIANO, JESENIA GARCIA, NASTASSJA POSSO, HOPE SILVEIRA, AND KATHERIN HERNANDEZ
PERMISSION SLIPS MUST BE FILLED OUT COMPLETELY AND TURNED IN TO COACH BY THURSDAY. THERE ARE LIMITED SEATS ON THE BUS FOR TEAM MEMBERS THAT WOULD LIKE TO COME AND CHEER. PLEASE PICK UP YOUR PERMISSION SLIP. FIRST COME FIRST SERVED!
AT THIS TIME, ANY PARENT WISHING TO CHAPERONE (RIDE ON THE BUS) MUST CONTACT THE TEAM MANAGERS/VOLUNTEER COORDINATOR.
ANY QUESTIONS? CONTACT COACH SILVEIRA
Wednesday, February 12
Parent Volunteer Hours Being Updated
The parent volunteer hours are being updated. Please allow a few days for the offices (both middle and high school) to credit your hours before contacting them. Swim team hours will be posted on this site by student ID number. If you have any questions, please contact Coach Silveira
Tuesday, October 22
FHSAA CLASS 2A DISTRICT 12
OCTOBER 23, 2013
GULLIVER PREP POOL
12:30 WARM UP 2:00 START
EXCUSED FROM CLASS AT 11:15 AM
SWIMMERS MAY WEAR THEIR TEAM SHIRTS
PLEASE REMEMBER TO BRING LUNCH, SNACKS, DRINKS
NOTES FROM THE MEET HOST:
Just a few reminders and instructions for Districts on Wednesday. First, the gates will open at 12:30pm and warm ups will begin at 12:30pm with the meet starting at 2:00pm. All busses will be parking in the Northeast parking lot behind the pool. This is where the Athletes and Coaches will enter the facility. Once your team is dropped off, we are asking for the busses to drive off campus until school is over at 2:20pm. At that time, the busses may return to the northeast parking lot for the pickup of their teams. We ask that you please follow this procedure as the school and the roads will be crowded during school dismissal.
All parents and spectators will be asked to enter at the west entrance of the facility located near the large white tent. Admission is $6.00 and Heat Sheets will be $2.00. Please have parents arrive no earlier than 1:30pm. Parking spots will become more readily available at the end of the school day at 2:20pm.
Last, we never received entries for diving from any team, so the Class 2A-District 12 Championships will be Swimming only. If you have any other questions, please give me a call or email.
Monday, October 28
TEAM PICTURES
TAMIAMI
VARSITY 10/29 @3:15
MIDDLE SCHOOL 10/29 @ 4:15
TEAM SUITS AND CAPS. PLEASE DO NOT BE LATE!!!
Monday, October 28
CONGRATULATIONS TO OUR MIDDLE SCHOOL YOUTH FAIR CHAMPIONS!
BOYS AND GIRLS TEAMS WON THE 2013 DADE COUNTY YOUTH FAIR BY A COMBINED TOTAL OF 135!
Handout:
Middle School Results
Friday, October 25
Middle School Youth Fair Information
Dade County Middle School Youth Fair
Tamiami Aquatic Center
Saturday October 26, 2013
Warmup 9 am Start 10 am
Firebirds should arrive at Tamiami by 8:45 am

Pack your swim bag appropriately

Please remember to bring something to drink

Entries are posted on the information link
Wednesday, September 11
MEET PROCEDURES:
SWIMMERS MAY WEAR DRESS SHIRTS AND TIES ON COMPETITION DAYS.  PLEASE MAKE SURE THAT BOTH ARE APPROPRIATE. YOU MUST WEAR UNIFORM PANTS AND SHOES ETC.
ALL SWIMMERS MUST BE ACADEMICALLY CLEARED FOR PARTICIPATION AND BE ON TIME FOR SCHOOL ON THE COMPETITION DATE.
WHEN LEAVING SCHOOL EARLY:
RESPECTFULLY NOTIFY TEACHER AT BEGINNING OF CLASS THAT YOU HAVE A COMPETITION AND WILL BE LEAVING AT A PARTICULAR TIME (THURSDAY IT IS AT 3:00 PM)
AT THE CORRECT TIME, QUIETLY EXCUSE YOURSELF AND GO DIRECTLY TO THE FRONT OF THE HIGH SCHOOL TO LOAD THE BUS. DO NOT LEAVE EARLY OR WANDER AROUND THE SCHOOL.
SWIMMERS WILL TRAVEL IN SCHOOL UNIFORM. NO SHORTS, FLIP FLOPS ETC.
MAKE SURE TO BRING WATER BOTTLES, SNACKS, SUITS ETC.
SWIMMERS WILL TRAVEL TO THE MEET AND RETURN TO THE SCHOOL ON THE BUS.
ACADEMIC CONSIDERATIONS:
SWIMMERS ARE RESPONSIBLE FOR ALL CLASSWORK.  YOU ARE NOT EXCUSED FROM ASSIGNMENTS, TESTS, PROJECTS, ETC.  YOU DO NOT RECEIVE A PASS ON CLASS REQUIREMENTS AND MUST MEET ALL DEADLINES.
TURN IN HOMEWORK EARLY. SPEAK WITH YOUR TEACHER TO SCHEDULE TESTS ETC. PRIOR TO THE DATE YOU WILL BE MISSING CLASS.
ONLY SWIMMERS LISTED ON THE COMPETITION ROSTER (TURNED INTO THE OFFICE) WILL BE EXCUSED.
WE ARE CLOSELY MONITORING OUR SCHOLAR-ATHLETES. PLEASE LET US KNOW IF YOU HAVE ANY QUESTIONS.