Firebirds Swim Team: Welcome
FIREBIRDS SWIMMING
In the Fall of 2000, the Firebirds competed in their first meet. With the support of Patricia Zulueta and the administration at Doral Academy, the team has grown in size and scope over the past 13 years. Today our members number close to 80.
Firebird swimmers are scholar-athletes first and foremost. Our athletes are involved in community service projects year round. 99.9% of our swimmers have continued their academics in college. We currently have Div I swimmers among our alumni.
We count among our numbers the First All County Athlete from Doral Academy (Cat Silveira), numerous First Team All County selections ( Cat Silveira 4x, Chinyere Pigot 4x, Emily Silveira 2x, Melissa Moreno 1x, Diguan Pigot 1x), Miami Herald Swimmer of the Year ( Diguan Pigot), Miami Herald Coach of the Year (Coach Silveira), State finalists, Regional and District Champions, Academic All Americans, Academic Scholastic All Americans, and some of the best student athletes in Doral Academy Prep.
We are very proud to have the first two state champions in Firebird history: Chinyere Pigot (50 free 2011) Diguan Pigot (100 Breaststroke 2012).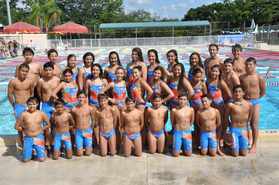 Middle School 2014
Thursday, July 23
2015-2016 Season Information
2015-2016
Welcome back to another season of fast swimming!
To be placed on the team REMIND system: please text @doralswim to 81010
Please note the following dates/times for practices, as well as documentation required prior to participation:
Practice times and location: M-F August 10-21, 2015 3-5 pm Tamiami Pool

Proof of purchase for school insurance from school website

Athletic Packet (to include updated cardiac consent)

Athlete Information form

Athlete Contract
There will be tryouts on August 18 during scheduled practice. Varsity swimmers will swim 200 free and choice of one high school event. Middle school swimmers will swim 100 free and choice of one middle school event. Middle school swimmers may tryout for varsity using the 200 free/choice only. All forms are available on this website.