Firebirds Swim Team: Welcome
FIREBIRDS SWIMMING
In the Fall of 2000, the Firebirds competed in their first meet. With the support of Patricia Zulueta and the administration of Doral Academy, the team has grown in size and scope over the past 15 years. Today our members number close to 80. As a member of the FHSAA, we are a Fall sanctioned sport competing from August through mid-November. We also offer a conditioning program during the off season months.
Firebird swimmers are scholar-athletes first and foremost. Our athletes are involved in community service projects year round. 99.9% of our swimmers have continued their academics in college. We currently have Div I swimmers among our alumni.
We count among our numbers the First All County Athlete from Doral Academy (Cat Silveira), numerous First Team All County selections ( Cat Silveira 4x, Chinyere Pigot 4x, Emily Silveira 2x, Melissa Moreno 1x, Diguan Pigot 1x), Miami Herald Swimmer of the Year ( Diguan Pigot), Miami Herald Coach of the Year (Coach Silveira), State finalists, Regional and District Champions, Academic All Americans, Academic Scholastic All Americans, and some of the best student athletes in Doral Academy Prep.
We are very proud to have the first two state champions in Firebird history: Chinyere Pigot (50 free 2011) Diguan Pigot (100 Breaststroke 2012).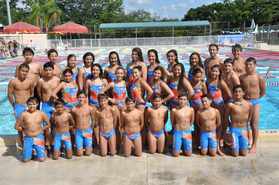 Middle School 2014
Sunday, August 30
August 31- Sept 4
New practice schedule in effect beginning Tuesday 9/1
There is no practice Monday August 31, 2015 as discussed at the meeting and practices last week, Tamiami is closed and our new contracts begin 9/1
High School: Tuesday Thursday 5-630 am @ Rockway Pool. 3:15-4:15 weight training @ Doral Prep. M-W-F 3-4:30 @ Tropical Estates Pool
Middle School. M-F 5-6:30 @ MDC Kendall Campus
Doral Academy will provide one way transportation to MDC Kendall for middle school practices. Swimmers must be in the bus by 3:45 pm. Manny's Bus Service will be in front of the school to drive swimmers only. Parents must pick up their swimmer by 6:30 pm. Failure to comply will lead to loss of bus privileges. Due to our contract with the pool, swimmers must depart upon practice completion and coaches will not be allowed to supervise beyond that time.
Field trip forms will be distributed this week and must be returned, fully completed, by Friday Sept 4.
If you have any questions, please contact Coach Silveira
If you will be absent or need to leave early you must notify your coach
Monday, August 24
Parents Meeting/ Suit Fitting
PARENTS MEETING/SUIT FITTINGS
THERE WILL BE SUIT FITTINGS AND PARENT MEETINGS DURING TEAM PRACTICE TIMES ON WEDNESDAY AUGUST 8. ALL SWIMMERS ARE ENCOURAGED TO ATTEND. PLEASE ADVISE COACH SILVEIRA DIRECTLY IF UNABLE TO PARTICIPATE.
VARSITY SWIMMERS MEETING AND FITTING 3-4 PM PRACTICE 4-5 PM
JV/.MIDDLE SCHOOL SWIMMERS MEETING AND FITTING 4-5 PM
Monday, August 24
Firebirds 2015 Schedule
THE 2015 FIREBIRDS SWIM TEAM SCHEDULE IS AVAILABLE FOR DOWNLOAD ON THIS SITE.
PLEASE BE ADVISED THAT THIS IS SUBJECT TO CHANGE.
ALL SWIMMERS SHOULD CHECK THIS WEBSITE DAILY FOR ANY UPDATES
Thursday, July 23
2015-2016 Season Information
Monday, August 10
Practice Info
Monday, August 17
Tryout Information
Friday, August 21
Preliminary Roster