Firebirds Swim Team: Welcome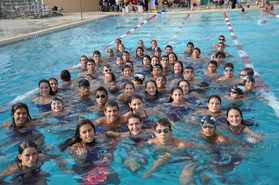 Firebirds 2012-2013
FIREBIRDS SWIMMING
In the Fall of 2000, the Firebirds competed in their first meet. With the support of Patricia Zulueta and the administration at Doral Academy, the team has grown in size and scope over the past 13 years. Today our members number close to 80.
Firebird swimmers are scholar-athletes first and foremost. Our athletes are involved in community service projects year round. 99.9% of our swimmers have continued their academics in college. We currently have Div I swimmers among our alumni.
We count among our numbers the First All County Athlete from Doral Academy (Cat Silveira), numerous First Team All County selections ( Cat Silveira 4x, Chinyere Pigot 4x, Emily Silveira 2x, Melissa Moreno 1x, Diguan Pigot 1x), Miami Herald Swimmer of the Year ( Diguan Pigot), Miami Herald Coach of the Year (Coach Silveira), State finalists, Regional and District Champions, Academic All Americans, Academic Scholastic All Americans, and some of the best student athletes in Doral Academy Prep.
We are very proud to have the first two state champions in Firebird history: Chinyere Pigot (50 free 2011) Diguan Pigot (100 Breaststroke 2012).
Tuesday, July 22
First Team Practice
The first practice of the 2014-2015 season will be on August 4 @ 3pm
PRACTICES WILL BE HELD AT TAMIAMI AQUATIC CENTER

VARSITY AND MIDDLE SCHOOL PRACTICES WILL BE FROM 3-5 PM UNTIL THE START OF SCHOOL.

SWIMMERS MUST TURN IN A COMPLETED ATHLETIC PACKET (WITH ALL SIGNATURES) BEFORE BEING ALLOWED TO PRACTICE ALONG WITH 20$ INSURANCE FEE.

TRYOUTS WILL BE AUGUST 12TH DURING REGULAR PRACTICE TIMES

TEAM SELECTIONS WILL BE POSTED AUGUST 15TH.
Saturday, May 24
Firebirds Team Meeting 5/21/2014
The website is being updated with downloads from the meeting. Please make sure that you have submitted the ATHLETE INFO page for 2014-2015 by the middle of next week in order to be considered for participation next year.
Any high school swimmer wishing to be considered for the position of team captain MUST submit a paragraph stating their intent and potential contributions.
Please make sure to check this site for changes....