Firebirds Swim Team: Welcome
FIREBIRDS SWIMMING
In the Fall of 2000, the Firebirds competed in their first meet. With the support of Patricia Zulueta and the administration at Doral Academy, the team has grown in size and scope over the past 13 years. Today our members number close to 80.
Firebird swimmers are scholar-athletes first and foremost. Our athletes are involved in community service projects year round. 99.9% of our swimmers have continued their academics in college. We currently have Div I swimmers among our alumni.
We count among our numbers the First All County Athlete from Doral Academy (Cat Silveira), numerous First Team All County selections ( Cat Silveira 4x, Chinyere Pigot 4x, Emily Silveira 2x, Melissa Moreno 1x, Diguan Pigot 1x), Miami Herald Swimmer of the Year ( Diguan Pigot), Miami Herald Coach of the Year (Coach Silveira), State finalists, Regional and District Champions, Academic All Americans, Academic Scholastic All Americans, and some of the best student athletes in Doral Academy Prep.
We are very proud to have the first two state champions in Firebird history: Chinyere Pigot (50 free 2011) Diguan Pigot (100 Breaststroke 2012).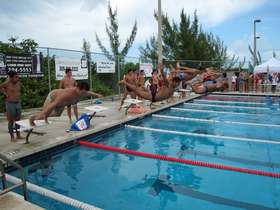 Firebirds 2013-2014
Friday, August 15
Preliminary Team Roster Available
PRELIMINARY TEAM ROSTER
AFTER A WEATHER AFFECTED TEAM TRYOUTS, THE PRELIMINARY TEAM ROSTER HAS BEEN POSTED. PLEASE BE ADVISED THAT THIS ROSTER IS SUBJECT TO ADDITIONS.
WE HAVE NOT COMPLETED THE FINAL TRYOUTS.

SEVERAL SWIMMERS WILL BE ATTEMPTING TO BETTER THEIR TIMES AND THERE ARE QUITE A FEW RETURNING FROM SUMMER VACATION.

THE FINAL DATE FOR TRYOUTS IS TUESDAY AUGUST 19. ALL PAPERWORK MUST BE COMPLETED AND TURNED IN.

NO SWIMMERS WILL BE DROPPED FROM THE POSTED ROSTER, BUT ADJUSTMENTS MAY BE MADE.

SWIMMERS WITH AN "E" AFTER THEIR NAME ARE ELIGIBLE FOR VARSITY SWIM. YOU WILL MEET WITH COACH SILVEIRA PRIOR TO FINAL DESIGNATION.

TEAM ROSTER CAN BE DOWNLOADED FROM THE INFORMATION TAB/DOWNLOAD TAB
THANK YOU TO ALL OF THE SWIMMERS THAT GAVE THEIR VERY BEST EFFORTS. WE LOOK FORWARD TO AN INCREDIBLY FAST YEAR OF SWIMMING, LOUD CHEERING AND THE BEST TEAMWORK OF ANY SCHOOL SWIM TEAM.
WE ARE FIREBIRDS!
Saturday, August 9
TRYOUTS AUGUST 12
3-3:45 GIRLS
3:45-4:30 BOYS
ALL NEW AND RETURNING SWIMMERS MUST TRY OUT

ALL FORMS, PAPERWORK, GRADES AND INSURANCE FEES MUST BE TURNED IN PRIOR TO TRYOUTS
THOSE TRYING OUT TO COMPETE FOR VARSITY WILL SWIM A 200 FREE AND ANY OTHER VARSITY EVENT
THOSE TRYING OUT FOR JV WILL SWIM 100 FREE AND ANY JV EVENT
PLEASE COME PREPARED WITH YOUR EVENT SELECTIONS. IF YOU ARE UNABLE TO ATTEND, NOTIFY COACH IMMEDIATELY IN WRITING. YOU WILL BE GIVEN AN ALTERNATE DATE.
TEAM SELECTIONS WILL BE CLOSED UPON REACHING THE NUMBER CAP .
IF YOU NEED MORE INFORMATION
PLEASE CONTACT COACH SILVEIRA