Firebirds Swim Team: Welcome
FIREBIRDS SWIMMING
In the Fall of 2000, the Firebirds competed in their first meet. With the support of Patricia Zulueta and the administration at Doral Academy, the team has grown in size and scope over the past 13 years. Today our members number close to 80.
Firebird swimmers are scholar-athletes first and foremost. Our athletes are involved in community service projects year round. 99.9% of our swimmers have continued their academics in college. We currently have Div I swimmers among our alumni.
We count among our numbers the First All County Athlete from Doral Academy (Cat Silveira), numerous First Team All County selections ( Cat Silveira 4x, Chinyere Pigot 4x, Emily Silveira 2x, Melissa Moreno 1x, Diguan Pigot 1x), Miami Herald Swimmer of the Year ( Diguan Pigot), Miami Herald Coach of the Year (Coach Silveira), State finalists, Regional and District Champions, Academic All Americans, Academic Scholastic All Americans, and some of the best student athletes in Doral Academy Prep.
We are very proud to have the first two state champions in Firebird history: Chinyere Pigot (50 free 2011) Diguan Pigot (100 Breaststroke 2012).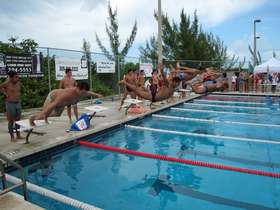 Firebirds 2013-2014
Sunday, September 21
NO VARSITY MORNING PRACTICE MONDAY SEPT 22, 2014
THERE IS NO MORNING PRACTICE FOR VARSITY SWIMMERS ON MONDAY SEPTEMBER 22, 2014
VARSITY SWIMMERS SHOULD BE AT TAMIAMI FOR REGULAR PRACTICE IN THE AFTERNOON.
NO GYM/WEIGHT TRAINING
Wednesday, September 17
Meet Results 9/17/2014 CSSH Marathon
Coming off a strong showing (and double win) at Key West, the Firebirds Varsity swimmers defeated Coral Shores ...
Sunday, September 14
Meet Results Key West Wellington 9/13/2014
Another nice showing by the Firebirds! Key ...



Monday, September 8
Ransom Everglades Middle School Kick Off Meet Results


The Firebirds swimmers swam fast at the Middle School Kick Off Meet on Saturday September 3, 2014.

Boys ...



Thursday, September 4
First Meet of the Season
Firebirds Swimming opened their season with a win against the Westminster Christian Warriors.

Varsity ...