Firebirds Swim Team: Welcome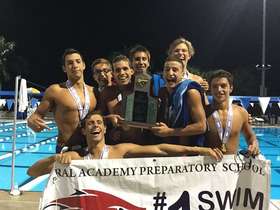 3A State Champions 2016
FIREBIRDS SWIMMING
In the Fall of 2000, the Firebirds competed in their first meet. With the support of Patricia Zulueta and the administration of Doral Academy, the team has grown in size and scope over the past 15 years. Today our members number close to 80. As a member of the FHSAA, we are a Fall sanctioned sport competing from August through mid-November. We also offer a conditioning program during the off season months.
Firebird swimmers are scholar-athletes first and foremost. Our athletes are involved in community service projects year round. 99.9% of our swimmers have continued their academics in college. We currently have Div I swimmers among our alumni.
We count among our numbers the First All County Athlete from Doral Academy (Cat Silveira), numerous First Team All County selections ( Cat Silveira 4x, Chinyere Pigot 4x, Emily Silveira 2x, Melissa Moreno 1x, Diguan Pigot 1x), Miami Herald Swimmer of the Year ( Diguan Pigot), 2 First Team All County Relays (Aguilar, Arrieta, Faucher, Moya) 2x Miami Herald Coach of the Year (Coach Silveira), All American Swimmer Alex Arrieta and 2 All America Relays (Aguilar, Arrieta, Faucher and Moya) State finalists, Regional and District Champions, Academic All Americans, Academic Scholastic All Americans, and some of the best student athletes in Doral Academy Prep.
We are very proud to have the first two state champions in Firebird history: Chinyere Pigot (50 free 2011) Diguan Pigot (100 Breaststroke 2012) AS WELL AS THE FIRST EVER STATE TEAM CHAMPIONS: 3A BOYS SWIMMING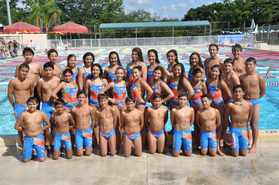 Middle School 2014
Tuesday, September 27
FSPA Info.
Meet Info Page. http://www.floridapoolpro.com/events/swim-meet/
Spring Hill Suites
2000 NW Courtyard Cir, Port St Lucie, FL 34986
Sailfish Splash Water Park/Aquatic Center
931 SE Ruhnke St, Stuart, FL 34994
Friday 9/30/16
1200 noon: Depart from Doral Academy
2:00 pm check in hotel
3:00 pm depart for Pool
3:30- 4:30 pm Warmup for developmental meet (training pool lanes 4-5)
5:00 pm Meet begins
7:30 pm leave Pool, dinner enroute TBD
10:00 pm. In rooms lights out
Sat 10/1/16
6:00 am wake up
6:20 am invitational swimmers depart for pool
7:00-8:00am warmup (comp lane 3-4)
8:30 am Non Invitational swimmers depart hotel for pool
9:00 am meet begins
12:30 lunch @ Publix/subway
Finalists return to hotel for rest
3:30 pm depart for pool
4:15 pm warmup
5:30 pm Finals begin
7:30 pm depart pool
Dinner en route to Doral Academy
1. Code of conduct required for all swimmers
2. Continental breakfast @ hotel for non Invitational swimmers (7am)
3. Late checkout for three rooms (Finalists)
4. During break: option of waterpark
5. Swimmers responsible for their own meals and snacks.
6. Chaperones will be accommodated so that they can see their swimmers to the best of our ability
7. Additional Info will be given out Wed at team practice.
Monday, August 29
High School Meet 30 Aug 2016
Firebirds @ Coral Shores Senior High
Please note that the meet time has changed!
High School swimmers should be at the school by 1 pm.
The meet will begin at 3.
Please remember suit, cap goggles.
No club attire!
Snacks and drinks would be a good idea!
We should return approximately 7 pm.
Thursday, August 18
Results of Tryouts 18 August
With over 90 swimmers trying out for our 2016-2017 Firebirds Swim Team
CONGRATULATIONS!!!!
(CLICK ON THE LINK BELOW)
CHECK BACK TOMORROW FOR UPDATED INFORMATION AND THINGS THAT NEED TO BE COMPLETED FOR PARTICIPATION
Handout:
2016-2017 INITIAL ROSTER
Tuesday, August 16
TRYOUT INFORMATION
TRYOUTS FOR 2016-2017
THURSDAY AUGUST 18
VARSITY 10-11 AM
JV 11-12 PM
ALL SWIMMERS MUST TRY OUT (NO EXCEPTIONS)
VARSITY: 200 FR/100 STROKE JV: 100 FREE/50 STROKE
TEAM WILL BE ANNOUNCED 8/19 ON THIS WEBPAGE
Wednesday, July 27
2016-2017 Season begins August 1
2016 Season Begins
First High School Practice is August 1, 2016 10 am-12pm Tamiami Pool
First Middle School Practice is August 8, 2016 10 am - 12 pm Tamiami Pool
Practices for both teams will be from 10 am-12 pm until the start of school
Tryouts are scheduled for Aug 18, 2016 during regular practice times.
Team selections will be posted on this site August 19. Fees will be due Monday Aug 22, 2016 @ practice.
All swimmers must turn in the following PRIOR to starting practice on the above dates:
Fully completed and signed Athletic Packet (physcial forms, contracts, releases). This can be found on the school website under athletics. (We will notarize with parental id).
Completed swim athlete information form ( on this website)
A copy of school insurance purchase receipt. The school insurance is mandatory and must be purchased through the school store. We will not be accepting payment at the pool for insurance

.
Please review the notes from the meeting in June. Check this website for updates.
What to bring to first practice:
All of the above required paperwork
One piece suit, cap, goggles
Equipment (if you have) kick board, fins, pull buoy
Water bottle and running shoes
Please join the team message system by:
send a text (@doralprep) to: 81010
Wednesday, July 27
School Insurance Link
Link to purchase school insurance
http://www.onlinerene.com/doral/doral_store.aspx?menuItem=3&menuOrder=2
Print a copy of receipt and bring to first practice
Wednesday, June 8
TEAM MEETING
6/9/2016 2 PM
CAFETERIA