Firebirds Swim Team: Welcome
FIREBIRDS SWIMMING
In the Fall of 2000, the Firebirds competed in their first meet. With the support of Patricia Zulueta and the administration at Doral Academy, the team has grown in size and scope over the past 13 years. Today our members number close to 80.
Firebird swimmers are scholar-athletes first and foremost. Our athletes are involved in community service projects year round. 99.9% of our swimmers have continued their academics in college. We currently have Div I swimmers among our alumni.
We count among our numbers the First All County Athlete from Doral Academy (Cat Silveira), numerous First Team All County selections ( Cat Silveira 4x, Chinyere Pigot 4x, Emily Silveira 2x, Melissa Moreno 1x, Diguan Pigot 1x), Miami Herald Swimmer of the Year ( Diguan Pigot), Miami Herald Coach of the Year (Coach Silveira), State finalists, Regional and District Champions, Academic All Americans, Academic Scholastic All Americans, and some of the best student athletes in Doral Academy Prep.
We are very proud to have the first two state champions in Firebird history: Chinyere Pigot (50 free 2011) Diguan Pigot (100 Breaststroke 2012).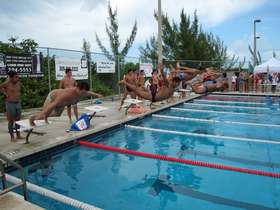 Firebirds 2013-2014
Monday, September 8
Ransom Everglades Middle School Kick Off Meet Results
The Firebirds swimmers swam fast at the Middle School Kick Off Meet on Saturday September 3, 2014.
Boys Scores: FIREBIRDS: 159, Ransom: 76, Miami Country Day School: 42, Belen: 34, Westminster Christian School: 14, Keys Gate Charter: 7
Event Winning Swims: (this really doesn't tell the whole story as the Firebirds swept most events and had as many as 6 swimmers in the top 8 places of many events.
200 Medley Relay: Wong, S. Gomez, Montero, Garcia
200 Free: Andres Wong
100 IM Anthony Suardiaz
50 fly: Andres Garcia
100 free: Andres Wong
50 Back: Nestor Montero
50 Breast: Santiago Gomez
200 Free Relay: Gomez, Wong, Suardiaz, Garcia
Girls scores: FIREBIRDS: 89, Ransom 92, Westminster Christian: 82, Marathon: 51, Miami Country Day: 36, Keys Gate: 30, Carrolton: 24
Event winning swims: (Again this doesn't tell the whole story..with less than 10 girls, and many new to the sport, the Firebirds came within 3 points of defeating a very large Ransom Everglades team),
100 IM Sabrina Perna
50 free: Valentina Rios-Cano
50 fly: Sabrina Perna
50 Breast: Stephanie Suarez
200 free relay: Perna, Peraza, Suarez, Rios-Cano
Thursday, September 4
First Meet of the Season
Firebirds Swimming opened their season with a win against the Westminster Christian Warriors.
Varsity Boys 120. Warriors 39
Event Winning Swims
Alberto Gomez. 100 fly 100 breast
Andres Wong 200 free 100 back
Anthony Suardiaz 500 free
Austin Arrieta 50 free
Adriano Martinez 100 free
Joseph Perez 200 IM
Varsity Girls. 115 Warriors 41
Event Winning Swims
Nastassja Posso. 200 free 100 Back
Andrea Perez Hickman 200 IM
Hope Silveira. 50 free
Stephanie Suarez. 100 fly 100 breast
Nicole Nieto 500 free
Varsity swimmers won every relay and almost every event.
Middle School 94. Warriors 39
Event winning swims
Nestor Montero. 200 free 50 fly
Matthew Posso. 100 IM
Rodrigo Gomez. 50 free
Andres Garcia 100 free
Emilio Marin. 50 back
Madeleine Peraza 200 free 100 free
Season record. 1-0