Firebirds Swim Team: Welcome
FIREBIRDS SWIMMING
In the Fall of 2000, the Firebirds competed in their first meet. With the support of Patricia Zulueta and the administration at Doral Academy, the team has grown in size and scope over the past 13 years. Today our members number close to 80.
Firebird swimmers are scholar-athletes first and foremost. Our athletes are involved in community service projects year round. 99.9% of our swimmers have continued their academics in college. We currently have Div I swimmers among our alumni.
We count among our numbers the First All County Athlete from Doral Academy (Cat Silveira), numerous First Team All County selections ( Cat Silveira 4x, Chinyere Pigot 4x, Emily Silveira 2x, Melissa Moreno 1x, Diguan Pigot 1x), Miami Herald Swimmer of the Year ( Diguan Pigot), Miami Herald Coach of the Year (Coach Silveira), State finalists, Regional and District Champions, Academic All Americans, Academic Scholastic All Americans, and some of the best student athletes in Doral Academy Prep.
We are very proud to have the first two state champions in Firebird history: Chinyere Pigot (50 free 2011) Diguan Pigot (100 Breaststroke 2012).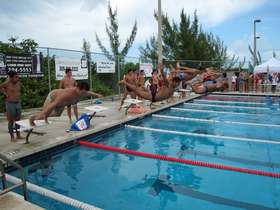 Firebirds 2013-2014
Tuesday, February 3
Upcoming Events
Swimmers!
We will be scheduling our
Varsity Letter Awards Presentation
as well as an informational meeting within the next few weeks.
Please check back or contact team captains for more information.