Fellowship of Christian Athletes Revolution Basketball: My Site News
Tuesday, May 1
Team Retreat
This past weekend we held our team retreat. The weekend was full of practice, theme songs, great food, team expectations, laughs and team bonding. Not to mention a 20 girl slumber party where games and conversations lasted into the late hours of the night. Some highlights from the retreat were:
Watching the girls try to build a house out of noodles and dots while some teammates were blindfolded, could not talk, or could not use their hands.
Taco bar dinner at the Hanson's house.
Hearing an assortment of theme songs and why each girl chose that particular song to describe their life.
Having Mike Rohrbach come and share an inspirational talk with the team.
Watching relationships form and become stronger over the course of two days.
Monday, April 16
2012 FCA Revolution Signees
Congratulations to our 2012 Signees!
Margreet Barhoum to Montana State University, Bozeman
Jasmine Hommes to Montana State University, Bozeman
Karlie Storkson to Westmont College, Santa Barbara
Wednesday, July 27
San Diego, Here We Come!
The team would spend their last day off before their tournament in San Diego, relaxing at the beach at Mission Bay. They spent a couple hours relaxing in the sun and enjoying the ocean shore. They were also able to check out the neighboring shops and food spots and simply hang out with their teammates.
Later that day, they would travel a little east to the Da Jong's home, grandmother of Jasmine, and have a wonderful spaghetti feed on top of a hill that had a spectacular view. They got a chance to check out all the classic cars that Jasmine's grandfather collected and hang out with some of Jasmine's relatives. The food was just what the team needed considering they had been eating out for the past week. Special thanks to the Da Jong's, Hommes', and Ronda V. for preparing such a feast.

Stephanie S., Courtney H., and Kayla meet Rick Malambri on Superman ride
Tuesday, July 26
California Love!
Their next adventure, the Revolution would wake up very early (6:00 a.m.) and travel down I-5 for 5 hours to Six Flags Magic Mountain. Once again they would enjoy various rides and attractions. In addition, a few of them got to meet Rick Malambri from Step Up 3. It was a very hot day with temperatures in the mid 90's. Afterwards, they made a dinner stop at In and Out Burger and then traveled another 2 1/2 hours to their San Diego hotel. Was a fun filled day but very long and they crashed as soon as they checked in.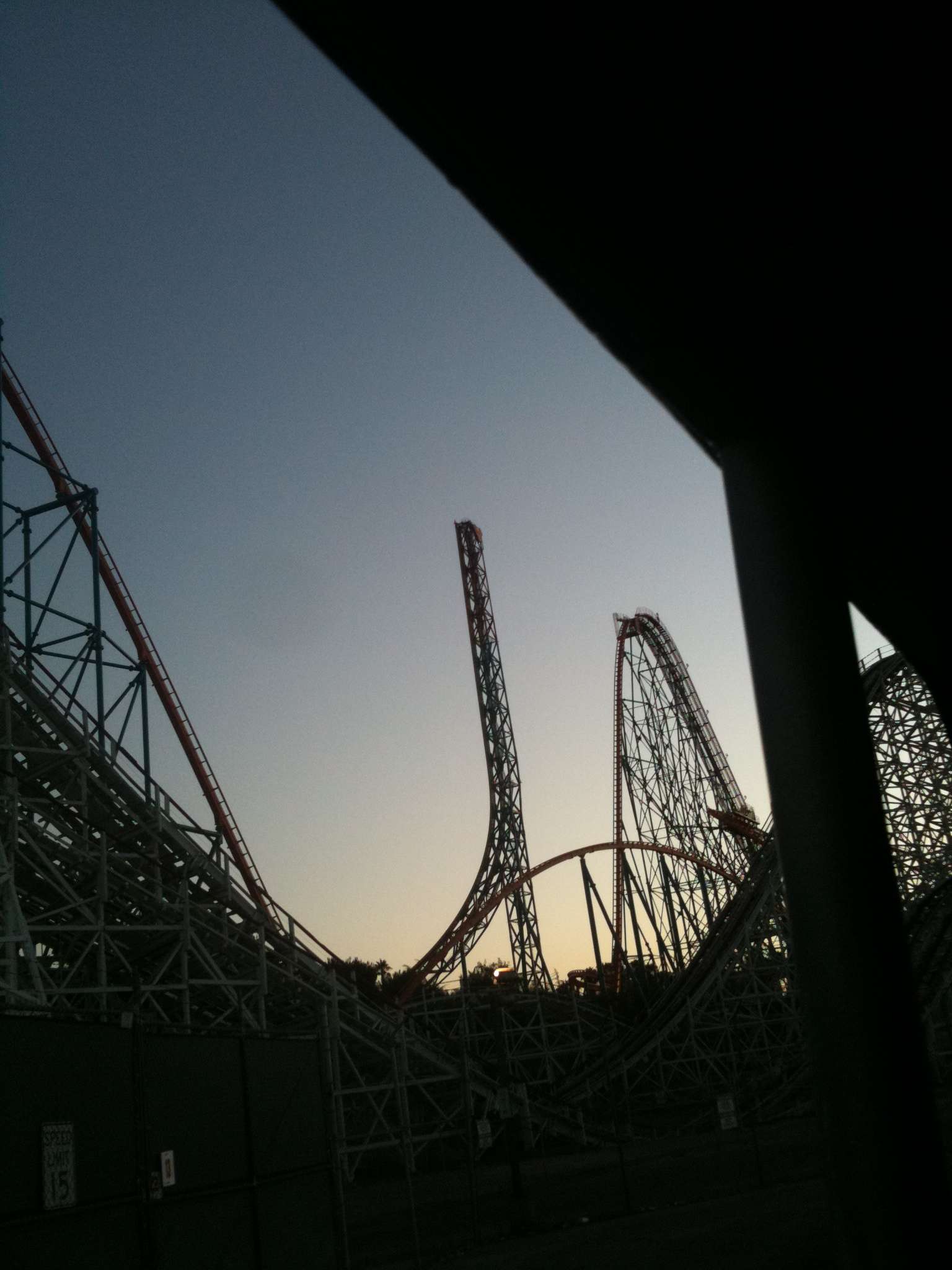 Some of the most wildest rides ever!
Monday, July 25
At the Boardwalk
The Revolution took their first day off and headed to the Boardwalk at Santa Cruz. It is a nice beach spot that has an amusement park on the boardwalk of the beach. Many of the players and coaches enjoyed several rides and attractions as well as spent some time under the sun. Only a couple players had been to the Boardwalk already and the others enjoyed their new experience on the North Central California coast.
Friday, July 22
MSNM Tournament Pacific Coast Championship, Santa Clara
The Revolution would begin their tournament play on the 22nd of July at Santa Clara University, alma mater of Steve Nash, Coach Taylor's favorite NBA player. This was the first MSNM tournament to be hosted by Santa Clara University and it was a very nice campus with great facilities.
The Elite team's first game was a seeding game and they lost a close game against Strictly Hoops who would eventually win the tournament championship. The Elite team would open up tournament play with two wins against Paye's Black and Modesto Magic, a very strong Northern California program that has featured several WNBA players. Both games were hard fought battles and would allow the Elite team the opportunity to face Metro San Jose in the Semifinals. They were a very scrappy athletic team that could really shoot the three ball. A few missed defensive opportunities allowed the Metro San Jose team win by one point. In the 3rd place game, the Elite team would face the Cloud 9 Storm which seem to be a newfound rivalry considering that this would be the third time the teams would face each other as many tournaments. A late surge would produce a ten point lead for the Storm and the Elite team would never recover. The final score was 55-44 to end the tournament for the Elite team.
The All star team was thrown right into tournament play and got off to a slow start losing to a speedy North Bay Elite team by 14. The All Stars would not be able to remedy the slow start of their first half performance and opened up with a tough loss. They would look to bounce back and did so winning their next two against the Knights and against the Hayward Swoosh. The Knights weren't as challenging as the athletic Swoosh team who almost came back to beat the All Stars but clutch play and great free throw shooting at the end of the game helped seal the victory. They would then take on Club Sport of San Ramon and would be haunted by a rough day of shooting. That loss sent them to a final tournament game against WVBA Select. It was a very physical game and the All Stars would again have a rough shooting day. It seemed as if fatigue and the physical play of WVBA seemed to hinder the All Stars of getting their game going. They would their Santa Clara experience with a loss.

Thursday, July 21
SAN FRANCISCO!
The team spent the day in San Francisco. They traveled to the Wharf and saw several attractions, vendors, ate tasty food and had dinner at the Rainforest Cafe. One of their favorite places to visit was Ripley's Believe It Or Not.
Wednesday, July 20
FCA Revolution travels to Sunny California
The FCA Revolution headed out for a 13 day trip to California. They would begin their adventure in the San Jose/Santa Clara area for the first ever MSNM tournament at Santa Clara University. After that tournament they would caravan to San Diego to close our their summer select competition.

Hanging Out on the Gonzaga Campus
Monday, May 30
FCA Revolution Elite Finishes Third at the On Summer's Edge Tournament in Spokane
The Elite team has played very well in their first two tournaments but would leave each of them with a loss. This tournament, their goal was to end with a victory on the last day. They opened up with a 37-32 win over the Inland Empire Magic. Sidney Rielly and Jasmine Hommes each pitched in 11 points and 6 rebounds. It was a sluggish game due to the long Friday commute to Spokane but they were very pleased to come out on top in their tournament opener.
Next up, they would face the Sandpipers of Spokane who they previously took at 25 point loss from. Led by Lindsay Stockton, the Sandpipers would again jump to an early start like the last time the teams met and came out with a 58-43 victory. She would finish with 17 points. Kortney Grattic led all Revolution scorers with 11 points and Quincy Gibson added 7 points. The Sandpipers shot an amazing 47% from the field. The Elite team would make an attempt for a comeback by cutting a 25 point deficit to 15 but the Spokane team's hot shooting was too much for the Revolution.
In their third pool game, the Elite team would face Coeur 'd Alene from Idaho. Revolution would struggle throughout the game, shooting a mere 33% from the field while making only one three point goal out of 12 attempts. Coeur 'd Alene seemed to not miss much as they would even make some tough off balance shots. Early in the second half the Elite team would be down 14 and would make a strong run to close the deficit to 6. Late fouls and costly turnovers would make it tough for the Revolution to come out with the victory. Jasmine Hommes would lead all scorers with 23 points on 9/14 shooting and added 7 boards. Sidney Rielly added 8 points as the Revolution took a 53-44 loss.
To round out their pool play, the Elite team faced a NW Express team whose roster was filled with several players from the Eastern Washington area. The two teams were very evenly matched. For nearly 35 minutes of the contest, the Elite team was behind. With a late run the Elite team would take an 8 point lead with about three minutes to go. The Express would put on some intense pressure that produced some late Revolution turnovers, they would close the gap and eventually tie the game sending the game into overtime. In the first overtime, the two teams increased their defensive pressure and wasn't giving each other much ground on the offensive end. The Elite team had a one point lead with about thirty seconds to go and would end up with a steal and an easy lay up by Peyton Spencer to take a 3 point lead. With just under ten seconds remaining, the NW Express team would hurry down to put up a shot and would be blocked by Jasmine Hommes, however the rebound fell into the hands of the Express' sharp shooter who nailed a three point basket at the buzzer to send the game into a second over time. The Revolution seemed to never recover after that. They could not score in the second overtime and would fall 64-59 to the Express. Hommes would have 20 points and 7 rebounds and Darian Rielly added 10 and 2 steals and Spencer would finish with 11 points. Kortney Grattic would gather 10 rebounds along with 8 points.
In the third/fourth place game, the Elite team would have a rematch against the Express. Once again, the evenly matched teams would have several lead changes. And once again the game would be sent into overtime. This time the Elite team was determined to end their tournament on a win. They were focused on securing the basketball with better passing than the first contest and knocking down clutch free throws. With the game tied, Sidney Rielly would step up to the line and make two free throws with 20 seconds remaining. The Express would have plenty of time to come down and score as they moved the ball around to eventually have #20 attack the middle of the lane only to get blocked by Jasmine Hommes. However, an official called a foul with no time remaining. She would make her first free throw, but missed the second ending the game with a 55-54 victory and a third place finish for the Elite team. Hommes would lead all scorers with 16 points. Kortney Grattic had 12 points and Sidney Rielly went 5 for 5 from the free throw line finishing with 11 points and 7 rebounds.
They will have a month off before they travel down to Oregon for the Oregon City tournament on July 1st.
Monday, May 30
FCA Revolution All Stars Make a Great Showing at the On' Summer's Edge Tournament in Spokane
The All Stars opened up their spring season with some great play in the On Summer's Edge Tournament in Spokane. It was their first tournament together and they quickly looked for opportunities to gel and grow together. Their first game of the tournament was against the Saxons of Ferris. It was a hard fought up and down battle that came down to the wire. Unfortunately, the All Stars came up short with a 51-47 loss to open up the tournament. Melanie Martin led all scorers with 16 points and added 3 assists. Katie Rickel added 13 points and six rebounds and Courtney Hollander also had double digits with 10 points and 8 rebounds. They would quickly bounce back and put on a great show against Medical Lake with a huge 33-11 victory. Stephanie Somers tallied 11 points and Kayla Tiemersma added 7 points and 6 rebounds. Later that afternoon, they would play a very physical and scrappy Middleton team. Middleton got off to a great start and never looked back. The All Stars would eventually lose the contest by a score of 44-33. They would finish their tournament on the last day with an early 9:05 game against CBA from Calgary. Once again, it was another tough battle as they would find themselves in a 11 point deficit in the middle of the second have. After a timeout, and an increase in defensive pressure, they would go on a 13-0 run and take the lead and would never be behind the rest of the game. They ended their first tournament with a 43-40 victory. They look forward to more action July 1st as they head down to Oregon City to kick off their summer season.
Wednesday, May 25
FCA Revolution All Stars Open Up With Tourney Action at On Summer's Edge, Spokane
FCA Revolution has expanded its program by creating an All Star Division team. It consists of very talented athletes that are young but have had high school varsity experience. They will be headed by Coach Caitlyn Rohrbach and look to take its first action on the court at the On Summer's Edge tournament in Spokane where they will be playing in the Warehouse fieldhouse near Gonzaga University.
The team has gelled pretty well since they have had such a short time of getting to know each other and practicing. They look forward to bonding as a team on the trip as well as improving as an individual and as a team. Stay tuned for updates on their game action.
The Elite Division team will also travel to Spokane and have a pretty tough schedule as they will seek to avenge their April loss to the Sandpipers of Spokane. Should be a fun and exciting weekend for both teams.
Friday, May 13
FCA Revolution Finishes Fourth at Best in the West Yakima
The FCA Revolution Elite team had their first trip together in Yakima at the 25th Annual Best in the West tournament. The team was excited to travel on the road and participate in their first tournament since their fifth place finish at the MSNM tournament, Spring Fling in Seattle. They came out with a hot start defeating a scrappy Idaho Flash team winning by a score of 51-34. They then had a tough morning contest against the Grizzlies of Glacier Peak. Trailing by six with just over five minutes to go, Team Revolution intensified their defensive pressure and came away with a three point victory, 50-47. Later that afternoon, they faced a young HDC team from the Auburn/Kent area and won by a large margin of 64-33. Sunday, the bracket round, presented some tough challenges as the Revolution had to fight through fatigue as well as a very athletic Club Shock team. Great team play and outside shooting help them clinch a 54-40 victory and a chance to earn a tournament top four finish. Later that afternoon, the Revolution faced the speed and quickness of a tough Wolves team from the Tacoma/Federal Way area. The Wolves jumped to an early 20-5 lead and the Revolution bench sparked a run that closed the gap to 5 at halftime. With nearly 6 minutes left, the Revolution would pull within 3, but foul trouble and costly turnovers gave the Wolves the opportunity to seal a 66-58 victory in the semifinal round. The team would then have to play in the 3rd/4th place game against Next Level. Once again, foul trouble and unfortunate turnovers made it difficult for the Revolution to come up with the 3rd place finish. A clutch steal by Next Level with just under 20 seconds to go gave them the victory. Revolution had one more try off of a missed free throw, but then gave the ball away and the seconds of the tournament ticked away. The final score was 61-58. The team improved from their last tournament to a fourth place finish and felt they had improved overall as a team and are excited to join their All-Star teammates in Spokane at the "On Summer's Edge" tournament.
Tuesday, March 20
FCA Basketball Players Have Great High School Winter Seasons!
Congratulations to all our FCA Athletes that received honors for their play this past winter.
Jasmine Hommes: First Team All Conference, Team won district championship, Team placed 3rd in State, will play basketball at Montana State.
Kortney Grattic: League MVP, Team placed 5th in State.
Peyton Spencer: First Team All Conference
Karlie Storkson: First Team All Conference, Team made it to State Regionals, will play basketball at Westmont College.
Margreet Barhoum: First Team All Conference, First Team All Area
Paisley Heckman: First Team All Conference, First Team All Area, Team made it to State Regionals.
Courtney Hollander: Team won district championship, Team placed 3rd in State.
Sidney Rielly: First Team All-Conference
Demi Sahlinger: League MVP, Team made it to State Regionals
Katie Holland: First Team All-Conference
Savanna Hanson: Second Team All-Conference
Stephanie Somers: Honorable Mention All-Conference, Team placed 5th in State.
Hannah Carlson: Honorable Mention All-Conference
Autumn Durand: First Team All-Conference, Team placed 4th in State.
Mariah Swanson: First Team All-Conference, Team placed 4th in State.
Rebecca Stevenson: Second Team All-Conference, Team made it to State Regionals
Sara Dougan: Honorable Mention All-Conference
Laura Goodnight: Second Team All-Conference, Team made it to State Regionals.