Falls Church Kiwanis Little League: Hit-a-Thon Fundraiser
2013 Hit-A-Thon: Thank You!
With extraordinary support from the FCKLL communithy, this year's hit-a-thon raised more than $32,000!
The Single A Mudcats were the top fundraising team with $1,449. They will enjoy a team trip to the Nationals game June 23 (Bryce Harper bobblehead giveaway AND kids run the bases). The individual winners below also receive game tickets:
| | | |
| --- | --- | --- |
| | Hitting Distance | Fundraising |
| Majors | John Putziger, Cubs | Johnny Asel, Red Sox |
| AAA | Reyn Butterowrth, Angels | Kobe Lum, Angels |
| AA | William Izdepski, Sand Gnats | Garrett Benson, Redwings |
| Single A | Patrick Niehus, Ironbirds | Alex Ilaria,SeaDogs |
| Slugger | Ian Redding, Leopards | Henry Behrens, Lynx |
| Rookies | Ryan Latessa, Piranhas | Sawyer Berrett, Dolphins |
All other teams that raised $1,000 or more will be entered into a Family Fun Fair drawing for team tickets to the June 23 Nats game
Additional tickets for the FCKLL ticket block (section 135) for the June 23 Nats game will be available for purchase for $29 at the snack bar during the Family Fun Fair, June 8.
* * * * *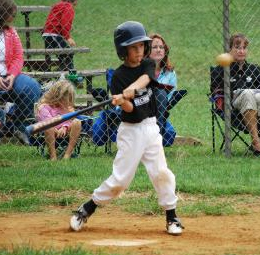 Important Dates

May 10, 5:00 PM Set-up at Westgate Field. One volunteer per team needed.

May 19! Hit-A-Thon at Westgate Field. Check the schedule for your team's time.

May 31. Players turn in checks only and pledge forms to the team fundraising parent. Parents and fundraising parents ensure money and forms match.

June 1. Fundraising parents turn in receipts, forms and checks only at Westgate 2 Press Box.

June 2. Individual prize winners receive access code to order prizes through the Little League Official Store or Sports Authority.

June 8. Team prizes awarded at Family Fun Fair.
2013 FCKLL Hit-A-Thon: May 19
The Hit-A-Thon is FCKLL's annual fundraising event that highlights our players' hitting skills and encourages community support for their local Little League. This event raises about one-third of the league's annual budget and allows us to keep registration fees low, equipment updated, fields and facilities safe, and coaches' skills up-to-date.
Our 2013 Goal: $1,000 per team
How It Works
The Hit-A-Thon is very similar to a walk-a-thon. Each player solicits sponsors who pledge to make a
tax-deductible
donation to FCKLL. The amount of the pledge can be based on the total distance each player attains. Each player gets ten hits, and we count the six longest hits. The distance of those six hits is totaled for the player's score.
Most sponsors will pledge a certain amount per foot, usually between $.03 - $.05. T-Ball players usually hit 400-600 feet. Major leaguers hit 800-1,500 feet. Much of the excitement of our contest centers on the unknown factor of how far a player will hit—and consequently how much they will raise. Other participants find it easier to collect a flat rate.
Prizes are awarded to individuals and teams at each level who hit the longest distances and raise the most funds.
All checks should be made payable to FCKLL.
Hit-A-Thon Schedule

Sunday, May 19, Westgate 1, 2, and 3