FBTAA: Welcome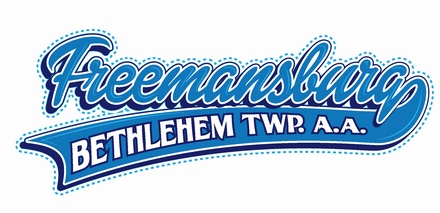 WELCOME TO THE FREEMANSBURG BETHLEHEM TOWNSHIP ATHLETIC ASSOCIATION!!
The Freemansburg Bethlehem Township Athletic Association provides baseball for residents of Freemansburg Borough and Bethlehem Township ages 5-19. The organization has been chartered with Little League of America for the past 60 years. Our organization also participates in the Lehigh Valley League, Bushkill Valley League, Connie Mack and Senior and Junior Legion programs.

Please keep checking the FBTAA site for news updates. Our "Calendar" has been updated with 2015 meeting, registration, clinic and game dates.

---
- LITTLE LEAGUE CHILD PROTECTION PROGRAM 2015 (BACKGROUND CHECKS)
- NYSCA COACHES CERTIFICATION PROGRAM AVAILABLE ON-LINE
---
Monday, May 11
- FBTAA Home Run Derby June 7th -11:00am
Parents/Players,
The annual homerun derby will be held on SUNDAY JUNE 7th. Starting time is scheduled for 11:00am.
The Derby is open to all Minors, LLA and LLB players. Cost is $10.00 per player.
Once you register at the link below it will send you a reminder email please print that and attach it to your check with your players name on it and return to the FBT RF Stand or your Team Parent.
Registration link is attached to this email and it is posted on the FBTAA.COM website. REGISTER HERE.
Registration CLOSES on 5/21 so that we can order shirts. If you register after 5/21 you will not receive a shirt. A volunteer request form will also be sent out prior to the event for help.
---

FBT Day Showing of Sandlot
THE SANDLOT (1993)
A new kid in town is taken under the wing of a young baseball prodigy and his team. Together, they get themselves into many adventures involving rival teams, lifeguards, and a vicious dog.
FBTAA DAY starts around 7-8pm with setup and the movie starts around dusk.
Refreshment stand will be open for the movie so plan on coming down and having a great movie night at the FBTAA complex.
Movie will be shown on the Little League Field with the screen setup on the infield grass and visible to the entire outfield.
---
CLICK ON THE TITLES(LINKS) BELOW FOR DETAILS
- Subscribe or Unsubscribe to the FBTAA Email List
-
FBTAA Open Discussion Forum on Facebook
---