FBTAA: Welcome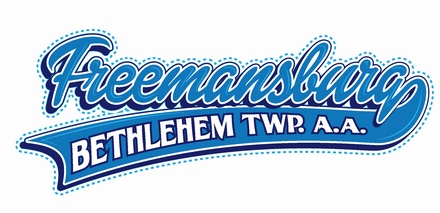 WELCOME TO THE FREEMANSBURG BETHLEHEM TOWNSHIP ATHLETIC ASSOCIATION!!
The Freemansburg Bethlehem Township Athletic Association provides baseball for residents of Freemansburg Borough and Bethlehem Township ages 5-19. The organization has been chartered with Little League of America for the past 60 years. Our organization also participates in the Lehigh Valley League, Bushkill Valley League, Connie Mack and Senior and Junior Legion programs.

Please keep checking the FBTAA site for news updates.

---
Thursday, March 2
League Meeting Dates and Times
Coaches,
Listed below are the dates and times for our in-season League Meetings. I strongly urge you to attend every meeting. If you cannot attend, please have a representative from your team present.
March 2 – 7pm
March 16 – 7pm
April 6 – 8pm
April 20 – 8pm
May 4 – 8pm
May 18 – 8pm
June 1 – 8pm
June 8 – 8pm (Elections)
---
---
---
---

- 2016 Background Check Rules
BACKGROUND CHECK INSTRUCTIONS AND LINKS


CLICK ON THE TITLES(LINKS) BELOW FOR DETAILS

- Subscribe or Unsubscribe to the FBTAA Email List

- NYSCA COACHES CERTIFICATION PROGRAM AVAILABLE ON-LINE

- FBTAA Open Discussion Forum on Facebook