FBTAA: Welcome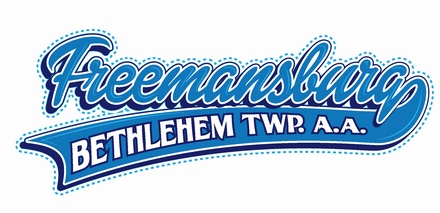 WELCOME TO THE FREEMANSBURG BETHLEHEM TOWNSHIP ATHLETIC ASSOCIATION!!
The Freemansburg Bethlehem Township Athletic Association provides baseball for residents of Freemansburg Borough and Bethlehem Township ages 5-19. The organization has been chartered with Little League of America for the past 60 years. Our organization also participates in the Lehigh Valley League, Bushkill Valley League, Connie Mack and Senior and Junior Legion programs.

Please keep checking the FBTAA site for news updates. Our "Calendar" has been updated with 2015 meeting, registration, clinic and game dates.

---
Thursday, May 12
FBT Day, Saturday June 4th
The Ladies Auxiliary is excited to present the FBT Day BBQ Picnic!
If you register in advance, you and your family (2 adult max) get a huge price break!
Please see flyer below for details!
Additional activities are being planned for FBT Day, so please stay tuned!
---
Saturday, January 16
FBTAA Day at the IronPigs
The Ladies Auxiliary is pleased to annouce the return of FBTAA Day at the Iron Pigs! Please join us at the Iron Pigs on Sunday, May 22, 2016. Game time is 1:35 pm, gates open approximately one hour prior.
The group outing will be held in the PPL Picnic Patio located down the left field line. The ticket price includes a two and a half hour, all-you-can-eat buffet, and unlimited soft drinks through the middle of the 8th inning. Adult beverages will be available to purchase separately.
Tickets cost $27 per person and seating is limited to the first 100 individuals that register and pre-pay for the event. Each FBT player registered will be included in a free raffle to determine which player will throw a first pitch before the game.
If you are interested in participating in this event, please contact the Ladies Auxiliary at FBTAALadiesAuxiliary@gmail.com for details and to register. Payment must be made in advance in order to participate.
---

- 2016 Background Check Rules
BACKGROUND CHECK INSTRUCTIONS AND LINKS
---
---


CLICK ON THE TITLES(LINKS) BELOW FOR DETAILS

- Subscribe or Unsubscribe to the FBTAA Email List

- LITTLE LEAGUE CHILD PROTECTION PROGRAM 2015 (BACKGROUND CHECKS)

- NYSCA COACHES CERTIFICATION PROGRAM AVAILABLE ON-LINE


- 2016 Winter Newsletter

- FBTAA Open Discussion Forum on Facebook