FBTAA: Welcome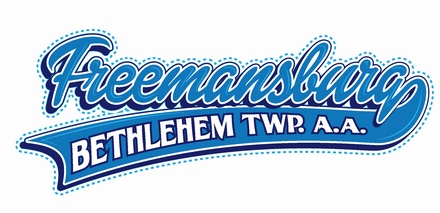 WELCOME TO THE FREEMANSBURG BETHLEHEM TOWNSHIP ATHLETIC ASSOCIATION!!
The Freemansburg Bethlehem Township Athletic Association provides baseball for residents of Freemansburg Borough and Bethlehem Township ages 5-19. The organization has been chartered with Little League of America for the past 60 years. Our organization also participates in the Lehigh Valley League, Bushkill Valley League, Connie Mack and Senior and Junior Legion programs.

Please keep checking the FBTAA site for news updates. Our "Calendar" has been updated with 2014 meeting, registration, clinic and game dates.

---
Friday, July 18
Freemansburg Bethlehem Township AA (FBTAA) seeks manager for LV Midgets Team
***************************
Freemansburg Bethlehem Township Athletic Association (FBTAA) is looking for qualified candidates to manage our Lehigh Valley Midgets (11/12 yr old) baseball team. This is a 100% volunteer position and the qualified candidate would have playing and/or managerial experience with youth ages 10 to 15 in various levels of play.
All candidates will need to submit and pass a background check prior to being selected/approved by the organization.
Interested candidates should send a cover letter and resume of experience to advertising at fbtaa.com by August 25th 2014.
FBTAA is a Little League Organization based on the borough of Freemansburg serving 5 to 19 year olds in Bethlehem Township and Borough of Freemansburg.
********************************
---
CLICK ON THE TITLES(LINKS) BELOW FOR DETAILS
Wednesday, August 13
- 2014 FALL BASEBALL Registration Information (CLOSED)
FBTAA POST SEASON
2014 Lehigh Valley Youth Legion Baseball Playoffs - (Updated July 18th)
2014 NORCO Senior Legion Playoffs - (Updated July 16th)
2014 Lehigh Valley Baseball League Playoffs - Knee-Hi (Updated July 11th)
2014 Lehigh Valley Baseball League Playoffs - Midgets (Updated July 10th)
- FBTAA 2014 Little League All Stars (Updated July 9th)
- 2014 FBTAA Little League Champion
Monday, June 2
- 2014 FBT Day Raffle Ticket Winners - corrected
Friday, June 6
- 2014 FBT Day Tricky Tray Winners
- Subscribe or Unsubscribe to the FBTAA Email List
-
FBTAA Open Discussion Forum on Facebook
---