FBTAA: Welcome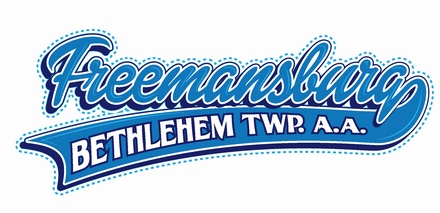 WELCOME TO THE FREEMANSBURG BETHLEHEM TOWNSHIP ATHLETIC ASSOCIATION!!
The Freemansburg Bethlehem Township Athletic Association provides baseball for residents of Freemansburg Borough and Bethlehem Township ages 5-19. The organization has been chartered with Little League of America for the past 60 years. Our organization also participates in the Lehigh Valley League, Bushkill Valley League, Connie Mack and Senior and Junior Legion programs.

Please keep checking the FBTAA site for news updates. Our "Calendar" has been updated with 2015 meeting, registration, clinic and game dates.

---
Thursday, November 12
Junior Legion Manager Position Open
Since 2008 Kyle Collina has managed the FBTAA Youth Legion team and has transformed our program into one of the most respected programs in the Lehigh Valley. In addition to managing the FBTAA team Kyle was also the president of the Youth legion program.
Effective immediately Kyle is stepping down due to increasing family committments so the league is now looking for a manager to replace Kyle and run the Youth Legion program for FBTAA.
The league requests that anyone interested in the manager position for the Junior Legion team to send the resume/CV and References to:
FBTAA
PO BOX 3043
Bethlehem, PA 18017
or
Wednesday, November 11
2015 December Board Meeting / League Meeting
FBTAA League and Board Meeting to be held on Thursday Dec 3rd @ 7pm @ Fieldhouse.
All FBTAA families are welcome to attend any League/Board meeting
We have a open board position if anyone is interested in the position please attend the meeting.
thanks,
FBTAA Board of Directors
---
---
CLICK ON THE TITLES(LINKS) BELOW FOR DETAILS
- Subscribe or Unsubscribe to the FBTAA Email List
-
FBTAA Open Discussion Forum on Facebook
---
- NYSCA COACHES CERTIFICATION PROGRAM AVAILABLE ON-LINE
- LITTLE LEAGUE CHILD PROTECTION PROGRAM 2015 (BACKGROUND CHECKS)