FBTAA: Welcome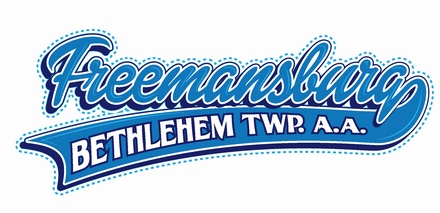 WELCOME TO THE FREEMANSBURG BETHLEHEM TOWNSHIP ATHLETIC ASSOCIATION!!
The Freemansburg Bethlehem Township Athletic Association provides baseball for residents of Freemansburg Borough and Bethlehem Township ages 5-19. The organization has been chartered with Little League of America for the past 60 years. Our organization also participates in the Lehigh Valley League, Bushkill Valley League, Connie Mack and Senior and Junior Legion programs.

Please keep checking the FBTAA site for news updates. Our "Calendar" has been updated with 2015 meeting, registration, clinic and game dates.

---
Wednesday, August 3
Congratulations to the Junior Legion Team
A big congratulations goes out to the Junior Legion Baseball team and their coach, Nate Stannard, for their wonderful season. The team won the Lehigh Valley Junior Legion Championship and advanced to the Eastern Regionals. They placed second in the tournament, losing to West Chester on the final day. They finished with a 21-6 combine record. Congrats on a great run and a great overall season!
---
Tuesday, July 12
2016 Fall Baseball
Good afternoon parents,
Fall baseball registration is now up and running. Simply go to the Registration tab on the site below to access the online registraion. You may be asked to log in.
http://sports.bluesombrero.com/Default.aspx?tabid=625249 ?
Registration must be done online and payment must be made at one of our three in-person dates.
Wednesday, July 27th - 6pm to 7:30pm
Saturday, July 30th - 10am to noon
Wednesday, August 3rd - 6pm to 7:30pm
In-person registration for all three days is at the FBT fieldhouse.
For those of you unaware of what Fall baseball is, here is a brief summary...
Fall ball is open to all kids ages 6 to 13 years old. We have four divisions.
Farm - 6 and 7 yr olds ($35 per child)
Minors - 8 and 9 yr olds ($55 per child)
Majors - 10 and 11 yr olds ($55 per child)
Sr Field - 12 and 13 yr olds ($75 per child)
As you may notice, the ages are a bit off from Spring baseball. The reason for that is to help prepare your child for next year's season. So if your child played his final season in Farm, he would move up to Minors in preparation for next Spring season.
Minors, Majors, and Sr Field all play games against other area Little Leagues. Games start late August and go until the first weekend in October. Normally, you have about two games a week. The number of practices depends on the coach. Farm plays in house (FBT only).
For Minors and Majors, games are umpired by the coaches. Only the Sr Field teams have paid umpires.
If you have any other questions, please ask me during any one of our three in person registrations. I hope to see you during the fall. Thank you.
Sincerely,
Ken Santay
FBTAA President
---
Monday, July 11
Gene "Jay" Sostarecz is a father, husband, friend, former FBT ballplayer, former Palmer, Bath and Liberty assistant baseball coach and Easton resident who has selflessly given of himself despite living with the serious complications of juvenile diabetes, is now in need of a kidney transplant.
Can you please take the time to seriously think about this and at least possibly forward to other friends and family members because time is not on Jays side. There was a potential donor lined up and at the very last stage of qualifying and testing he was informed that it was not going to work. So please take the time to consider this and keep Jay and his family in your thoughts and prayers
Best regards
FBTAA
---

- 2016 Background Check Rules
BACKGROUND CHECK INSTRUCTIONS AND LINKS
---


CLICK ON THE TITLES(LINKS) BELOW FOR DETAILS

- Subscribe or Unsubscribe to the FBTAA Email List

- LITTLE LEAGUE CHILD PROTECTION PROGRAM 2015 (BACKGROUND CHECKS)

- NYSCA COACHES CERTIFICATION PROGRAM AVAILABLE ON-LINE


- 2016 Winter Newsletter

- FBTAA Open Discussion Forum on Facebook