FBTAA: Welcome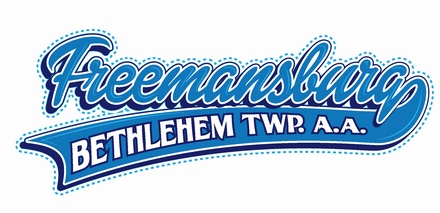 WELCOME TO THE FREEMANSBURG BETHLEHEM TOWNSHIP ATHLETIC ASSOCIATION!!
The Freemansburg Bethlehem Township Athletic Association provides baseball for residents of Freemansburg Borough and Bethlehem Township ages 5-19. The organization has been chartered with Little League of America for the past 60 years. Our organization also participates in the Lehigh Valley League, Bushkill Valley League, Connie Mack and Senior and Junior Legion programs.

Please keep checking the FBTAA site for news updates. Our "Calendar" has been updated with 2014 meeting, registration, clinic and game dates.

---
Wednesday, April 2
SR FIELD TRYOUT SCHEDULE UPDATES
Here is the updated SR FIELD TRYOUT schedule as of 4/2/14. The JR Legion, Lehigh Valley Knee-High and Bushkill Valley Knee-High teams will be rostered by the end of this weekend. All 13 and 14 year old regisrtants will be contacted by their respective team manager.
PLEASE CONTINUE TO CHECK THE WEBSITE FOR UPDATES IN THE EVENT OF POOR WEATHER
SAT 4/26 (Freemansburg)
5:00 - 7:00 : SR Legion Tryouts
SUN 4/27 (Freemansburg)
5:00 - 7:00 : SR Legion Tryouts
SR LEGION TRYOUT GROUP:
Ryan Hall Joseph Fedrizzi Kevin Dadio Ryan Healy Andrew Flynn Kyle Brown Zachary Luszik
Andrew Valkenburg Tristian Felchock Seth Batch Alex Thomas Jonathan Draper Gage Kuronya
Thomas Kopko Ryan Mullen Danny Knerr Danny Corvino Patrick Davis Connor McGuire Zak Gagnon
TJ Czerwinski Ryan Kokolus Jerry Kehoe Nick Mazzella Joshua Clymer Jarrett Clymer Ricky Scott
John Guido
Please contact John McGuire at (610) 216-3522 or goorioles@rcn.com for any questions.
Handout:
Senior Field Tryout Groups
Monday, March 31
ROSTER FOR SENIOR LITTLE LEAGUE
The following players have been rostered to our combination Senior Little League with Fountain Hill and City Line league organizations. The games for this team start Saturday 4/5 so please contact John McGuire via e-mail at goorioles@rcn.com so we can provide you with the contact information for the team manager and president at Fountain Hill Little League.
Scott Rader
Joe Rodgers
Rockwell Coulter
Michael Mele
Joseph Gross
Dylan Karba
Joseph Feith
CLICK ON THE TITLES(LINKS) BELOW FOR DETAILS
- FBTAA to host 2014 PA Junior Legion State Playoffs
- LITTLE LEAGUE CHILD PROTECTION PROGRAM 2014 (BACKGROUND CHECKS)
- NYSCA COACHES CERTIFICATION PROGRAM AVAILABLE ON-LINE
- Subscribe or Unsubscribe to the FBTAA Email List
-
FBTAA Open Discussion Forum on Facebook
- 60th Anniversary Logo
---