FBTAA: Welcome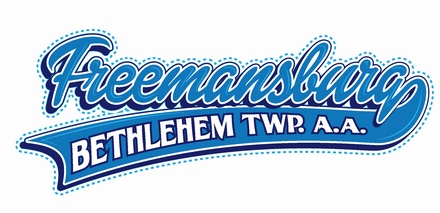 WELCOME TO THE FREEMANSBURG BETHLEHEM TOWNSHIP ATHLETIC ASSOCIATION!!
The Freemansburg Bethlehem Township Athletic Association provides baseball for residents of Freemansburg Borough and Bethlehem Township ages 5-19. The organization has been chartered with Little League of America for the past 60 years. Our organization also participates in the Lehigh Valley League, Bushkill Valley League, Connie Mack and Senior and Junior Legion programs.

Please keep checking the FBTAA site for news updates. Our "Calendar" has been updated with 2015 meeting, registration, clinic and game dates.

---

- 2016 REGISTRATION is now open

- 2016 Winter Newsletter
Saturday, January 16
Brax Spirit Cups Fundraiser
Freemansburg Bethlehem Township Athletic Association is very pleased to announce that we will be using the power of the National Football League (NFL), Major League Baseball (MLB), National Hockey League (NHL) and your favorite college teams to help us raise funds for our organization.
The fundraiser will run from January 11 until April 18, 2016. Important points:
These products are high quality, durable plastic, dishwasher safe and feature officially licensed branding from some of the top sports teams in the world.

Sample Cups will be provided on display at registration and at parent meetings.

The purpose of the fundraiser is to offset the costs of field maintenance, equipment and general improvements at FBTAA.

All checks should be made payable to FBTAA. Checks and cash should be collected in the envelope found in the enclosed order brochure and form.

Order forms are due back NO LATER THAN April 18, 2016. Completed orders are to be handed in at the FBTAA Refreshment Stand in the "Fundraiser Box".

Using BRAXDirect.com, our fundraiser can be shared with distant relatives and friends through social media and email. Online orders must be paid with a credit card and items ordered will be shipped directly to the person that placed the order. The BRAXDirect.com site will remain open 45 days past the close of the brochure sales.

For each group of five items sold, the seller will receive one entry for a raffle for exciting prizes (TBD) from FBTAA. Additionally, Brax Fundraising has a prize program which includes free Spirit Cups and Amazon gift cards based on the total items sold.
Thank you for your help in achieving our fundraising goals this year. If you have any questions, please contact the Ladies Auxiliary President, Wendy Santay, at Wendyjo18@aol.com or the auxiliary email FBTAALadiesAuxiliary@gmail.com.
---
Thursday, January 14
FBTAA Ladies Auxiliary Night Out at Texas Roadhouse
Please join us at the Bethlehem Texas Roadhouse (at Rte. 33 and Freemansburg Ave.) on Wednesday March 23, 2016. Proceeds from all diners that present this flyer (electronically or paper copy) will benefit the auxiliary and our events. Stop by our table inside the restaurant and participate in our raffles including a $30 Texas Roadhouse Gift Card! For more information or questions, please contact the Ladies Auxiliary at FBTAALadiesAuxiliary@Gmail.Com.
---
Saturday, January 16
FBTAA Clothing Sales
The Ladies Auxiliary is proud to announce the opening of the 2016 FBTAA Online Clothing Sale. This online store has been developed to greatly simplify the team gear ordering process for you. The store contains a selection of great items that range from Toddler sizes for our Tee-Ball and Coach Pitch players and Youth and Adult sizes for players, Coaches, parents and even family members! To see full descriptions, colors, pricing, sizing and ordering information, please visit the website at https://sv-sports.tuosystems.com/stores/fbtbaseball2016. This store is open for ordering from Jan 12, 2016 12:00 AM EST until Mar 14, 2016 11:59 PM EDT. Late orders will not be accepted to ensure on-time delivery. Order pick up dates and times will be distributed via email and on the FBT website @ www.fbtaa.com. Estimated delivery is Opening Day, April 16 (subject to change). Any questions, please contact Wendy Santay at fbtaaladiesauxiliary@gmail.com.
---
Saturday, January 16
FBTAA Day at the IronPigs
The Ladies Auxiliary is pleased to annouce the return of FBTAA Day at the Iron Pigs! Please join us at the Iron Pigs on Sunday, May 22, 2016. Game time is 1:35 pm, gates open approximately one hour prior.
The group outing will be held in the PPL Picnic Patio located down the left field line. The ticket price includes a two and a half hour, all-you-can-eat buffet, and unlimited soft drinks through the middle of the 8th inning. Adult beverages will be available to purchase separately.
Tickets cost $27 per person and seating is limited to the first 100 individuals that register and pre-pay for the event. Each FBT player registered will be included in a free raffle to determine which player will throw a first pitch before the game.
If you are interested in participating in this event, please contact the Ladies Auxiliary at FBTAALadiesAuxiliary@gmail.com for details and to register. Payment must be made in advance in order to participate.
Friday, January 8
2016 February Board Meeting / League Meeting - updated
FBTAA League and Board Meeting to be held on Thursday Feb 4th @ 7pm @ Fieldho...

Wednesday, January 27


CLICK ON THE TITLES(LINKS) BELOW FOR DETAILS

- 2016 Background Check Rules

- Subscribe or Unsubscribe to the FBTAA Email List

- LITTLE LEAGUE CHILD PROTECTION PROGRAM 2015 (BACKGROUND CHECKS)

- NYSCA COACHES CERTIFICATION PROGRAM AVAILABLE ON-LINE

- FBTAA Open Discussion Forum on Facebook