FBTAA: Welcome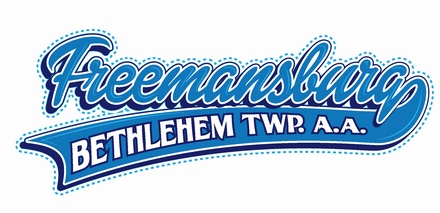 WELCOME TO THE FREEMANSBURG BETHLEHEM TOWNSHIP ATHLETIC ASSOCIATION!!
The Freemansburg Bethlehem Township Athletic Association provides baseball for residents of Freemansburg Borough and Bethlehem Township ages 5-19. The organization has been chartered with Little League of America for the past 60 years. Our organization also participates in the Lehigh Valley League, Bushkill Valley League, Connie Mack and Senior and Junior Legion programs.

Please keep checking the FBTAA site for news updates. Our "Calendar" has been updated with 2015 meeting, registration, clinic and game dates.

---
- 2015 Parent Meetings - updated
2015 PARENT MEETINGS
Date
Time
Location
Meeting
Fri., March 11th
8:00 - 9:00pm
BTCC
LLB Parent Meeting 8pm NEW DATE/TIME

Wed., March 4th
8:00 - 9:00pm
BTCC
LLA Parent Meeting 8pm COMPLETED

Wed., March 11th
7:00 - 8:00pm
BTCC
Minors Division Parents Meeting
Fri., March 13th
7:00 - 9:00pm
BTCC
TBall & Coach Pitch Parents Meeting





TBD

(updated)

7:00 - 8:00pm
FBTAA
Team Parent Meeting (Returning)
TBD
(updated)
7:00 - 8:00pm
FBTAA
Team Parent Meeting (New)
Returning team parents, If you want to get a jump start on your volunteer schedule, please contact
Enan Flynn
to have it emailed to you.
---
- 2015 REGISTRATION (still open) for 13 to 19 year olds
Parents,
Registration for the 13 year old to 19 year old players is still available.
To register your player please visit:
sports.bluesombrero.com/fbtaa
All other divisions 12 years old and younger are now CLOSED.
Wednesday, March 11
- 2015 Clothing Orders - ordering closes 3/16
- LITTLE LEAGUE CHILD PROTECTION PROGRAM 2015 (BACKGROUND CHECKS)
- NYSCA COACHES CERTIFICATION PROGRAM AVAILABLE ON-LINE
---
CLICK ON THE TITLES(LINKS) BELOW FOR DETAILS
- Subscribe or Unsubscribe to the FBTAA Email List
-
FBTAA Open Discussion Forum on Facebook
---