FBTAA: Welcome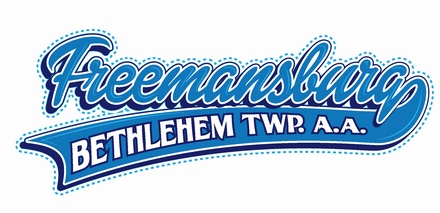 WELCOME TO THE FREEMANSBURG BETHLEHEM TOWNSHIP ATHLETIC ASSOCIATION!!
The Freemansburg Bethlehem Township Athletic Association provides baseball for residents of Freemansburg Borough and Bethlehem Township ages 5-19. The organization has been chartered with Little League of America for the past 60 years. Our organization also participates in the Lehigh Valley League, Bushkill Valley League, Connie Mack and Senior and Junior Legion programs.

Please keep checking the FBTAA site for news updates. Our "Calendar" has been updated with 2015 meeting, registration, clinic and game dates.

---
Tuesday, January 3
2017 Spring Registration is OPEN
Good afternoon parents,
Spring baseball registration is now up and running.
Simply go to the Registration tab on the site below to access the online registraion. You may be asked to log in.
www.sports.bluesombrero.com/fbtaa
Registration must be done online and payment must be made at one of our six in-person dates.
Saturday, January 14th - 10am to noon
Wednesday, January 18th - 6pm to 8pm
Saturday, January, 21st - 10am to noon
Thursday, January 26th - 6pm to 8pm
Saturday, January 28th - 10am to noon
Tuesday, January 31st - 6pm to 8pm (late registration fees apply)
In-person registration for all six days is at the FBT fieldhouse. Fees are listed below.
5 to 8 yr olds ($85 per child)
9 to 12 yr olds ($115 per child)- includes $30 umpire fee
13 to 18 yr olds ($165 per child)
This year will we be utilizing paid umpires for our Minors and Majors Little League Programs. Last season, the Majors program used paid umpires and it worked out quite well. This is common practice among all leagues within District 20. all of them, like us, have trouble finding volunteers to umpire all the games. This is a great way to insure an umpire is present at every game.
If you have any other questions, please ask me during any one of our six in person registrations. I hope to see you during the spring. Thank you.
Sincerely,
Ken Santay
---
Wednesday, January 18
2017 Dick's Sporting Goods Coupon
---
Wednesday, January 18
2017 FBTAA Golf Tournament
The 2017 Golf Tournament info is now available. Please see the attached document below. Plenty of more information coming soon...
Handout:
2017 FBTAA Golf Tournament
---

- 2016 Background Check Rules
BACKGROUND CHECK INSTRUCTIONS AND LINKS
---


CLICK ON THE TITLES(LINKS) BELOW FOR DETAILS

- Subscribe or Unsubscribe to the FBTAA Email List

- NYSCA COACHES CERTIFICATION PROGRAM AVAILABLE ON-LINE

- FBTAA Open Discussion Forum on Facebook