FBTAA: Welcome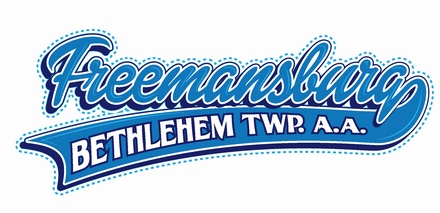 WELCOME TO THE FREEMANSBURG BETHLEHEM TOWNSHIP ATHLETIC ASSOCIATION!!
The Freemansburg Bethlehem Township Athletic Association provides baseball for residents of Freemansburg Borough and Bethlehem Township ages 5-19. The organization has been chartered with Little League of America for the past 59 years. Our organization also participates in the Lehigh Valley League, Bushkill Valley League, Connie Mack and Senior and Junior Legion programs.

Please keep checking the FBTAA site for news updates. Our "Calendar" has been updated with 2013 meeting, registration, clinic and game dates.

---
Wednesday, October 30
DeSales University Pitchers and Catcher Camp
Head coach Tim Neiman and the Desales University Baseball team is hosting a camp for pitchers and catchers during the month of November with sessions each Saturday and Sunday. The camp is for players in the 5th through 12th grade. Please download the attached camp flyer for more information. Players can register for the camp at the first session on Saturday 11/2.
Handout:
Camps
Tuesday, October 8
FBTAA Playoff Committee Meeting
Meeting Date: Thursday OCTOBER 17th
TIME: 7:00pm
WHERE: FBTAA Fieldhouse
The Playoff committee meeting will hold its first meeting on Thursday OCTOBER 17th at 7:00pm at the FBT Fieldhouse.

We welcome all league members who are interested in helping us run the tournament on Aug 2 to the 6th. We need volunteers for:
- Tournament Statistician
- Housing and Meals
- Refreshment Stand
- Tickets and Admissions
- Grounds and Fields
- Program and Sponsorships (Advertising)
Thanks
Tournament Committee & FBTAA Board of Directors
-----------------------------------------------------------------------------------------------------------
Tuesday, October 8
FBTAA to host 2014 PA Junior Legion State Playoffs
The league was notified on Friday September 27 that we were selected to host the 2014 PA Junior Legion State playoffs. The league will host 8 teams from throughout the State of PA for the final playoff games to crown the state champion.
The playoff is scheduled from Saturday August 2nd to Wednesday August 6th, 2014. The league is forming the committee to support this important event and we are always looking for volunteers who can support our effort to host this tournament. We are looking for volunteers to lead or participate on the following committee's. If anyone is interested please email the Board of Directors at fbtaaemail@yahoo.com.
- Tournament Director
- Tournament Statistician
- Housing and Meals
- Refreshment Stand
- Tickets and Admissions
- Grounds and Fields
- Program and Sponsorships
The league will need the support of our members and our sponsors to make this a successful tournament, if you know anyone who is interested in participating or sponsoring the league please have them reach out to us at fbtaaemail@yahoo.com.
CLICK ON THE TITLES(LINKS) BELOW FOR DETAILS
- 2013 Managers Evaluation Form
- Lee Frey - Founding member of FBTAA baseball.
- Subscribe or Unsubscribe to the FBTAA Email List
---
-
FBTAA Open Discussion Forum on Facebook