FBTAA: Welcome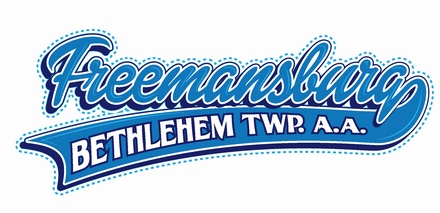 WELCOME TO THE FREEMANSBURG BETHLEHEM TOWNSHIP ATHLETIC ASSOCIATION!!
The Freemansburg Bethlehem Township Athletic Association provides baseball for residents of Freemansburg Borough and Bethlehem Township ages 5-19. The organization has been chartered with Little League of America for the past 60 years. Our organization also participates in the Lehigh Valley League, Bushkill Valley League, Connie Mack and Senior and Junior Legion programs.

Please keep checking the FBTAA site for news updates. Our "Calendar" has been updated with 2015 meeting, registration, clinic and game dates.

---
- 2015 REGISTRATION (still open)
You will find the 2015 Registration Links, Instructions and In-Person DATES below
by BlueSombrero (sponsored by DICK's Sporting Goods)
2015 BASEBALL REGISTRATION
Jan 1st
ONLINE Registration Begins
ALL players (NEW & EXISTING) MUST use online registration.
Online Registration Text Link: http://sports.bluesombrero.com/Default.aspx?tabid=625259&isLogin=True
Thursday, Jan 22nd
Registration for 2015 Season

6pm - 7:30pm

FBT Fieldhouse
Saturday, Jan 24th

Registration for 2015 Season

10am - 2pm
FBT Fieldhouse
Thursday, Jan 29th
Registration for 2015 Season
6pm - 7:30pm
FBT Fieldhouse
Saturday, Jan 31st
Registration for 2014 Season

10am - NOON
FBT Fieldhouse
Saturday, Feb 7th
LATE Registration* for 2014 Season

10am - 12pm

FBT Fieldhouse

* There will be a $10 late fee added to the registration beginning Feb 1st.




If you have any questions, please call the League Fieldhouse at 610-867-8581 and leave a message or call David Lissy, Player Agent Personnel at 908-342-4781 or e-mail him at playeragent@fbtaa.com.
MAILING LIST: If you wish to receive these notices via email please subscribe to our FBTAA email list by sending an empty email to fbtaaemail+subscribe@googlegroups.com.
Attachments:
Winter Newsletter
Registration Announcement (Same one that is sent to BASD elementary schools)
Online Registration Step By Step Instructions
Handout:
2015 Registration and Newsletter Files
- 2015 Parent Meetings
- 2015 Player Evaluations at NACC - Sunday 2/22
- LITTLE LEAGUE CHILD PROTECTION PROGRAM 2015 (BACKGROUND CHECKS)
---
CLICK ON THE TITLES(LINKS) BELOW FOR DETAILS
- NYSCA COACHES CERTIFICATION PROGRAM AVAILABLE ON-LINE
- Subscribe or Unsubscribe to the FBTAA Email List
-
FBTAA Open Discussion Forum on Facebook
---