FBTAA: Welcome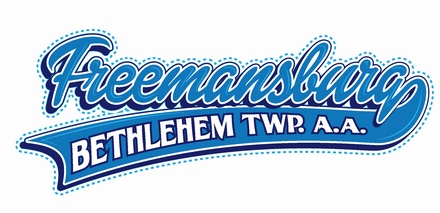 WELCOME TO THE FREEMANSBURG BETHLEHEM TOWNSHIP ATHLETIC ASSOCIATION!!
The Freemansburg Bethlehem Township Athletic Association provides baseball for residents of Freemansburg Borough and Bethlehem Township ages 5-19. The organization has been chartered with Little League of America for the past 60 years. Our organization also participates in the Lehigh Valley League, Bushkill Valley League, Connie Mack and Senior and Junior Legion programs.

Please keep checking the FBTAA site for news updates. Our "Calendar" has been updated with 2015 meeting, registration, clinic and game dates.

---
- FBTAA FALL BASEBALL REGISTRATION
FBTAA will hold in-person registration for Fall Baseball on:
Thursday July 30th, 2015 @ 6pm to 7:30pm
Saturday August 1st, 2015 @ 10am to Noon
All players must still be registered online and everyone must visit in-person registration to complete the code of conduct.
If you wish to pay by check stop by and we will credit you the website fee for paying by check/cash.

Online Registration Link - http://send.bluesombrero.com/wf/click?upn=4-2FPWf3SGBKyvSbjiZnnSIifHey3ptvQ7fct-2B7HjTDnrwBEUT35FuKDQy7WN-2BnpDVUs39GYxX4GqJfdPHhV1GRg-3D-3D_BJkGAKsGgbHh2-2BIfs195dV7A-2Byv5xTcgJ4xea-2FSb62araAp29o0-2BIDZk6ybZg7PO4cuf4Jn8sDQomp1xvzjF2fQUJJAtt7eIquQ2cnagfXkAr4H7pjymmJZdJ5fFjC5Pfrvi2Gnz6at3Fy7b2OHGgA1YucPN3ZqGMre5BaUnJxjIh-2FOiWROF4vY3KU-2BKNm-2F8ekjjHMNHhEwuf3fWrB5NFcLR3UBfpsW-2BleS-2B2hyDH6dFEk7f9-2Fe-2FV3cRbdtq-2B3SHnf-2BDdP6JC2rWjUxluyzgpA-3D-3D
Everyone must use the online system but you can choose to pay by check or credit card.

Eligible Ages Groups
- 6-7 year old (Minor League Field) ** TBD ** - depends on manager participation/clinic style approach no games
- 8 and 9 year olds (Little league field, 46" mound 60'bases) – age as of 12/31/15
- 10 and 11 year olds (Little league field, 46" mound 60'bases) – age as of 4/30/15
- 12 and 13 year olds (FB Midgets as well) (Senior Field, 52" mound 80' bases) – age as of 4/30/15

Registration Fees: **
- 6-7 year olds - $35 (in-house only minimum of two teams or 24 players)
- 8&9 and 10&11 year olds - $55
- 12 to 13 year olds - $75
**- website fee applies to all registrations, if you visit our in-person registration and pay by check we will credit you that fee.
---
---
CLICK ON THE TITLES(LINKS) BELOW FOR DETAILS
- Subscribe or Unsubscribe to the FBTAA Email List
-
FBTAA Open Discussion Forum on Facebook
---
- NYSCA COACHES CERTIFICATION PROGRAM AVAILABLE ON-LINE
- LITTLE LEAGUE CHILD PROTECTION PROGRAM 2015 (BACKGROUND CHECKS)
Upcoming Events
Date
Event
Time
Location
Thu 8/6
League Meeting
8:00 PM - 9:00 PM
Fieldhouse