Monday, March 25
Farmington High Girls Varsity Wins First State Title
Courtesy: Farmington Patch
The Farmington High School girls varsity basketball team won the 2013 Connecticut Class L state title with a 49-44 victory over Bacon Academy at Mohegan Sun Arena on Saturday March 16.
Sophomore Sophie Borg and senior Brittany Belisle led a balanced scoring attack for the Indians with 11 points each. Junior Courtney Hofer had seven points and 10 rebounds. Senior Allison Walsh scored six points. Freshman Cheray Saunders and senior Jamie Bartucca had four points, while junior Bridget Kelly and senior Cally Lombardi had three each.
Farmington won the CCC West and beat Middletown, Bristol Central, Pomperaug and RHAM in the state tournament to reach the championship game.
Congratulations to all the girls and coach Russ Crist on an outstanding season.
Thursday, November 29
Farmington Girls 8th Grade Travel Basketball Team Wins Thanksgiving Tournament
The girls of the Farmington 8th Grade Travel Basketball team were recognized as champions of the 2012 Turkey Shootout this past weekend. They were awarded the tournament championship trophy Sunday night at the Valley Sports Center in Canton, who sponsored the tournament. The team scored at least 41 points in each game while limiting their opponents to an average of 22 points. The girls defeated Windsor Locks 44-11, Bristol 41-27, Suffield 47-35 and Canton 45-15 during the weekend competition. Pictured from L-R are Coach Chris Ramsay, Julia Borgida, Julia Harrell, Cailin Cruess, Mary Schoenherr, Maddie Chagnon, Tara O'Coin, Amanda James, Erica Szydlik and Asst Coach Todd Thiesfeldt. Not pictured are team members Clare Meehan and Dana Thiesfeldt.
Sunday, November 11
Pizza Party Tipoff Event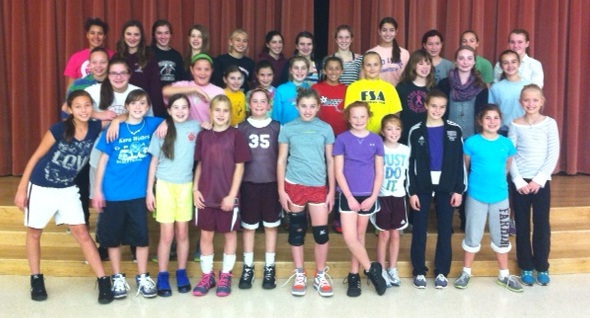 Farmington players pose for a photo at the preseason tipoff party
Saturday, October 20
Players Selected For 2012-13 Farmington Travel Teams
Players have been selected for the 2012-13 Farmington Girls Travel Basketball teams. Thanks to all the girls who participated in tryouts. We are looking forward to a great season. Coaches will be contacting parents soon regarding practice times. Here are the rosters:
5th Grade: Emma Cruess, Rylee Fountain, Carolyn Ives, Olivia Klinzman, Jessica Krupnikoff, Cecily Meehan, Anna Mihalek, Emmy Nollman, Amanda Rodrigues, Caroline Rutenberg, Johanna Wolkoff
6th Grade: Stephanie Austin, Grace Bergin, MacKenzie Collins, Molly McGuigan, Isabella Mendes, Holly Picchioni, Carolyn Piera, Samantha Ruh, Katherine Siuta, Nicole Smith, Ryan Weinberg
7th Grade: Hannah Clark, Julia Conturso, Malia Copeland, Madison Curtis, Isabella Iraeta, Avery Laberge, Isabelle Lipinski, Mya Steir, Jaclyn Wilson
8th Grade: Julia Borgida, Madeleine Chagnon, Cailin Cruess, Julia Harrell, Amanda James, Clare Meehan, Tara O'Coin, Erica Raus, Mary Schoenherr, Erica Szydlik, Dana-Leigh Theisfeldt
Thursday, October 4
Tryouts slated for the 2012-13 Season
Farmington Girls Travel Basketball tryouts will be held on October 15th and 17th at West Woods Upper Elementary School.
The 5th and 6th grade players will tryout from 6:00 p.m. to 7:30 p.m. The 7th and 8th grade girls will follow from 7:30 p.m. to 9:00 p.m.
There are four Farmington Girls Travel basketball teams. Developmental (5/6), Sixth Grade Travel, Seventh Grade Travel and Eighth Grade Travel.
The girls are required to be at both nights of tryouts.
Be sure to register with the Farmington Rec Department.
Friday, August 31
Farmington Girls Make Nutmeg Medal Round
A collection of rising eighth, ninth and tenth grade basketball players from Farmington played for the bronze medal at the annual Nutmeg State Games in New Britain this summer.
The Farmington team, consisting of players from the town travel basketball teams, competed against AAU and travel teams from across the state of Connecticut.
Farmington, led by Munah Momah, Sarah Lipinski and Kelly Winner, won two of its first three games and qualified for medal round play.
In the medal round Farmington was edged out by a talented squad from Marlborough.
Congratulations to everyone involved. Thanks to all the parents who shuttled the players back and forth to New Britain all week. And a special thanks to Hugh James for ironing out all the details and Joan Winner for taking some great photos from the event.