Friday, October 23
Welcome To Farmington Girls Travel Basketball
This is the website for the Farmington, Connecticut Girls Travel Basketball program. The Farmington Travel program is a member of the Connecticut Girls Travel Basketball League. We have three teams: 5/6th, 7th and 8th grades in the CGBL. Use this website to keep up with our teams. We are constantly updating the site with news, schedules and postgame reports.
Players from this program feed into the 2013 Connecticut Class L Champion Farmington High School basketball program. Support the FHS girls teams as they make another run to the Connecticut State Tournament in March. Click here to see the 2015-16 FHS Girls Basketball schedule and results.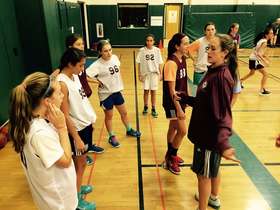 Former FHS star Sarah Sylvester instructs eighth grade players during tryouts.
Friday, October 23
Farmington Girls Travel Basketball Roster Announcement
Here are the Farmington Girls Travel Basketball rosters for the 2015-16 season. Congratulations to the players who made the teams. We are looking forward to another tremendous season.
Fifth/Sixth Grade: Jennifer Austin, Abigail Finn, Daria Fournier, Meredith Jackson, Emma Klinzmann, Elizabeth Neri, Olivia Rodrigues, Suzette Scheer, Alexandra Schipper, Angelina Talbot, Amber Wolkner
Seventh Grade: Sarah Catillo, Sasha Davis, Alexa DeFrancesco, Kylee Ficks, Alison Godfrey, Kaya Krupa, Maya Lipinski, Emma Novajasky, Ruth Torrence, Sam Vertefueille
Eighth Grade: Rylee Fountain, Gillian Fulton, Kyla Gallagher, Sarah Hennig, Carolyn Ives, Olivia Klinzmann, Jessica Krupnikoff, Francesca Mangiofico, Katie Powell, Amanda Rodrigues, Caroline Rutenberg