Clear Lake Falconhoops: Welcome
Welcome to Clear Lake Falcon Boys Varsity Basketball
2013 MVP WINNER ALDEN MILES WITH COACH PENDERS (more photos below)
Clear Lake Basketball
ClearLakeFalconHoops.com publicizes the Clear Lake High School (Houston, Texas) Boys Varsity Basketball team to enhance the community's enjoyment of Clear Lake Boys basketball.
Clear Lake High School Boys Basketball has been regarded as one of the top tier Texas public school basketball programs for four decades . This website strives to perpetuate this proud heritage by highlighting the varsity team's accomplishments.
(MORE PHOTOS BELOW. )
(For the latest news and a list of this week's events, please scroll down).
Based on number of unique hits, this site is the # 1 team-specific high school basketball website in Texas and far exceeds average viewing hits among major high school and AAU websites. Now in its 12th season, this website is provided without advertising or donations by a very dedicated Clear Lake Boys basketball fan.
Season schedules, directions to schools, game and player scoring stats, cumulative current season scoring stats, district standings, and regional and state rankings are provided.
In addition, game action photos and slideshows, team and roster photos, and occasional video highlights provide comprehensive coverage for one of many outstanding high school varsity basketball teams in Texas.

CLEAR LAKE BASKETBALL HERITAGE
Clear Lake High School is home to legendary coach Bill Krueger who retired in 1996 as the "winningest" high school basketball coach in the nation. In addition, Clear Lake's second head coach, Lynn McDonald, was generally acknowledged as one of the top 5A coaches in the state and was selected as the most outstanding 5A coach in Texas in 2007 from over 230 5A coaches. Coach McDonald's teams made it to the playoffs every year he was the head coach (13 consecutive years).
See the "Coach Profiles" Page on the menu above for more on these outstanding coaches.
The Tradition Continues
Clear Lake's current head coach, Tommy Penders, is a third generation basketball coach with success reaching back to the four state championships his grandfather won. Tommy came to us in 2009 from Angleton High School where he took his team to the State Tournament in 2006.
First time visitors can click Here for an overview of what the many pages of this website offer. Suggestions and comments about the site are always welcomed.
---
---
LATEST NEWS
Final 2012-13 Season Record 20-13, 8-4 in District
In the first round of the playoffs Clear Lake was defeated by Fort Bend Travis 73-56. Travis went on to win the 5A state championship.
---
OTHER NEWS
Player scoring stats on this site are complete through end of season.
For complete Lake team and player stats, click here to go to maxpreps.com.
---
FYI
Please feel free to download any photos on the photo albums website. Click on any photo to go to it.
Stats - Only player scoring stats will be reported on this site. To see each player's cumulative stats click on "Player Stats" on the main menu. To see individual game stats, click on "Schedules and Scores". If the game's final score appears, click on the game for which you wish to view stats. Then click on "stats" in the bottom right corner. This will display scoring stats for each Clear Lake player in that game.
During the regular season you can find Lake's detailed stats for the current season at
maxpreps.com . Please be advised that on maxpreps the calculation of average points per game for each player is erroneously (but unavoidably) based only on games in which a player scores, not on total games played.
See the Schedule Page for a complete season schedule. For district games, details of game times for each team can be found when a footnote for the game appears.
Look for feature articles on some games and team game stats during the season on the FALCON FLASHES Page
Clicking on a photo other than the banner will link you to the Photo Albums site.
Articles on AAU Basketball - In the summer of 2010 the Houston Chronicle ran an excellent five part series on AAU basketball which will be retained for future reference at the bottom of the "General Info" Page.
During the season (district play) check out the occasional video highlights by going to the "Videos and Slideshows" Page . Move the cursor over the video image to display "pause or play" controls.
---
Suggestions, Questions, Comments, or Complaints
Please direct comments to:
Falconhoops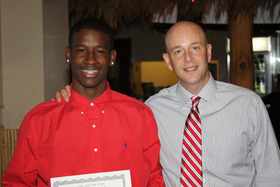 2013 OFFENSIVE PLAYER OF THE YEAR WILL WEST
2013 AWARD WINNERS
2013 DEFENSIVE PLAYER OF THE YEAR JORDAN DAVIS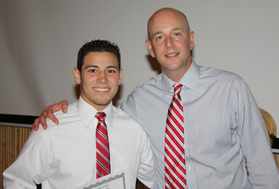 JP BARAJAS WINS HUSTLE AND HEART AWARDS
Click here for a ClearLakeFalconHoops Overview For First Time Visitors to Website
FALCONHOOPS LOGO IS A REGISTERED TRADEMARK - The clearlakefalconhoops.com logo is a registered trademark of the website and may not be used by anyone without the expressed written permission of the website administrator.