Clear Lake Falconhoops: Welcome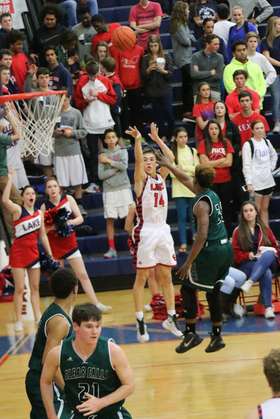 John Culbertson nails a trey....photo by D Navarro
Welcome to Clear Lake Falcon Boys Varsity Basketball
Ajare Sanni goes for two in traffic....photo by D Navarro
Clear Lake Basketball
ClearLakeFalconHoops.com publicizes the Clear Lake High School (Houston, Texas) Boys Varsity Basketball team to enhance the community's enjoyment of Clear Lake Boys basketball.
Clear Lake High School Boys Basketball has been regarded as one of the top tier Texas public school basketball programs for over four decades. This website strives to help perpetuate this proud heritage by highlighting the varsity team's accomplishments. Click on the "HERITAGE" link in the menu above for more on Clear Lake's basketball heritage.
(For the latest news please scroll down a bit. For a list of this week's events including all games for all teams, please scroll down to the bottom of this page).
Based on number of unique hits, this site is the # 1 team-specific high school basketball website in Texas and far exceeds average viewing hits among major high school and AAU websites. Now in its 15th season, this website is provided without advertising or donations by a dedicated Clear Lake Boys basketball fan.
Season schedules, directions to schools, cumulative current season scoring stats, district standings, and regional and TABC state rankings are provided.
In addition, volunteer-provided game action photos, slideshows, team and roster photos, and occasional video highlights provide comprehensive coverage for one of many outstanding high school varsity basketball teams in Texas.
First time visitors can click Here for an overview of what the many pages of this website offer. Suggestions and comments about the site are always welcomed.
---
---
LATEST NEWS
Feb 9, 2016: Brazoswood 59 - Clear Lake 58. Lake's record is now 16-13, 6-6. Scott Bolen went 7 of 8 for 15 points. Ajare Sanni went 7 of 8 from the free throw line and 4 of 13 from the field for 15 points.
Feb 5, 2016: Clear Lake 65 - Clear Falls 50. Lake's record is now 16-12, 6-5. Scott Bolen would share the imaginary award of the game ball with John Culbertson. Each had 18 points. Scott Bolen had a double double with 11 rebounds he raked in. This is the sixth game this season he has scored 15 or more points.
Feb 2, 2016: Clear Lake 62 - Clear Brook 54. Lake's record is now 15-12, 5-5. This was an intense basketball game that was thrilling to watch from start to finish. In the previous meeting between these two teams Brook prevailed by outscoring Lake by 20 points. Tonight a determined Lake squad denied Brook another victory by shooting well, doing a better job of rebounding, and cutting down on turnovers. Free throw shooting was weak at 64% (16 of 25). Brook's was also weak at 63%. Brook's David Azore (#22) (junior) led all scorers with 27 points. Lake's freshman sensation Jeremiah Maldonado had 21, Ajare Sanni had 19, and Jake Ostrowski, who played with a fire in his belly so hot you could almost feel the heat, had 14 points. Friday Lake plays at home versus Clear Falls. With 4 games remaining in regular district play Lake must sustain the level of play demonstrated tonight if we wish to make the playoffs.
OTHER NEWS
Playoff picture as of 2-10-16:
Dickinson is in first place (10 wins) with Creek and Springs to play.
Creek is in 2nd with 9 wins and Dickinson and Lake to play.
Brook has 7 wins with Brazoswood and Friendswood remaining to play.
Springs has 7 wins with Falls and Dickinson to play.
Lake has 6 wins with Friendswood and Creek remaining.
Most hopeful scenario: If Springs loses to Dickinson and Lake wins its two remaining games, Lake would be tied with Springs and have a playoff game with Springs to determine 4th place and a playoff berth.
UIL Realignment
With the UIL redistricting plan for 2016-17 just announced it looks like Lake fans can say goodbye to the trek down to Brazoswood. Bwood will move to another district and Alvin will join our District 24-6A. More good news: the Fort Bend schools have been assigned to District 20 next year so we will not have to face them in the first round of the playoffs.
As the season progresses the summary articles by month are posted on the "FALCON FLASHES" Page.
---
FYI
Please feel free to download any photos you wish to obtain from the photo albums website. Click on any photo to go to it.
Stats During the regular season - you can find Lake's detailed stats for the current season at
maxpreps.com . Please notice that on maxpreps the calculation of average points per game for each player is based only on games in which a player scores, not on total games played.
See the Schedule Page for a complete season schedule. For district games, details of game times for each team can be found when a footnote for the game appears.
Look for feature articles on some games and team game stats during the season on the FALCON FLASHES Page
Clicking on a photo other than the banner will link you to the Photo Albums site.
Articles on AAU Basketball - In the summer of 2010 the Houston Chronicle ran an excellent five part series on AAU basketball which will be retained for future reference at the bottom of the "General Info" Page.
During the season (district play) check out the occasional video highlights by going to the "Videos and Slideshows" Page . Move the cursor over the video image to display "pause or play" controls.
---
Suggestions, Questions, Comments, or Complaints
Please direct comments to:
Falconhoops
Click here for a ClearLakeFalconHoops Overview For First Time Visitors to Website
FALCONHOOPS LOGO IS A REGISTERED TRADEMARK - The clearlakefalconhoops.com logo is a registered trademark of the website and may not be used by anyone without the expressed written permission of the website administrator.