Clear Lake Falconhoops: Welcome

2018-19 Clear Lake Varsity (not shown is Jeremiah Maldonado)......photo by Don
Rest In Peace George Herbert Walker Bush. Rest in Peace Leo Sarabia
Welcome to Clear Lake Falcon Boys Varsity Basketball
Clear Lake Basketball
ClearLakeFalconHoops.com publicizes the Clear Lake High School (Houston, Texas) Boys Varsity Basketball team to enhance the community's enjoyment of Clear Lake Boys basketball.
Clear Lake High School Boys Basketball has been regarded as one of the top tier Texas public school basketball programs for over four decades. This website strives to help perpetuate this proud heritage by highlighting the varsity team's accomplishments. Click on the "HERITAGE" link in the menu above for more on Clear Lake's basketball heritage.
(For the latest news please scroll down a bit. For a list of this week's events including all games for all Lake teams, please scroll down to the bottom of this page).
Based on number of unique hits, this site is the # 1 team-specific high school basketball website in Texas and far exceeds average viewing hits among major high school and AAU websites. Now in its 18th season, this website is provided without advertising or donations by a dedicated Clear Lake Boys basketball fan.
Season schedules, directions to schools, cumulative current season scoring stats, district standings, and TABC state rankings are provided.
In addition, occasional volunteer-provided game action photos, slideshows, team and roster photos, and occasional video highlights provide comprehensive coverage for one of many outstanding high school varsity basketball teams in Texas.
First time visitors can click Here for an overview of what the many pages of this website offer. Suggestions and comments about the site are always welcomed.
---
---
LATEST NEWS
For a brief tribute to Leo Sarabia, click on the Falcon Flashes" Page and go to the top link. As soon as I can get the photos straightened out, their will be a photo of Leo on the Front Page of the site.
December 1, 2018. Carlisle Krueger Classic Tournament Day 3 (Games 4 & 5)
Game 4: Manvel 64 - Clear Lake 54
In the semifinal round Manvel defeated Clear Lake 64-54 to advance to the Championship game at 6pm. Manvel's #20, 6'3" sophomore Mason McBride had 34 points against Lake. Manvel later won the championship by defeating a very good Summer Creek team 77-72.
John Argue 25pts., JaJa Sanni 12.
Game 5: Clear Lake over Clear Creek 54-46
For 3rd Place, Clear Lake faced archrival Clear Creek High School but it was somewhat subdued for a Lake-Creek clash. This was the 6th game in 6 days for the Falcons so Lake starters John Argue and Casey Davissat the game out to rest. JaJa Sanni played very little also. Freshman Alex Lee had a great game hitting 5 of 7 three point attempts and leading his team with 21 points. Jeremiah Maldonado returned to the court at the start of this tournament and is getting back his form.
OTHER NEWS
Notice: several problems have begun to appear on this website: the advertisements at the top are not suppose to appear; often updates made to report most recent game results are not appearing. In addition, some schedule revisions made have not appeared on the site. I apologize for any inconvenience this might cause.
- To purchase spirit gear or other apparel, click on:
https://clearlakeboysbaske.wixsite.com/mysite-3
---schedules for the 2018-19 season are posted but some changes are stil being made. Click on "Schedules and Scores" and select the tab for your team. Varsity Tournament game times will be provided as soon as they are available. Please note: while viewing the game schedule, you can click on a game location to acquire the address and directions to the school (or you can go to the "Directions to Schools" Page from the menu.
---Starting with the 2018-19 season, the varsity game schedule for each upcoming game will be posted on Twitter and Facebook. After each game, outcome will be posted on Twitter (immediately) and Facebook (within 4-6 hours).
@CLfalconhoops is the Twitter account (please follow) and
for Facebook it is Clear Lake Falcon Hoops. Friend this site to keep up with the Falcons.
- Occasionally a late change will occur for a varsity game time or location so it is best to always re-check this website on game day. Changes are rare but they do happen.
- Once in awhile photos presented on this website which should appear do not appear. This is the fault of the service provider which manages all images and is not the fault of this website.
As the season progresses see any back articles posted on the "FALCON FLASHES" Page.
---
FYI
Link to Player Stats: Find Lake's detailed stats for the current season at
maxpreps.com . Please notice that on maxpreps the calculation of average points per game for each player is based only on games in which a player scores, not on total games played.
See the Schedule Page for a complete season schedule. For district games, details of game times for each team can be found when a footnote for the game appears.
Look for feature articles on some games and team game stats during the season on the FALCON FLASHES Page
Link to Photo Albums Site: Due to difficulties with the revised photo albums site, the albums are not in chronological order and are not current. This issue is being addressed but will take time.Albums go back to 2001 but are disorganized.
Clicking on a photo other than the banner will link you to the Photo Albums site but be advised it is a mess .
Articles on AAU Basketball - In the summer of 2010 the Houston Chronicle ran an excellent five part series on AAU basketball which will be retained for future reference at the bottom of the "General Info" Page.
During the season (district play) check out the occasional video highlights by going to the "Videos and Slideshows" Page . Move the cursor over the video image to display "pause or play" controls.
---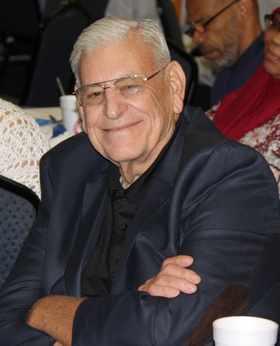 RIP Pud Williams - one of a kind
Suggestions, Questions, Comments, or Complaints
Please direct comments to:
Falconhoops
Click here for a ClearLakeFalconHoops Overview For First Time Visitors to Website
FALCONHOOPS LOGO IS A REGISTERED TRADEMARK - The clearlakefalconhoops.com logo is a registered trademark of the website and may not be used by anyone without the expressed written permission of the website administrator.