Clear Lake Falconhoops: Welcome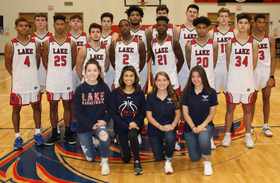 2018-19 Clear Lake Varsity...photo by Don
Welcome to Clear Lake Falcon Boys Varsity Basketball
Clear Lake Basketball
ClearLakeFalconHoops.com publicizes the Clear Lake High School (Houston, Texas) Boys Varsity Basketball team to enhance the community's enjoyment of Clear Lake Boys basketball.
Clear Lake High School Boys Basketball has been regarded as one of the top tier Texas public school basketball programs for over four decades. This website strives to help perpetuate this proud heritage by highlighting the varsity team's accomplishments. Click on the "HERITAGE" link in the menu above for more on Clear Lake's basketball heritage.
(For the latest news please scroll down a bit. For a list of this week's events including all games for all Lake teams, please scroll down to the bottom of this page).
Based on number of unique hits, this site is the # 1 team-specific high school basketball website in Texas and far exceeds average viewing hits among major high school and AAU websites. Now in its 18th season, this website is provided without advertising or donations by a dedicated Clear Lake Boys basketball fan.
Season schedules, directions to schools, cumulative current season scoring stats, district standings, and TABC state rankings are provided.
In addition, occasional volunteer-provided game action photos, slideshows, team and roster photos, and occasional video highlights provide comprehensive coverage for one of many outstanding high school varsity basketball teams in Texas.
First time visitors can click Here for an overview of what the many pages of this website offer. Suggestions and comments about the site are always welcomed.
---
---
LATEST NEWS
November 14, 2018. Clear Lake 54 - Lamar 44
On the 12th anniversary of the dedication of Krueger Field House, the Falcons opened the 2018-19 season with a victory over Lamar High School. Lake swept the evening by winning the Freshman A game (by 9), the JV game (by 11), and the Varsity game by 10. Against one of the more formidable school teams in the Houston area, this is a rare occurence.
Casey Davis and Jaja Sanni are expected by some to be the leading scorers for the Falcons this season but senior big men John Argue (26 points) and Jake Mather (12pts) seemed to dispell that notion while battling a taller, very scrappy Lamar squad.
The Falcons provided a preliminary glance at what lies in store this season with precision and teamwork not often seen in the first third of the season on the high school level.
A brief description of a game like this would not be complete without mentioning the difference that point guard Riley Gingrich made when he was in the game in the second half. As a floor general, he was superb. His activity on both ends of the court had a most significant effect on the outcome of this game.
Senior Jeremiah Maldonado is nearing the end of his recuperation from a torn ACL (his second) but he will likely not see much playing time until mid to late December.
This is going to be a fun season for the team and for the fans.
OTHER NEWS
- To purchase spirit gear or other apparel, click on:
https://clearlakeboysbaske.wixsite.com/mysite-3
---The preliminary schedules for the 2018-19 season are posted but some changes are stil being made. Click on "Schedules and Scores" and select the tab for your team. Varsity Tournament game times will be provided as soon as they are available. Please note: while viewing the game schedule, you can click on a game location to acquire the address and directions to the school (or you can go to the "Directions to Schools" Page from the menu.
--- Another word on the schedules on this site. A "Varsity Playoff" schedule page has been added. There are 2 reasons for this. For those who might not know, this is to inform you that only the varsity might go into the playoffs and to provide the specific dates of each round of the playoffs should you need them for planning purposes. It is not necessarily meant to imply that the Clear Lake varsity team is expected to participate in each (or any) round of the playoffs.
---Starting with the 2018-19 season, the varsity game schedule for each upcoming game will be posted on Twitter and Facebook. After each game, outcome will be posted on Twitter (immediately) and Facebook (within 4-6 hours).
@CLfalconhoops is the Twitter account (please follow) and
for Facebook it is Clear Lake Falcon Hoops. Friend this site to keep up with the Falcons.
- Occasionally a late change will occur for a varsity game time or location so it is best to always re-check this website on game day. Changes are rare but they do happen.
- Once in awhile photos presented on this website which should appear do not appear. This is the fault of the service provider which manages all images and is not the fault of this website.
As the season progresses see any back articles posted on the "FALCON FLASHES" Page.
---
FYI
Link to Player Stats: Find Lake's detailed stats for the current season at
maxpreps.com . Please notice that on maxpreps the calculation of average points per game for each player is based only on games in which a player scores, not on total games played.
See the Schedule Page for a complete season schedule. For district games, details of game times for each team can be found when a footnote for the game appears.
Look for feature articles on some games and team game stats during the season on the FALCON FLASHES Page
Link to Photo Albums Site: Due to difficulties with the revised photo albums site, the albums are not in chronological order and are not current. This issue is being addressed but will take time.Albums go back to 2001 but are disorganized.
Clicking on a photo other than the banner will link you to the Photo Albums site but be advised it is a mess .
Articles on AAU Basketball - In the summer of 2010 the Houston Chronicle ran an excellent five part series on AAU basketball which will be retained for future reference at the bottom of the "General Info" Page.
During the season (district play) check out the occasional video highlights by going to the "Videos and Slideshows" Page . Move the cursor over the video image to display "pause or play" controls.
---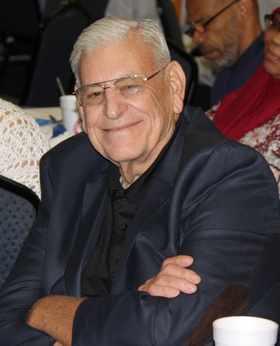 Pud Williams - one of a kind
Suggestions, Questions, Comments, or Complaints
Please direct comments to:
Falconhoops
Click here for a ClearLakeFalconHoops Overview For First Time Visitors to Website
FALCONHOOPS LOGO IS A REGISTERED TRADEMARK - The clearlakefalconhoops.com logo is a registered trademark of the website and may not be used by anyone without the expressed written permission of the website administrator.