DeStefano Javelin Site: Welcome
Friday, November 23
Introduction
Welcome to the official website of DeStefano Strength and Conditioning, LLC. This site will serve as an information link for javelin related events such as clinics, camps, training sessions, and festivals as well as a site for information for athletes.
Bittersweet Symphony by The Verve
RD with a 243' exhibition throw ('02 by Bill Parise
Monday, January 6
Cardio Express commits to 2014 Presenting Sponsor of the 22nd Annual Javelin Clinic
CEO and President Peter Rusconi of Cardio Express is teaming up with Rich DeStefano as 2014 Presenting Sponsor.
Monday, January 6
Fleet Feet Sports and Saucony team up and jump on Board!!!
Fleet Feet Sports of West Hartford, CT and Saucony are on board as a 2014 DeStefano Javelin Clinic Sponsors. All athletes who attend will receive a 10% discount on the newly developed Saucony Lanzar javelin boot. Both the staff of Fleet Feet Sports and Saucony will be on hand for a specially developed workshop on the design of the boot.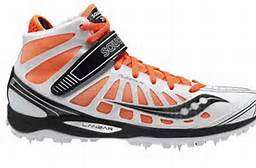 Saucony Lanzar Javelin Boot

Rich DeStefano
Wednesday, July 1
Private Coaching Available
60 minute session: $80
90 minute session $100
5- 60 minute sessions: $375
10- 60 minute sessions: $700
To arrange session please call Coach DeStefano at 203-415-3340 or e-mail richardanthonydestefano@gmail.com
Coaching Resume
With over 18-years of coaching experience Rich has been invited to dozens of clinics and camps all over the United States. He has helped produce some of our nation's top high school, collegiate, and open athletes of past and present. Being a top ranked American for over 8 years, Rich has a distinct understanding of what it takes to be on top of sport and provides knowledge and skills that he himself used to excel.
Personal Athletic History:
Qualified and competed in '00 U.S. Olympic Team Trials
Best U.S. ranking of #11 in '00
Qualified in '04 U.S. Olympic Team Trials (B standard)
PR of 237'11"

Coaching History
Has helped produce dozens of All Americans, New England Champs & State Champs