DeStefano Javelin Site: Welcome
Friday, November 23
Introduction
Welcome to the official website of DeStefano Strength and Conditioning, LLC. This site will serve as an information link for javelin related events such as clinics, camps, training sessions, and festivals as well as a site for information for athletes.

Where state champions are made year after year!
Bittersweet Symphony by The Verve
RD with a 243' exhibition throw ('02 by Bill Parise

Olympian and Olympic Coach Tom Pukstys
Friday, August 5
DeStefano looking to make 25th annual javelin clinic one to remember
With sights on March of 2017 Rich DeStefano is looking to make his 25th annual javelin clinic a must go to event for everyone who is serious about the javelin. Joining the list is former American Record Holder, 2 time Olympian and 2012 Olympic Coach, Tom Pukstys. You will see many more of DeStefano's friends and staff from across the country join the clinic in the next coming months. A location for the 2 day event is in progress and many new features being added including a workshop for coaches of all levels. The lineup of coaches will be published by December. Sponsors will be announced by January.
Tuesday, August 16
New coaches added to the staff lineup for 2017
Former throwers and new staff inlcudes Ethan Wright and Lucas Hadden.... and now on the roster is Joe Greenberg.
Friday, August 5
Athlete Kateema Riettie wins 2106 Jamaican Olympic Trials but just shy of the Olympic standard
Clay
Friday, August 5
Athlete Clay Dennis wins the 2016 Masters National Championships in NC with a new PR of 177'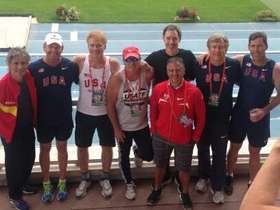 Team USA and Coach Rich DeStefano
Thursday, August 13
Allen Hall and Clayton Dennis Compete at Masters World Championships in Lyon, France
Both Allen Hall and Clayton Dennis competed at the 2015 World Masters Championships in Lyon, France this past week. Clayton competed in the men's 50-54 age group and Allen competed in the men's 55-59 age group.
Thursday, March 17
2016 Clinic makes an impact on many!
With the storm just missing us on Sunday we were blessed with a sunny 45 degrees for the 2016 clinic. We began things with a group warm up and split up into four groups; the kid's group, beginners, intermediate and advanced throwers. The three sessions in the morning included technique analysis, runway composition and sport specific drills.
Following the three morning sessions we broke for lunch. During lunch we had former thrower and 2008 javelin clinic graduate Zach Martin give us the low down on his own experiences in both high school and college. Zach provided information, to not only aspiring college freshman but to younger throwers, what they ought to know when seeking out colleges to throw in. We also had a free raffle for all participants that included various prizes donated by Burton Snowboards, M-F Athletics, Fleet Feet of West Hartford, Primal Trainer and Team QNP.
A great presentation was given by Allen Hall on using internet resources to better their knowledge base in our sport. Allen was able to educate everyone how to surf the net to get what they need when it comes to drills, technical analysis from our world's best throwers past and present, and sites that will enable one to read up on with today's latest.
Matt Mund of Mission fitness then put on a sport specific bootcamp for the throwers. The 14 stations were definately a challenge for anyone of partipated. It opened up a lot of eyes and should help throwers design various types of training once they left the clinic.
It was then off to the throwing exhibition where we had staff and invited throwers put on a throwing clinic. The throws ranged between 90-190 feet. This year I opened it up to a couple high school seniors who didn't let us down. Throwers included Kateema Riettie, Dylan Dombrowski, Amy Williams, Nik Zarikos and Ethan LaChance.
The clinic wrapped up by opening up the javelin runway to everyone who wanted to put togheter everything they learned during the day. For some it was putting together effective pentultimates, modified runups or the full runup. The entire staff was on hand to critique and give helpful advice.
Thank you to all who participated and to all the sponsors and staff who were a part of.
Coach Rich DeStefano
Monday, April 4
Coach DeStefano Clan
Men
240 Club
Ben Lincoln
230 Club
Jason McMullen
220 Club
Adam Boucher
Dylan Dombrowski
Matt Stack
Paul Mongone
Adam Resseler
210 Club
Andrew Solystiak
Charlie O'Connell
Eric Alfieri
Steve Simalchik
Daniel Colina
200 Club
Dave Bergeron
Ethan Wright
John Gelcius
Mike Curran
Luke Hadden
Jacob Shippee
190 Club
Zach Hurd
Tim Lyons
180 Club
Jack Weston
Jaime Heinl
Eric Martin
Women
180 Club
Kateema Riettie
Ann Crouse
150 Club
Ellie Gravitte
Stephanie Roones
140 Club
Meg Perrin
Amy Williams
Karen Wyzykowski
130 Club
Devon Michelis
Olivia Weiner
Jen Aldieri
Amanda Nappi
Erica Bennett
Meghan Lester
Crystal Pabey
Monday, October 5
Updated Test results are in...more to come
Handout:
Test results are in for javelin throwers

Rich DeStefano
Wednesday, July 1
Private Coaching Available
Coaching/Athlete Rates for Private Coaching
o 60 minute session: $85
o 5-60 minute sessions: $400
o 10-60 minute sessions:$750
o 1-90 minute session: $120
o 5- 90 minute sessions: $575
o 10-90 minute sessions: $1100
2 athletes
o 60 minute session: $160
o 5-60 minute sessions: $775
o 10-60 minute sessions:$1500
o 1-90 minute session: $190
o 5-90 minute sessions:$925
o 10- 90 minute sessions: $1800
Group training sessions
o single session:$55
o 5 sessions :$250
o 10 sessions: $450
To arrange session please call Coach DeStefano at 203-415-3340 or e-mail richardanthonydestefano@gmail.com
DeStefano Personal Athletic History
Qualified and competed in '00 U.S. Olympic Team Trials
Best U.S. ranking of #11 in '00
Qualified in '04 U.S. Olympic Team Trials (B standard)
PR of 237'11" (243' & 249' exhibition throws-Rutgers 1999 & 2002)
Professional Coaching History
Annual DeStefano Javelin Technique Clinics-Director Helped produce over 32 state open champs, 16 New England Champs and 12 All-Americans Established in 1993
Assistant Indoor & Outdoor Coach (Men's & Women's Throwers)- 7x State Champions Hillhouse High School, New Haven, CT: Events: Men's and Women's Shot, Discus and Javelin: 1995-2000
Notable achievements: 12 state champions (shot, discus, javelin)
U.S. Junior Elite Team Throwing Coach- ARCO US Olympic Training Center- Chula Vista, CA-1999 Athletes included: Brian Clay (2008 Olympic Gold Medalist) & John Stiegeler (NCAA Div. I Champion)
Assistant Outdoor Coach (Men's & Women's Throwers)- Cheshire High School, Cheshire, CT: Events: Men's and Women's Shot, Discus and Javelin: 1994,1995 Notable achievements: 5 state champions (shot, discus, javelin)
Assistant Coach (Men's & Women's Throwers)- Hopkins School, New Haven, CT: Events: Men's and Women's Shot, Discus and Javelin: 1993
Additional Camps/Clinics: 1993-current
SCSU Best camp- New Haven, CT,
Five Star Running Camp-Catskills, NY,
Sean Mahon High Jump Clinic-Woodbridge, CT,
Gary Moore Jumps and Hurdles Clinic- New Haven, CT,
Elm City Throws Camp- North Haven, CT,
Massachusetts Track and Field Technique Clinic-Shrewsbury, MA,
CTHSCA Clinic- Wesleyan College, US Olympic Training Center Junior Elite Camp-Chula Vista,CA,
New Balance Running Academy-Torrington, CT,
Eric Mangini Mini Camp- Hartford, CT,
Tony Naclerio Throwing Camps, Piscataway, NJ.
NOTEABLES:
Olivia Weiner • Personal best: 134'11" • High School: Staples, Westport CT • College: Dartmouth • 2x State Class champion • 2x US High School National Championships contender
Ellie Gravitte-'10-'13 • Personal Best: 153'7" • High School: Ridgefield HS, CT • College: Brown University, RI • 4x State Champion, 3x State Open Champion, 2x New England Champion, 3x Nationals Qualifier, 2x All American('12 & '13) Connecticut and New England Record Holder('13)
Meg Perrin- '12-14' • Personal best: 135' • High School: Watertown • College: Assumption • 2x State Open Champion • New England Champion
Ann Crouse: '00-'02 • Personal best: 188' • College: University of Virginia, VA • Former American record holder
Kateema Riettie: '01 – '08 • Personal best: 187'6" (57.20M) • College: Southern Connecticut State University, CT • 2x NCAA Division II champion ('01 & '02) • 5x Jamaican National Champion • '10 Central American & Caribbean Champion (3x CACC medalist) • '10 Commonwealth Games Finalist (6th) • Qualified and competed at Goodwill Games • Qualified and competed in '04 and '08 under DeStefano's tutelage
Eric Alfieri: '06- '11 • High School: Woodland HS • College: University of Connecticut • PR: 192'8" • '07 High School State Champion & New England High School Champion
Mike Curran: '99-'01 • PR: 207'10" • High School: Shelton HS, CT • College: Marist, NY • Finished 2nd at '01 Junior National T & F Championships • Member of 2001 World Junior Track and Field Team: Great Britain • 2001 Junior National Champion
Will Brower: '05- '10 • PR: 163' (Masters 60) • Current CT Masters Track and Field Record Holder • Ranked 2nd in the World in 2010
Amy Williams: '99- '01 • PR: 139'10" • High School: Amity HS, CT • College: University of Maine, ME • 2001 Junior Nationals Finalist
Daniel Colina" '09-'12 • PR: 213'10" • College: Keane State College, NH • Competed in NCAA Division III National Championships: '09','10' • Ranked #1 in NCAA Division III:'10
Dave Bergeron • PR: 208' • College: Westfield State College • Finished 2nd 2005 NCAA Div. III Nationals (All-American) School Record
John Gelcius • PR: 207'8" • High School: Greenwich HS • College: Stonehill College • Finished 9th at 2012 NCAA Div. II Nationals & School Record
Andrew Solystiak • PR: 215' • College: Westfield State College • Finished 3rd at 2008 NCAA div. II Nationals (All-American Honors 2007 & 2008), School Record
Adam Bouchard • PR: 193' • High School- Tolland HS • College: UCONN • 2x state champion and Tolland HS record holder-'10 & '11
Zach Hurd • PR: 193'3" • High School: Exeter HS (West Greenwich, RI) • RI state championships in '12 & '13
Ethan Wright • PR: 202' • College: Brown University • High School: Narragansett, RI • Finished 3rd at '13 RI State Championships • Rhode Island State Champion-'14
Allen Hall • PR: 155' (Masters 55>) • Finished 5th at '13 World Masters Games in Italy (All-American), 4th at '13 US Masters National Championships, 2014 Champion, Costa Rica • Qualified for 2015 WMA Outdoor Championships, Lyons, France
Clay Dennis • PR: 170' (Masters 50>) • Qualified for 2015 WMA Outdoor Championships, Lyons, France
Luke Hadden • PR: 192' • 4x Vermont State Champion • Attended University of Tennessee
High School Notables- "State Champs", "New England Champs" and/or "All-Americans" Jen Aldieri - Middletown(UCONN), Ben Lincoln-MA(Wake Forest), Amanda Nappi-Windham(UNC), Stephen Simalchik-Danbury(Williams), Charlie O'Connell-Hillhouse(UPENN), Karen Wyzykowski- Old Saybrook(UNC), Tim Lyons-MA(UNH), Lindsey Regan-MA, Neille Giffune-MA, Bill Deprano(Ga), Don Maki(NY) Crystal Pabey-Naugatuck CT,