DeStefano Javelin Site: Welcome
Friday, November 23
Introduction
Welcome to the official website of DeStefano Strength and Conditioning, LLC. This site will serve as an information link for javelin related events such as clinics, camps, training sessions, and festivals as well as a site for information for athletes.

where state champions are made!
Bittersweet Symphony by The Verve
RD with a 243' exhibition throw ('02 by Bill Parise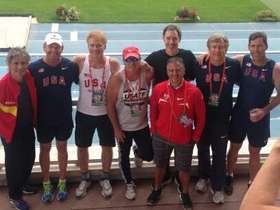 Team USA and Coach Rich DeStefano
Thursday, August 13
Allen Hall and Clayton Dennis Compete at Masters World Championships in Lyon, France
Both Allen Hall and Clayton Dennis competed at the 2015 World Masters Championships in Lyon, France this past week. Clayton competed in the men's 50-54 age group and Allen competed in the men's 55-59 age group.
Thursday, January 15
2015 DeStefano Javelin Technique Clinic Announcement
The 23rd annual clinic will be held at South Windsor HS in Connecticut on March 21st and 22nd. The brochure will be available by Jan. 20th.
Friday, January 23
2015 DeStefano Clinic Registration Form
Friday, January 23
Cardio Express returning as 2015 DeStefano Clinic Presenting Sponsor
Wednesday, February 4
Oohrah hydration drink on board as a 2015 sponsor
Oohrah will be supplying clinic with plenty of hydration!
Monday, January 6
Fleet Feet Sports and Saucony team up and jump on Board!!!
Fleet Feet Sports of West Hartford, CT and Saucony are back on board as a 2015 DeStefano Javelin Clinic Sponsors. Fleet Feet's own Stephanie Blozy and Saucony javelin boot engineer and designer, Tony Brancaleone, team up to bring us the newest and latest. All athletes who attend will receive a 10% discount on the newly developed Saucony Lanzar javelin boot.

Rich DeStefano
Wednesday, July 1
Private Coaching Available
60 minute session: $85
5- 60 minute sessions: $400
10- 60 minute sessions: $750
90 minute sessions:$125
5-90 minute sessions: $600
To arrange session please call Coach DeStefano at 203-415-3340 or e-mail richardanthonydestefano@gmail.com
Coaching Resume
Personal Athletic History
Qualified and competed in '00 U.S. Olympic Team Trials
Best U.S. ranking of #11 in '00
Qualified in '04 U.S. Olympic Team Trials (B standard)
PR of 237'11" (243' & 249' exhibition throws-Rutgers 1999 & 2002)
Professional Coaching History
Assistant Coach (Men's & Women's Throwers)- Hopkins School, New Haven, CT
Events: Men's and Women's Shot, Discus and Javelin:
1993 Assistant Coach (Men's & Women's Throwers)- Cheshire High School, Cheshire, CT: Events: Men's and Women's Shot, Discus and Javelin:
'94-'95 Assistant Coach (Men's & Women's Throwers)- 7x State Champions Hillhouse High School, New Haven, CT: Events: Men's and Women's Shot, Discus and Javelin:
'95-'99 U.S. Junior Elite Team Coach- ARCO Olympic Training Center- Chula Vista, CA-1999 Athletes included: Brian Clay (2008 Olympic Gold Medalist) & John Stiegeler (NCAA Div. I Champion)
Annual DeStefano Javelin Technique Clinics Established in 1993 Helped produce dozens of state open champs, New England Champs 10 All-Americans
Additional Camps/Clinics: 1993-current
SCSU Best camp- New Haven, CT
Five Star Running Camp-Catskills, NY
Sean Mahon High Jump Clinic-Woodbridge, CT
Gary Moore Jumps and Hurdles Clinic- New Haven, CT
Massachusetts Track and Field Technique Clinic-Shrewsbury, MA
CTHSCA Clinic- Wesleyan College, CT
US Olympic Training Center Junior Elite Camp-Chula Vista, CA
New Balance Running Academy-Torrington, CT, Eric Mangini Mini Camp- Hartford, CT
Ichan Stadium Track Clinic-Randall's Island, NY
NOTEABLES:
Ellie Gravitte-'10-'13 High School: Ridgefield HS, CT College: Brown University, RI Personal Best: 153'7" 4x State Champion, 3x State Open Champion, 2x New England Champion, 3x Nationals Qualifier, 2x All American('12 & '13) Connecticut and New England Record Holder('13)
Ann Crouse: '00-'02 Personal best: 188' College: University of Virginia, VA
Former American record holder Kateema Riettie: '00 – '10 Personal best: 187'6" (57.20M) College: Southern Connecticut State University, CT 2x NCAA Division II champion ('01 & '02) 5x Jamaican National Champion '10 Central American & Caribbean Champion (3x CACC medalist) '10 Commonwealth Games Finalist (6th)
Eric Alfieri: '06- '11 College: University of Connecticut PR: 192'8" '07 High School State Champion & New England High School Champion
Mike Curran: '99-'01 PR: 207'10" High School: Shelton HS, CT College: Marist, NY Finished 2nd at '01 Junior National T & F Championships Member of 2001World Junior Track and Field Team: Great Britain 2001 Junior National Champion
Will Brower: '05- '10 PR: 163' (Masters 60) Current CT Masters Track and Field Record Holder Ranked 2nd in the World in 2010
Amy Williams: '99- '01 PR: 139'10" High School: Amity HS, CT College: University of Maine, ME 2001 Junior Nationals Finalist
Daniel Colina 2009-current PR: 213'10" College: Keane State College, NH Competed in NCAA Division III National Championships: 2009,2010 Ranked #1 in NCAA Division III: 2010
Dave Bergeron PR: 208' College: Westfield State College Finished 2nd 2005 NCAA Div. III Nationals (All-American) School Record
John Gelcius PR: 207'8" High School: Greenwich HS College: Stonehill College Finished 9th at 2012 NCAA Div. II Nationals & School Record
Andrew Solystiak PR: 215' College: Westfield State College Finished 3rd at 2008 NCAA div. II Nationals (All-American Honors 2007 & 2008), School Record
Zach Hurd PR: 193'3" High School: Exeter HS (West Greenwich, RI) RI state championships in '12 & '13
Ethan Wright PR: 186'4" High School: Narragansett, RI Finished 3rd at 2013 RI State Championships (5th in 2012)
Allen Hall PR: 155' (Masters 56) Finished 5th at '13 World Masters Games in Italy (All-American), 4th at '13 US Masters National Championships, Captured NCCWMA 2014 Masters Track and Field Championship title
High School Notables- "State Champs" , "New England Champs" and/or "All-Americans" Jen Aldieri - Middletown(UCONN), Luke Hadden-VT (Wake Forest) Ben Lincoln-MA(Wake Forest), Adam Boucher-Tolland, Amanda Nappi-Windham(UNC), Stephen Simalchik-Danbury(Williams), Charlie O'Connell-Hillhouse(UPENN), Karen Wachowski- Old Saybrook(UNC), Tim Lyons-MA(UNH), Lindsey Regan-MA, Neille Giffune-MA, Bill Deprano(Ga), Clay Ennis(MA), Don Maki(NY).

Mark Fletcher
Thursday, September 4
Some of my former training partners and staff

Kateema Riettie