Evansville Outlaws Semi-Pro Baseball Club: Tombstone News
Outlaws Semi-Pro Baseball
For some its too hot to handle!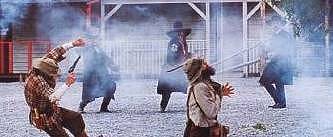 Outlaws Opponents of the Past!

Former Law Brad Wilkerson
Saturday, May 19
Former Outlaws Climbing Professional Ranks

Former Outlaw Jamie Carroll
Former Outlaws Brad Willkerson (Texas Rangers)and Jamie Carroll (Colorado Rockies)will start their 5th season in the Major Leagues this year.
Jamie Carroll Colorado Rockies
Brad Wilkerson Texas Rangers
Heath Phillips AAA Chicago White Sox
Mitch Stetter AAA Milwaukee Brewers
Neil Sellers AA Houston Astros
Jay Beunte A Florida Marlins
Steve O'benchain Northern League
Chad Clemmons Frontier League

Former Roy Hobbs Ball
Outlaws E-Mail Address is timturp15@aol.com
Were interested in what you think of our site, or a recent experience you've had at an Outlaws game.