East Rockaway Raiders Football and Cheerleading: My Site News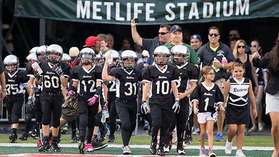 Click on picture to read the story!
Friday, October 17
Raiders Play at MetLife!
Playoffs and Championships!
2013
11-B CHAMPIONS! The boys had a great season winning the championship over Uniondale 7-6 on a brutally cold day! This was the third year in a row this team was in the playoffs and second straight year in the championship! Great job boys!
2012
Our 10 year old team had a great season going to the playoffs for the second straigth year. They beat a tough Rosedale team in the semi-finals and lost in the final seconds to Garden City in the Championship. Great job boys!
2011
Our 11 year old team defeated Farmingdale in the playoffs and lost in the "B" division championship to Elmont. Great seasons boys!
Our 9 year team went undefeated (8-0) in the regular season and lost a hard hitting game to Farmingdale in the Playoffs. Great job boys!
2010
A very special congratulations to our players and coaches of our 11 year old team for defeating Baldwin in the "C" division championship game 19-12 to capture their second championship title in three years!
2009
Our 10 year old team lost in the first round of the "A" Division Playoffs to Hicksville
2008
Our 9 year old team finished the seaon Undefeated at 9-0 and UNSCORED ON! They won the "B" division Championship defeating Garden City!
Our 11 year team also won the "B" Division Championship defeating Franklin Square!
Great job by both teams!
DONATIONS NEEDED
As many of you know, the Raiders lost equipment and our trailer was seriously damaged by Hurricane Sandy. We have rebuilt our trailer and will be replacing equipment. We need your help in gathering donations to help the Raiders.
Please donate what you can and please reach out to friends, family and local businesses for their help.
Checks should be made payable to the East Rockaway Raiders.
Thanks for your assistance!
Click to DONATE using PayPal
Friday, January 31
Championship Team Photos
Congratulations to all of our Championship Teams!