ERIN MILLS SOCCER CLUB COACHES REFERENCE: Archives and Other
REP COACHES ANNUAL SOCCER GAME SEP 22 6:30 PM AT TWIN
Each year the Rep Coaching staff look forward to the annual battle of the "Boys Coaches" vs the "Girls Coaches".
Legend says that each year the Girls Coaches prevail........but anything can happen.
Erin Mills is blessed with a broad spectrum of soccer talent that can be transferred directly to our players.
Many thanks to the many supporters who are encouraged to come out to cheer on their favourite coach(es).
Entry fee: $1 (or more) for charitable redirection)
COACHES APPRECIATION NIGHTS SEPT 12, 13, 14, 2006
Once again the club is holding three Coaches' Appreciation Nights for all club coaches and their team staff.
We hope that you will join us on one or all of the evenings that is most convenient for you to attend.
Food, soft beverages and prizes for all who join the merriment.
At the clubhouse from 7pm - 9:30 pm.
ERIN MILLS REP/SELECT TEAM TRYOUTS COACHES MEETING SEP 26.06
All coaches are required to attend this meeting to review the fair try-out process expected by the Club.
Meeting at Hilton Gardens Hotel from 7 pm to 9 pm.
Formal tryouts are scheduled for Sep 30 and Oct 1.06.
Follow the tryout schedule handout below.
Handout:
2006 REP/SELECT TRYOUTS SCHEDULE
BOYS 21 SECURE GOLD IN 2005 ONTARIO CUP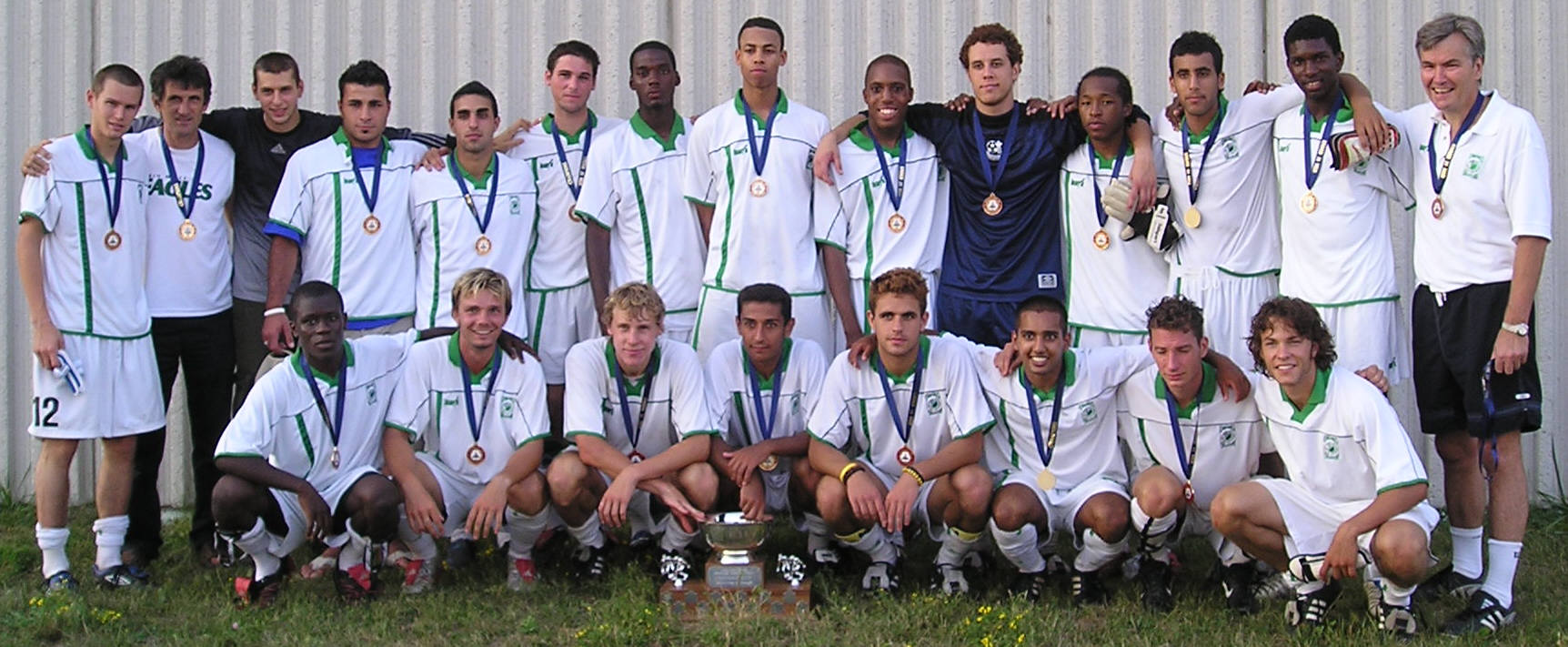 2005 ONTARIO CUP B21 CHAMPS
BOYS 17 WIN 2005 T2 ONTARIO CUP TITLE
BOYS 15B WIN 2005 T2 ONTARIO CUP
BOYS 14 WIN 2005 ONTARIO CUP AND NATIONAL CLUB CHAMPIONSHIPS
Tuesday, April 18
GIRLS 18 WIN GOLD AT 2006 ONTARIO INDOOR CUP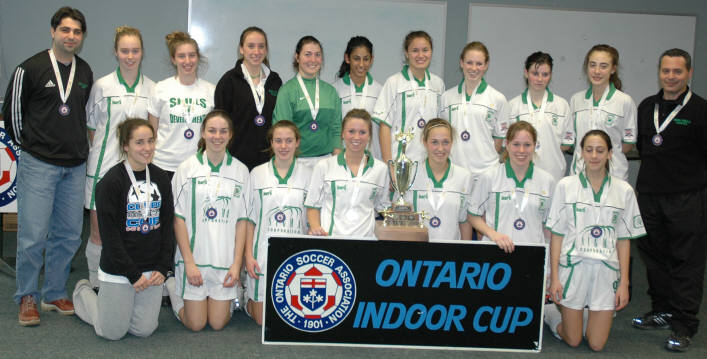 2006 ONTARIO INDOOR CUP CHAMPIONS
GIRLS 18 WIN GOLD AT 2005 ONTARIO INDOOR CUP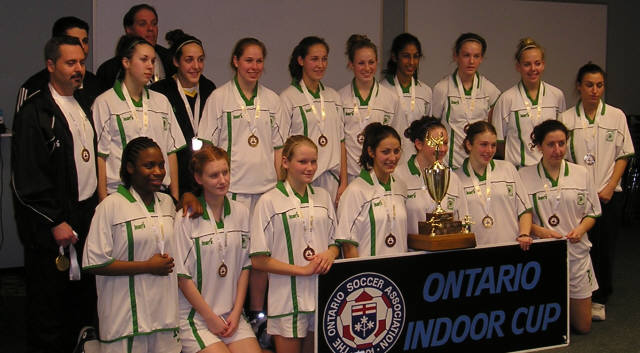 G18 WIN GOLD IN 2005
Congratulations ot our G18 squad who captured the gold medal at the Ontario Indoor Championships on March 6.
G18 WIN 2005 ONTARIO INDOOR CUP, ONTARIO CUP AND THE NATIONAL CLUB CHAMPIONSHIPS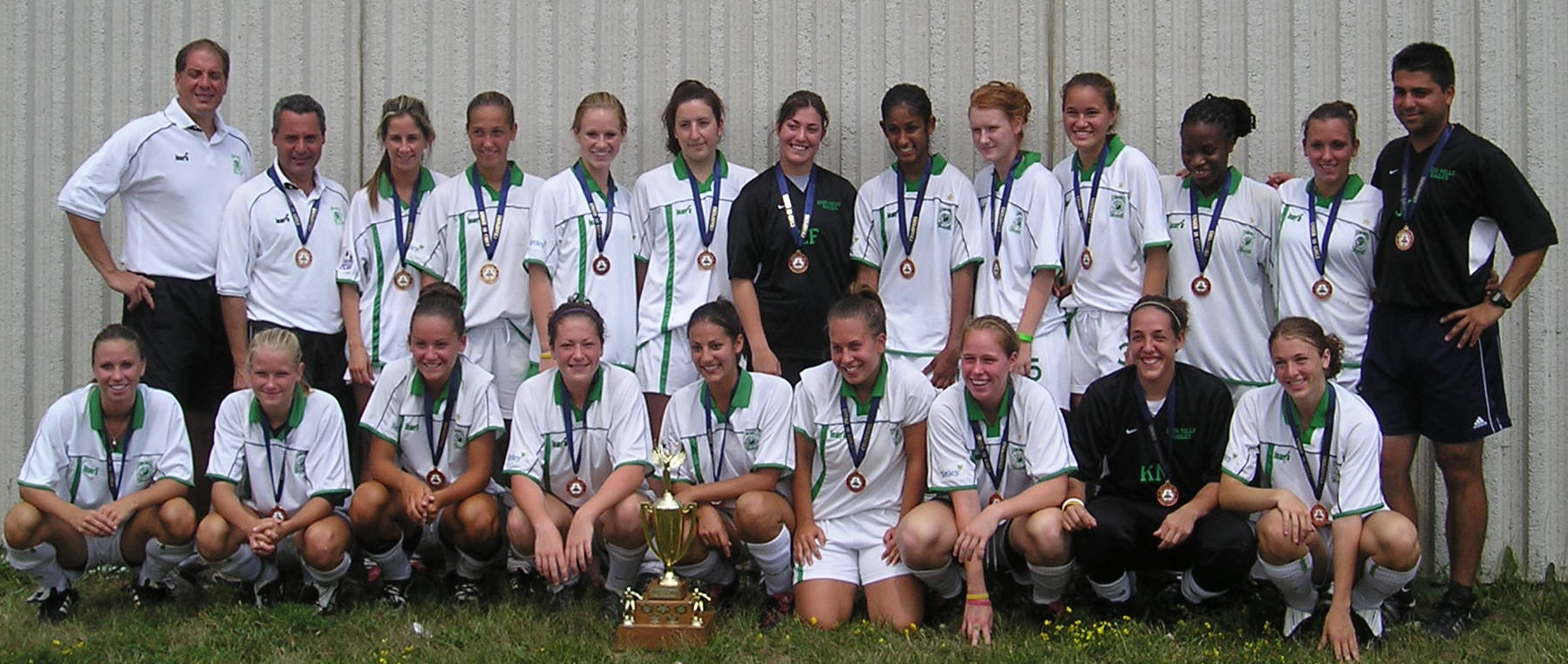 2005 ONTARIO CUP G18 CHAMPS
SRSL KICK-OFF MEETING
Please forward this NOTICE to all your coaches participating in the SRSL for the 2006 Outdoor Season.
The Coaches Kick-off Meeting for the 2006 Outdoor Season will be held on:
Friday May 12th, 2006 in Mississauga at the Canadian Coptic Centre
o 7:00PM Under 11 to Under 13 Boys & Girls
o 9:00PM Under 14 to Under 18 Boys & Girls
Please Note: A Representative from each team is required to attend the meeting and pick-up package which will include: Schedules, Maps, Game Sheets etc...
Any questions please contact the league office
Wednesday, January 18
SRSL RULE CHANGES FOR 2006
April 7th, 2006
To: All Clubs
Re: 2006 SRSL Rules and Regulations
Dear Clubs,
Please find attached word document, which is the SRSL Rules and Regulations for the 2006 Outdoor Season.
The enclosed rules were all approved at the SRSL AGM which was held in January 2006.
All approved changes will be found in Bold.
In addition, the SRSL Executive board has modified 2 additional SRSL rules.
Please find below new wording for SRSL Rule 6"H" & SRSL Rule 14"F"
SRSL Rule 6"H"
A MAXIMUM of Three (3) OSA sanctioned tournaments of which Graduation/Exam will count as one, plus Ontario Cup, must be submitted to the League in writing by March 1st of each year to be given consideration for rescheduling games. Local tournaments will be granted 2 days, long weekend tournaments will be granted 3 days. Travel time will be granted at the discretion of the league for international tournaments plus tournaments over 200km one way. (Exceptions dates, if submitted are used when creating original schedules plus are used throughout the season during the rescheduling process)
SRSL Rule 14"F"
After the release of the league schedule (at the time the season starts), OSA sanctioned tournaments that Clubs have entered into will take precedence in any rescheduling conflicts with the League. This will apply even if the team has not submitted a tournament schedule by March 1st deadline.
Teams are required to advise the SRSL once a tournament is booked on any open dates of the SRSL Schedule. The SRSL must be advised a minimum of 14 days prior to the Tournament date. The SRSL must receive a copy of the tournament host acceptance letter in order for the league to grant the requested dates.
If you have any questions please contact the league office for assistance
Handout:
SRSL 2006 RULE CHANGES
RESTRICTED USE OF SOCCER FIELDS
Our soccer fields are happy once again.
The snow is gone and the ground has been well watered.
Our fields are busy draining and growing new spring grass.
The soccer community has a responsibility to protect the fields we play on.
We protect our fields in the spring by staying off them until they are ready and the City of Mississauga declares them playable.
We certainly encourage all teams to start moving outside as soon as possible.
We have many kilometers of paved trails suitable for running.
Until the fields dry up you may want to sacrifice an inexpensive ball for small games play on a safe patch of asphalt somewhere.
You might even find a high and dry patch of grass somewhere away from the fields.
Please avoid field use until the Parks department has issued our fields permits.
Make a point of sharing this note with all players and parents. Let's have everyone in our community protecting our fields.
We all want quality fields for our summer play. The management of that quality begins right now with us.
Every little bit hurts.......
If you have any creative suggestions for outdoor practice and training for this time of season please pass them along and I will share your ideas with all teams.
We typically see our field permits in mid May, not sooner.
UNDER 10 LEAGUE PLAY IN 2006
PHSA Presidents and Board of Directors Support U-10 Mini-Soccer League for
2006.
At the November 2nd PHSA Presidents Meeting, the Club representatives in
attendance were unanimous that there is a need for some sort of league in
Peel-Halton to provide U-10 Mini-Soccer structure beyond that which the
Clubs will provide within their own house leagues.
While we all recognize that Mini-Soccer is to focus on development rather
than competition, most Clubs were of the opinion that development of their
best players required the stimulus of team competition beyond what their own
Club could provide. Note that in SRSL in 2005, 9 PHSA Clubs had 13 teams at
U-10G and 13 PHSA Clubs had 18 teams at U-10B.
Other unanimous opinions at the meeting were that there should be no need
for U-10 teams to "play-out" of PHSA nor should teams from other Districts
be "playing-in". It was requested that geography and limitations on travel
be taken into account when structuring any league in PHSA.
The Peel-Halton Select Soccer League has made a very recent application to
the PHSA Board to expand their League to include U-12, U-11 and U-10. The
Club representatives at the Presidents Meeting asked the PHSA Board to
review this application and to work with PHSSL to determine if a PHSSL U-10
division can meet the needs of PHSA members as described above.
Walter Eadie has been appointed by the PHSA Board to work with the League
and the parties will be meeting soon in order that any further updates and
decisions can be communicated at the PHSA AGM on November 26th.
In summary:
- there will be an U-10 mini-soccer league in PHSA in 2006
- if mutually satisfactory arrangements can be made, it will be based in the
PHSSL
- further information will be provided at the PHSA AGM
Walter Eadie
Director - PHSA
REP COACH AND MANAGER MONTHLY MEETINGS FOR 2005-2006
As part of the Club's responsibility to our teams we conduct monthly meetings for Rep Head Coaches from October ...
NEW CLUB LOGO CONTEST CLOSES ON SEPT 30
Take your best shot to create an exciting new logo for our Club as we enter our 2006 season.
Full details are in the attached handout.
Handout:
NEW CLUB LOGO CONTEST
NEW CLUB SPORTSWEAR AT CLUBHOUSE
Here is the new sportswear being sold at the clubhouse. All in-stock items - limited sizes as shown.
Gray T shirt AS/AM/AL - $15
Gray Hoodie YL $30, AL $38
Black fleece pullover 1/4 Zip AM/AL - $55
Black toque - $10
Black headband - $12
Purchase at the clubhouse front desk.
SRSL AGM HIGHLIGHTS JAN 8.05
Approved amendments to the SRSL Rules and Regulations................
Rule 3D
Teams must ...
SRSL NOW ALLOWS CALL UPS FOR LEAGUE CUP
SRSL teams in 2005 may now call up House League, All Star, Select and other age qualified and carded players to fill out absentees and injuries on their roster for League Cup play.
Players can only play on one team for League Cup and are "Cup Tied" to the first team they play for.
Ontario Cup eligibility rules apply.
Teams are cautioned to be absolutely sure of player eligibility before considering using players for this purpose.
ONTARIO INDOOR CUP
Click here to follow our Eagle teams in their annual Indoor Cup competition.
B16 - Dec 19 (defeated in second round)
G15 - Jan 2 (Did not advance)
B14 - Jan 22 (Did not advance)
B17 - Jan 22 (Did not advance)
B15 - Jan 23 (Did not advance)
G18 - Mar 5/6(Won gold)
Monday, October 11
ALL EMSC VOLUNTEERS MUST HAVE A POLICE CHECK COMPLETED
This must be completed prior to adult registration.
There is no charge for VOLUNTEERS, using the supplied form with EMSC letterhead at top left.
Click on the Peel Police logo for more information.
Office hours are Mon-Fri 8am-6pm and Sat from 10am-2pm.
Pick up your blank forms from the Clubhouse reception.
Processing time is up to 8 weeks.
Your police check is valid for 24 months from the date of issue.
G13B WIN SRSL LEAGUE CUP
GIRLS 15 WIN SRSL LEAGUE CUP
CITY'S ANTI-LITTER CAMPAIGN
The City of Mississauga, Recreation and Parks Dept. through Pat Craigmile, Sports Manager,has requested our support for their "Slam Dunk Your Junk" anti-littering campaign to maintain the playing fields free from litter.
They have requested all sport teams to develop an anti-litter clean up program for each field before or after practice or game.
Pat's letter notes:
" The City cannot combat the litter problem alone and (this) ..will not be eliminated until residents begin to feel pride and ownership in their community. We expect the campaign and our activities will encourage both children and parents
to avoid littering.
I know that the Erin Mills Soccer Club can make a difference and as a responsible community soccer club I would appreciate the help of everyone in responding to Pat and the City's request.
Thanks for all your help
Bruno
Thursday, August 26
U13 PROV TEAM PLAYERS WON'T PLAY FOR THE CLUB IN THE WINTER
2004 MEN U21 ONTARIO CUP SILVER MEDALISTS
MID SEASON COACH REVIEW 2006
Attached is a Pdf version of the questionnaire that will be handed out in hard copy to all teams.
Those who wish to get a head start on this can distribute to parents and players now.
One copy is to be done by the player - without parent influence.
One copy is to be done by the parent(s) without player influence.
Parents should seal their forms in an envelope marked confidential before turning it in.
Both should be returned to Head Coach Josef in an envelope marked confidential, either dropped off/mailed directly at the clubhouse or collected by a parent representative on the team who will bring it to the clubhouse.
Coaches and managers are expected to ensure that everyone has an opportunity to return their form with full confidentiality.
The hard copy mid-season review questionnaires will be issued in the first week of July.
These questionnaires are to be provided to all parents and players on your team and returned to the Club Head coach for review.
theis valuable feedback provides parents and players an opportunity to address their opinions of their coach and assists the coach in recognizing his perceieved strengths and weaknesses.
A summary of all ratings will be provided to each team head coach for ditribution to his/her team.
I'll let you know when they are ready for pick-up/distribution.
Handout:
MID SEASON COACH REVIEW 2004
ANNUAL CLUB DINNER/DANCE
The Erin Mills Soccer Club presents:
The Annual Dinner/Dance,
Silent Auction 2004
Held at Le Dome Banquet Hall
Friday September 24 6:30pm cocktails
7:30pm dinner
Tickets $40.00 per Person
Buffet dinner, Cash bar
Great door prizes, balloon bursts, support the scholarship fund
Hurry; get your tickets today available at the clubhouse
For more info contact the clubhouse at (905) 820-9740
Handout:
ANNUAL DINNER DANCE
THE FUTURE OF OUR SOCCER FACILITIES IS IN YOUR HANDS
Please take a moment to visit the the City of Mississauga's web site.
Just click on the city logo.
This link outlines the City's "FUTURE DIRECTIONS" planning process for indoor and outdoor sports facilities.
Within this link are the scheduled dates for 10 public hearings that will be staged to explain the City's direction in facility planning over the next 10 years.
Attendance from the broad soccer community is absolutely essential at ALL of these meetings.
Soccer needs to illustrate the collective power that we have.
We have been told clearly that the input from these public meetings have a powerful bearing on the decisions made by the City Council.
Barry Nye and I attended a City session tonight where their consultant presented his final recommendation to the City about outdoor facilities.
This report looks ahead 30 years.
Some salient points from the recommendations.
Soccer requires 64 additional soccer fields NOW, but within the 30 year forecast.
(21 additional outdoor soccer fields are forecasted for 2005)
Cricket needs 9 fields.....
12 fields are needed for multi-purpose sports - football, frisbee, field hockey, etc.
No additional baseball fields are required - in fact baseball has a surplus of facilities as youth participation declines.
(7 of 19 baseball clubs in town provided no input to the study)
All of the soccer clubs participated fully in the study, although only Erin Mills and Clarkson were represented tonight.
(We were outnumbered by cricket interests....)
The report strongly urges the City to re-establish relationships with the school boards for facility sharing/maintenance.
40 school sports facilities are not within the City's inventory.
The report suggests that artificial turf could reduce the number of fields required through more frequent, efficient use. (no rest periods for grass to recover).
Each public meeting will consist of:
15 minute presentation of City finances
45 minute presentation of the City's "Future Directions" for both indoor and outdoor facilities. This will illustrate the results of the householder surveys and all of the other input from interested parties.
The recommendations for the 5 yr and 10 yr planning cycle will be illustrated.
The "Master Plan" will be then presented to City Council in June who will approve the budgets (or not).
Mark your calendars now and plan to attend as many of these sessions as possible. Plan to be vocal and noticed.
Share this email with all of your team parents and encourage their attendance also.
Share this email with everyone you know in the Mississauga soccer community and encourage their attendance also.
We will be rewarded with the facilities we need provided EVERYONE brings their opinions.
There are many positive things happening (on paper) for soccer's benefit....let's make sure they are not set aside for the interest group(s) that are better represented.
Bob Twidle - Rep Director
Erin Mills Soccer Club
www.erinmillssoccer.com
www.eteamz.com/erinmillsrep
416-347-0037
Every person you meet knows something you don't. Learn from them.
Jackson Browne
REGIONAL PROGRAM WORKSHOP FOR U12 AND U13
This note is addressed to all U12 and U13 Rep teams in Peel Halton, Niagara and Hamilton.
Club Presidents and ...
Tuesday, April 8
ADP 2003 SHOWCASE TOUR REPORT
Bob - I know that Kim and the girls would join me in saying that over the next few months, ALL of our rep players and their parents should spend an evening discussing the trip, the opportunties, the schools and soccer and academic programs that are available - with the players and coaches who went on this trip......
How many parents know that student athletes have full-time (no cost) tutors available to help them every day if required in any of their courses to help them with their schoolwork?
Press Release: Mississauga, Ontario
April 3rd, 2003
The Erin Mills Soccer Club of Mississauga, Ontario, with 6000 plus members - one of the largest and most progressive soccer clubs in Ontario, is proud to announce the preliminary results of its spring University Showcase Trip.
38 of the Club's top male and female players, members of the Erin Mills Advanced Development Program (ADP), just returned safe, but exhausted, back in Mississauga after a 12-day, 16-state Tour of America. Not having seen an outdoor soccer field in seven months, without the benefit of a single outdoor practice session, still in the middle of their indoor 6v6 soccer season, the boys played a physically and mentally punishing schedule of 10 games, the girls an equally tough 8. They have all returned home with an energized committment to improve their schoolwork and their soccer skills. The Club is developing both short and long-term relationships with Universities and Colleges across America, and looks forward to placing these and future Erin Mills players on academic and athletic scholarships.
ADP members train up to six days a week towards a future path to play high level soccer at College, University and eventually professionally
Erin Mills ADP University Showcase Tour of America March 21 - April 1, 2003
Girls traveling were 13 - 19 year olds, the core of the Erin Mills OYSL Provincial League u19 team supplemented with talented younger Club players, including girls from the defending Canadian National Champion Erin Mills Girls u16 team, building towards defending their national title this fall. The girls played varsity women's soccer teams, including 3 of the top 15 University teams in the United States, with a line-up of composed of as many as five 13-16 year olds. They were outmatched but not outworked. It was simply amazing to see the team grow over the week; the development of some of these fine young female players, whose skills and intensity often matched their opponents, will lead to many immediate and future opportunities. At least eight of these young ladies are candidates for immediate and future soccer scholarships!
The boys traveling were the Club's top 18-20 year olds, primarily members of the Erin Mills u19 Olympians, currently the premier youth team in Ontario.
Men's Results
Friday - played Robert Morris University in Pittsburgh - indoor 7 aside - in 2 back-to-back one-hour scrimmages - Cumulatively won 6-5.
Saturday - visited Saint Francis University in Loretto, Pennsylvania in the morning and then played in the evening at James Madison University in Harrisonburg Virginia against a mix of senior varsity and club players - winning 2-0.
Sunday evening - played Wake Forest University, for most of 2002 the number one ranked University team in America - in Winston-salem, North Carolina - losing 5-0.
Tuesday -played Georgia Southern University in Statesboro Georgia - losing 2-1.
Wednesday -visited Vanderbilt University in Nashville, Tennessee.
Thursday - played Lambuth University in Memphis Tennessee. (Primarily reserves -7 starters didn't dress), losing 1-0 in a windy game on a hard field, only goal bounced in over goalie's head, caught keeper - from other side of center!
Friday - played Collaiste Ide College from Ireland, probably our worst game of trip - cold and windy, hard field - game conditions didn't suit us - weren't in game -lost 5-1.
Saturday morning - played Cincinatti United - (Ohio State Champions). Our reserves played - only dressed 12 players - and had 2 goalies playing as field players. Our line-up team stayed at hotel to rest for feature game that night. Lost 2-1. They controlled first half - up 2-0, but couldn't get out of their own end for most of second half, we scored once, almost again at 89th minute. We picked 2 of our 12 to dress for evening game.
Saturday night - played well against a strong College Football Association of Ireland National Team, a team composed of Ireland's top young soccer talent, in feature game, losing 3-0. (They beat University of Memphis 4-3 on Thursday).
Sunday - won 2-0 against Texas Spurs (played 3/4 starters but mainly reserves).
Monday - lost to University of Kentucky 2-0 in Lexington. This was really the first game for us that we actually started to play 'outdoor soccer' our way!
Significant interest was shown in the boys. All of the Line-up players as well as several others are serious candidates for scholarships this fall from several Universities.
For information: Contacts: Boys team - Bob Graham 905 - 828-1743 ncc1991@sympatico.ca
Girls team - Kim Astles 905 - 820-9357 astles@sympatico.ca
CLICK ON THIS PHOTO FOR A PEEK AT OUR 2005 UNIFORMS
ONTARIO CUP 2003 CHAMPIONS
Twenty-nine Eagle teams took the challenge in Ontario's quest for the Ontario Cup.
Three teams achieved an opportunity in the championship game.
Congratulations to our U16GA who took the gold and a berth in the National Club Championships in October.
Congratulations also to our U12GA and Boys 19 who brought home the silver medal for Erin Mills.
A proud showing for Erin Mills in 2003.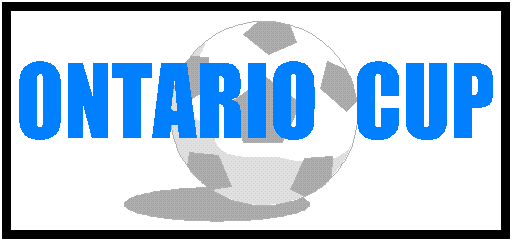 CLICK ON HERE FOR THE 2003 DRAW
GIRLS 12A WIN ONTARIO CUP SILVER
BOYS 19 SECURE ONTARIO CUP SILVER MEDAL
Sunday, March 16
PRESS RELEASE - ADP TRIP NEWS
Press Release: Mississauga, Ontario
&nb...
BEND IT LIKE BECKHAM - GOTTA SEE THIS MOVIE
Click on here and find a theatre near you.
SKILLS DEVELOPMENT PROGRAM BEGINS IN 2003
Click on the title for the full story.....
SKILLS DEVELOPMENT PROGRAM
JANUARY TO APRIL 2003
...
REFEREE TRAINING
If you have any players (or coaches) who are interested in taking their basic Level 4 referee training they should consider signing up on a wait list at the clubhouse reception.
Referee credentials leads to an income source as well as a different learning perspective of the game. Referee training and experience is a valuable life skill in people management.
Candidates must be 13 yrs old at the time of the course.
The registration form is attached here and also printable from the EMSC web site.
BOB T
Handout:
REFEREE REGISTRATION
STANDARDIZED TESTING IS A REALITY IN ERIN MILLS
The Coach's meeting on Nov 11 included a discussion and demonstration of the standard tests that are to be applied to all of our players through the Rep program and ultimately through the entire club.
These tests are designed to create personal improvement drive among players, help coaches realize the real player development throughout the year and to provide some objective data as part of the evaluation process in tryouts.
Attached is an Excel spreadsheet to record your data. Detailed explanations of each test are available from your Club Head Coach.
An on-line file will follow.
Handout:
STANDARDIZED FITNESS PERFORMANCE TEST RECORD
Wednesday, November 13
VIDEO LIBRARY FOR COACHES
Coach Josef has over 50 soccer training videos plus a collection of training related books that you can borrow for home viewing with your staff, and where appropriate, your players.
There is a sign-out binder at the club house reception that includes a full list of the videos available.
You can sign a couple out for a one week period. You are required to leave a $20 cash deposit for EACH video borrowed.
If you have any comments about the videos (good or bad) send them to your Rep Director and he will start a video recommendations section.
TEAM STORY AND PICS FOR THE SITE ALBUM
The albums page of the web site can accommodate digital photos of your team along with a profile story.
Let's kick this off with some pics of last year and build on from here.
Send along a good digital pic and a story for posting. I'll use the highlight stories that you have been sending me unless you want something else there.
The album will be open to anyone who visits the site.
IF YOU NEED POWERPOINT READER CLICK HERE
There are some resources in Microsoft PowerPoint that you may not be able to read if you lack the software. Click on here to access a free program that lets you read a PowerPoint presentation.
WOMEN'S GOLD CUP RESULTS
Click on here to review our Canadian women's team's silver medal results in the coveted Gold Cup.
On to the World Cup in summer 2003.