Erindale Lions Little League: Welcome
Click on this button to register online.
Thursday, May 25
ERINDALE MGSA, MBA, COBA AND OBA NEWS AND INFO:
News and information for our girls MGSA softball teams, and boys MBA, COBA and OBA teams has been moved to a new website, to allow us to conform with Little League rules. Please visit
Erindale Cardinals
for this information.
---
Erindale Lions Little League is a member of
Little League International
and an affiliate of Mississauga Recreation and Parks. We offer Little League baseball for 7-12 yr old boys, MBA, COBA and OBA baseball for 13-21 yr olds, girls softball for 7 - 22 yr olds, and ladies recreational softball for 23 yr olds and up. Co-ed T-ball is for players aged 4 to 6. We offer a
Challenger
program for children and youth with disabilities. We are also members of the
Mississauga Baseball Association
,
Mississauga Girls Softball Association
, and
Baseball Ontario.
---
MEGA JAYS TICKET GIVEAWAY:
Congratulations to the following winners in the Mega Jays Ticket Opening Day Giveaway. Each won a pair of lower bowl Blue Jays tickets for an upcoming gam
Tania Blake
Peter Meech
Kowshika Thiruparanathan
George Dociak
Jim McClevey
Terri Wilczura
Lynn Boucher
Thanks to everyone for their support.
---
WINNING 50/50 TICKET:
The winning ticket number from the Opening Day Peewee COBA draw is 612489 and has been claimed by the winner. Thanks to all who participated.
---
SCHEDULES:
Schedules for T-Ball/Rookie/Minor/Major are now posted on the GameOn website. This year, we have combined the schedules in one link. The advantage of this is that all games, in all divisions, for a given day, will display on one web page. You can favourite your childs or childrens team(s) and get score updates, reschedules and announcements. Instructions for this will be emailed out shortly.
To access the schedules, click on the GameOn ELLL image below, or go to www.gameonmobile.com and search for ELLL. If you have any questions, or notice an error, please let us know. Directions for downloading the app for iOS and Android devices can be found by
clicking here.
---
REGISTRATION UPDATE
As of May 25:
CHALLENGER: Space still available. Register online or contact registrar@erindalellbaseball.ca to register in person
All other house league divisions are closed.
---
ERINDALE LITTLE LEAGUE VOLUNTEER PROGRAM
Erindale Little League is excited to offer their volunteer program again to registered or former players between the ages of 14 and 17. Volunteers will be required to attend practices and games, as best they can, for their assigned coach and team. The volunteer opportunity is open to both our baseball and softball divisions. If you are interested in applying for this opportunity, please complete our online Volunteer Application by Sunday April 30th. If you have any questions or if you prefer a paper version of this application please contact me: Deirdre O'Brien dobrien5@sympatico.ca

---

WHAT IS CHALLENGER BASEBALL ALL ABOUT?
To register for the Challenger division, register online at the link above or download form
here.
Contact registrar@erindalellbaseball.ca to arrange to drop off your form, or send via mail with cheque.
Challenger Baseball is a program that provides an opportunity for children with cognitive or physical disabilities to enjoy the full benefits of participation in baseball at a level structured to their abilities.
Baseball games are played in a fun, safe environment where no score is kept. Able-bodied "Buddies" are assigned (one on one, where possible) to each participant. These Buddies assist the Challenger players with their involvement in the game. Pushing wheelchairs around the base path, assisting players in how to hold the bat and swing, or providing protection for the Challenger player from a batted ball, are just a few of the ways the Buddies offer a better experience for the participants in Challenger Baseball.
Each participant is treated like every other player in the conventional baseball program. All players are outfitted in uniforms, use the same equipment, and play their games at the local baseball parks. A team picture is a must for Challenger, as it is in the other divisions.
Last but not least, the smiles are plentiful and free! The joy on the face of each participant in Challenger Baseball makes it very clear how much fun they are having. No pressures, no playing time issues, everyone just has fun! It's what baseball is supposed to be all about.
Benefits
---
Playing in a Challenger division gives players and their families the opportunity to:
enjoy the thrill of playing baseball
be part of a team
develop physical and social skills
build self esteem
get exercise while having fun
make new friends
meet other children and families in their communities
---
LITTLE LEAGUE BAT CHANGE FOR 2018:
A study conducted by USA Baseball has concluded that recent advancements in science, engineering, technology, and the materials available to fabricate non-wood bats, now allow the manufacturers to construct youth bats that can perform at a wood-like level through the entire range of lengths and weights.
How is the USA Bat standard different from the BBCOR standard.
Both the USA Baseball and NCAA bat performance tests are based on the coefficient of restitution from a bat-ball impact. The scale of results is different, however, since they use different test balls and test speeds. The testing difference is necessary to address the various levels of play in the respective age groups.
Why the change to a wood-like standard?
USA Baseball's national member organizations believe that a wood-like performance standard will best provide for the long-term integrity of the game. The new standard will not have a drop-weight limit, so young players can use bats made with light-weight materials.
Why not just use wood bats?
Wood is a scarce resource. The new bats will be designed to perform much like wood, where its performance will be limited to the highest performing wood.
Is safety the reason for the change?
No. Youth baseball continues to be one of the safest of all sports for youth participants.
Why wait until 2018?
The implementation date of 2018 allows us time to educate our leagues, parents and players as well as sufficient time for manufacturing and shipping to get the new bats into retail outlets.
Knowing which bat to buy?
All new bats that bear the USABat licensing mark will be permissible for play in the leagues and tournaments of the participating youth baseball organizations.
Is my current bat good for league play?
Yes. Current league-approved bats can be used through December 31, 2017. See attachment
Timeframe - Marketing for the new bats will start appearing in June. Bats should be available for purchase in November and will be mandatory for tournament play starting January 2018.
---
T-BALL TOURNAMENT:
The 2017 Erindale T-Ball Tournament will be held July 14/15/16 at Springfield Park. For more information, please email erindale@erindalellbaseball.ca
---
Please read the article
here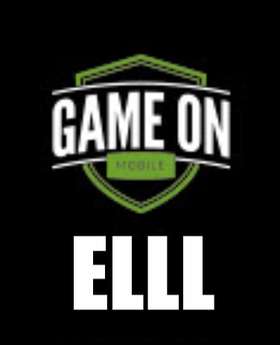 Click on image to access schedules
Erindale Lions Little League graciously acknowledge the financial support of the Ontario Trillium Foundation.
2017 District 1 Tournament Dates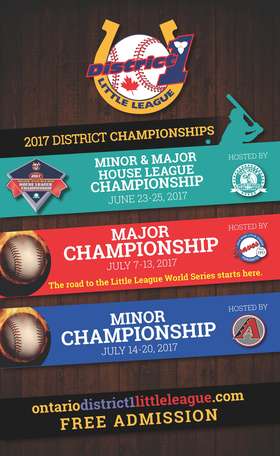 Click on logo to visit District 1 tournament page