EPGFA: PGF EVENTS: PGF REGISTRATION INFORMATION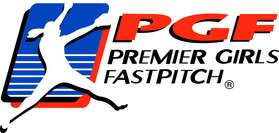 PGF REGISTRATION INFORMATION
PREMIER GIRLS FASTPITCH
PUT SIMPLY: WE WANT THE BEST TO PLAY THE BEST!!
Mizuno
Premier

National and Regional Qualifying events
The competition from our 10 state Region will be outstanding. This is an unbeatable combination, your outstanding team, PGF and Eastside Centre. Eastside Centre is one of the Premier facilities in the Midwest, host of the IHSA State Softball Tournament as well as other numerous post season and collegiate events.
Compete in the PGF Program:
Contend in National and Regional Qualifying events over 10 States and expose your team to the top talented teams and college programs that follow Premier.
PGF Region 3- Midwest Region... Illinois, Indiana, Kansas, Kentucky, Michigan, Missouri, Nebraska, Ohio, Wisconsin and Iowa. See national website for all Regional and National events in the Midwest Region.


Sign your team in on www.premiergirlsfastpitch.com
All Teams must Sign-in on PremierGirlsFastpitch.com to receive team log-in info.
(Log-on Button on left side of webpage.)
Instructions will then follow to enter your coach/ team info- including player profiles and also your Regional/National options to enter tournaments.



Midwest Regional Championship / Regional Qualifiers
Advance to the Regional Championship - Host- Chicago, Illinois
Place in the top 5 of a Regional Qualifier or play in at least (4) PGF qualifying events.
Your log-in information is all you need to enter Regional Qualifiers. Print and send form & payment/credit card per directions given. Teams advancing to the Regional Championship must be Registered and Insured through PGF/Sportsageid before the tournament.




National Championship / National Qualifiers
Advance to the National Championship - Host- Huntington Beach, California
64 team National Championship. Play and win a PGF National Qualifier or by PGF invitation only. Challenge your team against the "Best of the Best!".
After you have received your log in and entered your tournaments, you must REGISTER your team and players through PGF and Sportsageid for background check & proof of age. Select Insurance tab on left side of web page, then blue Insurance tab again in the middle of following page. All teams playing in National Qualifiers, Regional Championships or National Championship must be Registered with PGF. PGF Insurance is mandatory for National and Regional Championship. This process handles background checks and insurance.
All corresponding info is available on the PGF website.
Other locations and dates throughout the region will be available at the PGF website.
Tournament Director: Steve Leverton- 309-264-7255 cenillpgf@gmail.com

Facility & EPGFA Organization Contact: Joe Bolen 309-264-5490 balljunky@comcast.net
PGF MIDWEST REGIONAL CHAMPIONSHIP INFO