Endless Mt Blast: Sponsors

Cargill Beef
1252 Rt 706
Wyalusing, Pennsylvania
18853


Cargill Beef
A committed industry leader
The story of Cargill Beef is a story of commitment. Since 1936, our pioneering spirit and dedication to quality have driven progress and innovation throughout the industry, and we remain committed to always enhancing our role as an industry leader.

Today, Cargill Beef is one of North America's largest beef processors, harvesting more than 7 million fed cattle and producing nearly 7 billion pounds of boxed beef and by-products each year. Headquartered in Wichita, Kansas, Cargill Beef operates production and fabrication facilities throughout the United States and Canada.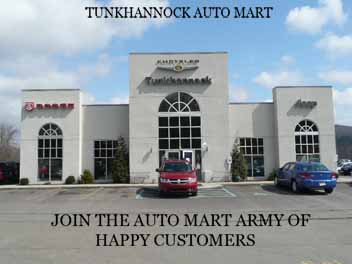 Tunkhannock Auto Mart
509 Hunter Highway
Tunkhannock, Pennsylvania
18657


Tunkhannock Auto Mart New Cars, Used Cars, Auto Parts,
Auto Financing and Friendly Help Buying Cars
Family owned and operated since 1990...
selling and servicing new cars and used cars.



jdafcik@dodgechryslerjeep.net
Phone: (877) 816-4325

Milnes Companies
12 Frear Hill Road
Tunkhannock, Pennsylvania
18657


Located in Tunkhannock, Pennsylvania, the Milnes Companies are diversified engineering and construction firms offering a wide range of services throughout northeastern Pennsylvania and southeastern New York.

The Company originated in 1956 as an engineering and surveying firm. Operating under its current corporate structure since 1972, the Milnes Companies have developed an excellent reputation in providing quality engineering, surveying and construction services.

Milnes Engineering, Inc. has been providing quality engineering and surveying services for over 40 years to a wide range of clients in both the public and private sectors.

The Milnes Co., Inc. was founded over 25 years ago and is a widely diversified construction firm with an aggressive approach toward assisting our clients in planning and constructing their future. The Company specializes in the construction of wastewater treatment plants and commercial/industrial projects.


Powers Stone
15644 SR267
Montrose, Pennsylvania
18801

Walters Transport
310 Walters Rd
Mehoopany, Pennsylvania
18629

N&B Enterprises
484 Shoemaker Ave
West Wyoming, Pennsylvania
18644


Cresswell Well Drilling
RT 6-11
Dalton, Pennsylvania
18414


Since 1879, Cresswell Drilling Company, a 5th generation family run business,
has been dedicated to providing quality water systems in and around Northeastern Pennsylvania.

Thomas' Family Market
For 57 years, the Foodtown banner has proudly served the communities of New Jersey, New York and Pennsylvania. Our mission is to be the best grocery retailer in our market by:
Delivering the FRESHEST quality products
Providing the FRIENDLIEST service
REWARDING our customers
Foodtown has grown to a successful cooperative of 59 independently owned grocery stores. We have 21 supermarket locations in New Jersey, 32 locations in New York and 6 locations in Pennsylvania.
Bob & LaVanna Clark
| | |
| --- | --- |
| | Good Luck Sydney Walters!! |
Eb's Market
431 Main St
Laceyville, Pennsylvania
18623


Good Luck Kyleigh!
Laceyville Hardware
24 E Main St
Laceyville, Pennsylvania
18623


Go Kyleigh!!
Jeanne DeRemer's Beauty Shop
E Main St
Laceyville, Pennsylvania
18623


Good Luck Kyleigh!
Phone: 570-869-2509
Who Knew? consignments
RR6
Wyalusing, Pennsylvania
18853



Phone: 570-746-0418

Januzzi's
Country Club Shopping Center
Dallas, Pennsylvania
18612



Phone: (570) 674-7777
Robyn's Hair Salon
2903 Memorial Hwy
Dallas, Pennsylvania
18612



Phone: 570-675-5298
Smiths Country Store
5633 SR309
Monroe Twp, Pennsylvania
18618



Phone: (570) 639-2127
Bunnell Waste Remove
267 Tryon St
Honesdale, Pennsylvania
18431


Good Luck Katelyn!!
Phone: (570) 253-5082
Mosher Chiropractic
33 Marsh St
Wyalusing, Pennsylvania
18853


Dr. Leon Mosher, Jr
Phone: 570-746-0870
Kuback Excavating
56 Van Moore Road
Tunkhannock, Pennsylvania
18657


Good Luck Kyleigh Jo
Phone: 570-836-8722
Centermoreland Grocery & Deli
1636 Demunds Road
Tunkhannock, Pennsylvania
18657


Good Luck Sarah!!
Phone: 570-333-4598
Walt Derhammer
Lighthouse Inn
1019 Shoemaker Ave
Wyoming, Pennsylvania
18644



Phone: 570-693-6160
Mark's Valley View Restaurant
RR6-152 Diner Road
Laceyville, Pennsylvania
18623


We specialize in home cooked meals all made from scratch. Try some of our homemade desserts & we are famous for our pies made fresh daily. Every Sunday we serve our specialty: Chicken & Biscuits!! We always have breakfast, lunch, and dinner specials. We are conveniently located close to Route 6. Come stop by our ice cream parlor where we serve delicious soft and hard ice cream varieties.



Located between Wyalusing and the neighboring town of Laceyville, Marks Valley View Restaurant and Motel offers accommodations and good food overlooking the stunning mountainous countryside of the Endless Mountains. The restaurant and hotel are both decorated with a quaint country charm. Both the restaurant and motel are family owned and operated, and the motel offers several rooms for tourists and hunters alike.
Hours
Sunday : 6:00 AM - 9:00 PM
Monday : 6:00 AM - 9:00 PM
Tuesday : 6:00 AM - 9:00 PM
Wednesday : 6:00 AM - 9:00 PM
Thursday : 6:00 AM - 9:00 PM
Friday : 6:00 AM - 9:00 PM
Saturday : 6:00 AM - 9:00 PM
Phone: 570-869-2910
Fax: 570-963-8830