El Rio ASA Fastpitch League: Welcome
2013 SOFTBALL SEASON IS APPROACHING. COME JOIN THE EL RIO SOFTBALL FAMILY BEFORE TIME RUNS OUT!!!!
Sunday, March 3
Welcome to the home of your El Rio Softball Girls Fastpitch
El Rio Softball League Picture Day Schedule 3.03.13
Time
1st Photographer
2nd Photographer
10am
Reina-6u
Michelle-6u
10:15am
Albert- 6U
Chuco- 14U
10:30pm
Silvia - 10U
Chuco-8u
10:45am
Mike-8u
Nancy-6u
11am
Victor- 8u
Ralph-6u
11:15am
Jim- 8u
Sonny-6u
11:30am
John-10u
Andy Ventura
11:45AM
Carlos-10U
Mark-10U
12PM
Pete-12u
Rich-12U
12:15PM
Norman-12U
phil-12U
12:30PM
Anthony-12U
OPEN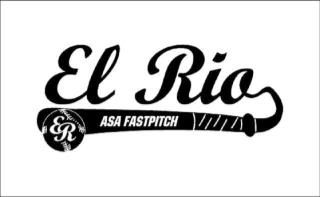 **************************************************************
PICTURE DAY ... TODAY @ DEL MAR FIELDS !!!!!!!!!!
PLEASE check the "HANDOUT" section & click on the "Snack Bar Schedule" to check your teams assigned days
******************************************************
2012 All-Star Champions
12U & 14U El Rio All-Star's
The El Rio Board would like to thank all the 14U All-Star coachs Tony, Kasha, Vince, Noel & Peter. 12U All-Star coachs Richard (Chuco), Pete, Andy V., Timm, & Val. The job you men do for our girls is amazing. No words can explain how grateful all of us in the community are for what you all do. All the hard work, long hours practicing and drilling our girls all pays off amd shows on the field no matter where we are at. So thank you all again for your hard work and time. Its appreciated more than you all can imagine.
The El Rio Board would also like to tip our hats off to all the hard work these young ladies put on the field every time they lace up there cleats and step on that diamond. It amazes us how hard these girls work and never give up. Each time these young ladies step on the diamond you are gaurenteed a show. This past All-Star season these girls showed what hard work and never giving up gets you...
Congrats Ladies! you made every single person in El Rio proud... Cant wait to see what the 2013 Season has in store for us. Keep up the hard work ladies.
El Rio Baord.
---
---
---
El Rio Board would like to announce our new partnership with:
We have built a great relationship with Dicks Sporting Goods and have had the opportunity to host our sign ups in there store front. From the Community Marketing Manager Deanna to the Store Managers Blake and Matt, they have made El Rio Softball organization feel at home with them.
Please stop by and pay them a visit, and show them the same love they have shown us. They have alot of great equiptment to offer and great deals.
---
A BIG THANK YOU TOO ALL YOU COACH'S THAT VOLENTEERED LAST SEASON!!!
El Rio softball Family wants to say thank you too all you coach's that volenteer your time to teach and develop these young ladies into young softball athletes. If it was not for you donating your time and love for the game, there would be NO EL RIO SOFTBALL. So from the bottom of all these young ladies hearts and all the parents and board members we would like to say THANK YOU!!!!!THANK YOU FOR BEING YOU!!!!
---
THIS VIDEO IS A GREAT EXAMPLE OF SPORTSWOMANSHIP... The type of sportsmanship El Rio Softball represents.
To read more about this story visit: http://nbcsports.msnbc.com/id/24392612/
---
El Rio Softball is a non-profit girls fast pitch Amateur Softball Association (ASA) league. El Rio Softball features divisions for ages 4-16. We are committed to helping the young girls of our community. Our intentions are to promote sportsmanship, leadership, teamwork, confidence, and health through the game of Softball.
We welcome adult volunteers to join our program. ASA rules require all managers to be ACE certified to manage an All Star Team. It is not required for you to be certified to manage or coach a rec-ball team. Also, ASA rules require Allvolunteers from Board Members, Managers, Coaches and Team Moms to have their background checked by ASA. Forms will be provided to all Team Managers.
Girls of all skill levels are welcome to join the El Rio Softball family, no experience is required.