Elmira Evolution: Welcome
Monday, November 7
Welcome to The Evolution's Home page!
GET IN SHAPE WITH THERESA ALLSOPP! P90X/Insanity/Asylum Classes Every Monday Wednesday & Friday 7pm @ Arnot Hospital in the Petrie Conference Room Starting Tonight & It's FREE!!! Next Season Starts NOW!!!!
Any Questions Feel Free To Contact Me.
Fred Nichols
Elmira Evolution
607-483-7739
Sunday, March 20
A team can only evolve with values and respect. Our mission is to build young men of character, demonstrate class and humility, bolster an atmosphere of hard work, effort, and discipline that permeates throughout our program and the community by creating an environment conducive to making positive life choices, one in which all can be part of and contribute to.


The Evolution has joined the EFL!
The Empire Football League recently held its scheduling meeting in Albany, NY and announced that the Syracuse Shock, Elmira Evolution, Albany Metro Mallers, Glens Falls Greenjackets and Montreal Voyageurs have joined the Empire Football League. The Albany Metro Mallers and Glens Falls Greenjackets are previous multi-year league champs while the Greenjackets are an original EFL charter member. The Montreal Voyageurs organization was resurrected from the original 1990s EFL franchise by owners Barry Keeler and Ken Davis.
The EFL will consist of the following 9 teams for the 2011 season:
Albany Metro Mallers

Amsterdam Zephyrs

Elmira Evolution

Glens Falls Greenjackets

Montreal Voyageurs

Plattsburgh North Stars

Syracuse Shock

Vermont Ice Storm

Watertown Red & Black
The EFL season starts July 9th, has a bye September 3rd and ends October 1st. The EFL Playoffs will begin on October 8th and will conclude with the EFL Championship Game on October 22nd.
The following are the
2011 Empire Football League Officers:
Dave Burch, EFL Commissioner

Bill Higgins, Commissioner of Officials

Concetta Sager, Treasurer

Al Dole, Deputy Commissioner

Alvin Lollie, Deputy Commissioner

Jane Dole, Secretary

Gary Shaver, EFL Advisor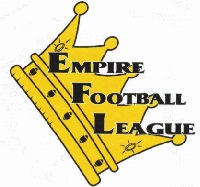 2011 EFL LEAGUE STRUCTURE
2011 Empire Football League Schedule - Final 03/12/11 Rev A

DATE
ALBANY
AMSTERDAM
ELMIRA
GLENS FALLS
MONTREAL
9-Jul
Plattsburgh
Glens Falls
Syracuse
at Amsterdam
at Vermont
16-Jul
Watertown
at Vermont
at Glens Falls
Elmira
at Plattsburgh
23-Jul
Glens Falls
Elmira
at Amsterdam
at Albany
at Syracuse
30-Jul
at Vermont
at Syracuse
BYE
Montreal
at Glens Falls
6-Aug
Elmira
Montreal
at Albany
at Plattsburgh
at Amsterdam
13-Aug
at Syracuse
BYE
Montreal
Watertown
at Elmira
20-Aug
BYE
Plattsburgh
Vermont
at Syracuse
Watertown
27-Aug
at Amsterdam
Albany
Watertown
Vermont
BYE
10-Sep
Montreal
at Watertown
at Plattsburgh
BYE
at Albany
17-Sep
BYE
at Elmira
Amsterdam
at Vermont
at Watertown
24-Sep
at Watertown
BYE
at Syracuse
Plattsburgh
BYE
1-Oct
at Montreal
Syracuse
BYE
BYE
Albany
DATE
PLATTSBURGH
SYRACUSE
VERMONT
WATERTOWN
9-Jul
at Albany
at Elmira
Montreal
BYE
16-Jul
Montreal
BYE
Amsterdam
at Albany
23-Jul
BYE
Montreal
at Watertown
Vermont
30-Jul
Watertown
Amsterdam
Albany
at Plattsburgh
6-Aug
Glens Falls
at Watertown
BYE
Syracuse
13-Aug
at Vermont
Albany
Plattsburgh
at Glens Falls
20-Aug
at Amsterdam
Glens Falls
at Elmira
at Montreal
27-Aug
at Syracuse
Plattsburgh
at Glens Falls
at Elmira
10-Sep
Elmira
at Vermont
Syracuse
Amsterdam
17-Sep
BYE
BYE
Glens Falls
Montreal
24-Sep
at Glens Falls
Elmira
BYE
Albany
1-Oct
Vermont
at Amsterdam
at Plattsburgh
BYE
8-Oct
EFL Quarter-Finals
15-Oct
EFL Semi-Finals
22-Oct
EFL Championship - AT Highest Remaining Seed