Elmer Little League: Welcome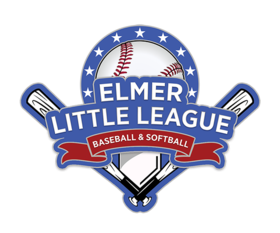 District 3 - Section 4 - New Jersey
Little League Baseball & Softball International

Elmer Little League provides Baseball and Softball programs for boys and girls ages 5 through 16. Our main goal is to provide a sports program for our children to learn the fundamentals of Baseball or Softball, participate in a team sport and have a whole lot of fun! Following the guidelines set by Little League Baseball, Inc., playing a team sport can teach a child discipline, character, loyalty, commitment, and courage.
Elmer Little League Boundaries:

Elmer Borough
,
Pittsgrove Township,
Upper Pittsgrove Township
REGISTRATION for BASEBALL & SOFTBALL
Registration is Closed
Challenger Division Little League
The Little League® Challenger Program was founded in 1989, and is Little League's adaptive baseball program for individuals with physical and intellectual challenges.
Any individual with a physical or intellectual challenge may participate. If an individual can participate in the traditional Little League Baseball or Softball program with reasonable accommodations they should do so. The Little League Challenger Division accommodates players ages 5 to 18

For More Information Click Here
A SPECIAL THANKS to our SPONSORS
Elmer Little League would like to thank our DEDICATED SPONSORS. Please take time to visit the
SPONSORS
link located on the left-hand side of our web site. Without the continued support of these businesses and organizations Elmer Little League would not be capable of providing Little League Baseball and Softball for the youth of our communities. THANK YOU ! ! !