Elkins Little League: Welcome
2014 Registration Is Open
2014 Registration is Open!!_____________________________________________________________________________________________
WVU HOLIDAY CAMP: BROCHURE CAN BE FOUND UNDER HANDOUTS AND THEN LOCAL CLINICS
Hello, My name is Daniel Carte and I am an assistant baseball coach at West Virginia University. I wanted to make you aware of an upcoming youth camp we are having December 27th and 28th that may benefit some of the players from Elkins Little League. We would greatly appreciate it if you could send the information to the parents and children in your league in case they are interested in attending. Our head coach, Randy Mazey, will also be providing a seminar for the parents to ensure that their children have the best youth sports experience possible. I have attached a copy of the brochure and also put some camp/seminar information below. You can reach me at Daniel.Carte@mail.wvu.edu if you can help and I can get you additional information. Thank you for all your help and look forward to hearing from you soon. Let us know if you guys ever need anything!!
Camp Info:
This camp is an excellent way for players to develop their skills in all phases of the game. Join our coaching staff in this exciting time in WVU baseball and learn how to play the game the Mountaineer way. Players will be instructed the techniques and fundamentals of: hitting, pitching, infield, outfield, catching, base running, bunting, cut-offs & relays, rundowns and sliding. Games will be played to emphasize the techniques learned in our daily instruction. All players will be grouped according to age and ability. Camp will be held at WVU's Caperton Indoor Practice Facility from 9 a.m. - 4 p.m. each day. Seminar included.
Youth Parents Seminar:
Coach Mazey will go over 20 points to assure that both the parents and children have a positive baseball experience. Some of the topics include how to deal with the people involved in your child's baseball experience, a parents perspective, and how to teach life lessons through the game of baseball. Coach Mazey has been conducting this seminar for years with rave reviews. It is something hat parents and coaches will not want to miss
_______________________________________________________________________________________
U.S. Baseball Academy handout is attached below. D&E will conducting the Academy. The Academy is 6 sessions and the player coach ratio is 6:1. Check it out!!
Sun: Jan. 5, 12, 19, 26; Feb. 1 (Sat.), 2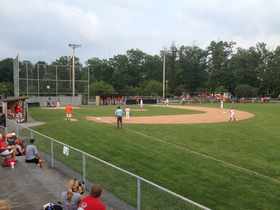 2013 11 Year Old State Championship
Handout:
US Baseball Academy
Wednesday, October 30
Robert E. Hinzman
In 2012, in recognition of nearly a quarter century of serving as our league president, the Robert E. Hinzman Classic was established. Bob Hinzman served as President during the time when our league migrated from the middle school fields to our present location at River Bend. He was instrumental in establishing our league in District 8.
Thousands of players have passed through our league during his tenure and he still remembers many of them. Bob, could be seen in the press box watching baseball nearly every evening and around the park on Saturday mornings and during the off season maintaining the complex.
Bob resigned his position of president in 2011 but still remains on our Board of Directors. In June of 2013, during the 11 year old WV State Tournament, he was honored by the District 8 Administrator by being named as an Honorary Assistant District Administrator.
Bob can still be found in the press box watching baseball, when you see him...thank him for his service and time that he has given to the players, past and present.
The REH Classic is a post season, round robin tournament involving our Major League Baseball division.