Thursday, October 25
Current College Alumni as of the 2011-12 season
Click on the player name to direct to his school web site.
Class

Former EHS Football Player

University currently Attending

2009


#43
Anthony Porterfield
6'3" 238 Tight End
Junior
Pre-Med


Florida State
University

2012
Offensive Scout Team
Players of the Year






Friday, October 17
Current Professional Football Alumni 2008-2009 season
Friday, February 1
Ahtyba Rubin - Cleveland Browns
Ahtyba Rubin
Escambia High graduate of 2004 and former EHS Gator football player was drafted 190th in the 6th round of the NFL draft by the Clevland Browns.
One of the few bright spots for the Cyclones in 2007, Rubin has been a dominant force in the middle of the field since taking over nose guard duties as a junior. He was regarded as one of the premier junior college players in the nation at Trinity Valley Community College before enrolling at Iowa State in 2006.
Rubin is still developing, but offers NFL teams the opportunity to mold this fireplug in the middle of their front wall. Some teams are eyeing him for a potential move to the offensive line, where he starred as a guard for Trinity College as a sophomore.
Rubin was a defensive lineman at Escambia High School, earning All-Conference and All-Area honors. He registered 8.5 sacks during his senior year, along with 54 tackles. He spent the 2004 season playing on the defensive line at Trinity College, moving to offensive guard in 2005.
Rubin was an All-Southwest Junior College Football Conference first-team pick and rated as the 73rd-best overall player in the junior college ranks by Rivals.com. He added All-American honorable mention, as he collected 90 knockdowns and eight touchdown-resulting blocks for an offense that generated 388.27 yards per game. The team boasted a 9-3 record and ranked seventh in the nation. They captured the Pilgrim Bowl, with a victory over Northeast Mississippi College.
Rubin was a late addition at Iowa State in 2006, joining the team just before the season opener. He saw limited action in the first three games before moving into the lineup at nose guard. In 12 games, he registered 34 tackles (18 solo) with a sack and four stops behind the line of scrimmage.
As a senior, Rubin was named to The NFL Draft Report's Super Sleeper Team. He added All-Big Twelve Conference honorable mention, starting all 12 games at nose guard. He delivered 42 tackles (24 solo) with 1.5 sacks and four stops for losses. He recovered and caused a fumble while also deflecting one pass. Career Notes

In 24 games at Iowa State, Rubin started 21 contests at nose guard, recording 76 tackles (42 solo) with 2.5 sacks for minus-13 yards and eight stops for losses of 21 yards...Had one pass deflection, recovered one fumble and caused another.
Junior College
Lettered twice at Trinity Valley (Tex.) Community College, playing football for head coach Mark Sartain...2005 Season...Earned All-Southwest Football Junior College Conference first-team and NJCAA All-American honorable mention as an offensive guard, the first time that he ever lineup up on the offensive front wall during his career...Registered an 83.9% grade for blocking consistency, delivering 90 knockdowns and eight touchdown-resulting blocks for an offense that averaged 388.27 yards per game...The team finished with a 9-3 record, winning the Pilgrim Bowl over Northeast Mississippi to finish ranked seventh in the junior college ranks...2004 Season...Lettered as a defensive lineman.
High School

Attended Escambia (Pensacola, Fla.) High School...Lettered as a defensive lineman, earning All-Area and All-Conference recognition as a senior.
Way to go!!
Keep tabs on his progress at http://www.clevelandbrowns.com/team/player.php?id=3438
Career Stats
Season

Team

Tackles

Interceptions

Fumbles

G

GS

Total

Solo

Ast

Sck

SFTY

PDef

Int

Yds

Avg

Lng

TDs

FUM

Lost

2012

13

13

44

30

14

2.0

--

2

--

--

0.0

--

--

2

0

2011

16

16

83

56

27

5.0

--

0

--

--

0.0

--

--

0

0

2010

16

16

82

57

25

2.0

--

2

1

1

0.0

1

0

0

0

2009

16

5

38

23

15

0.0

--

0

--

--

0.0

--

--

1

0

2008

11

0

11

7

4

0.0

--

0

--

--

0.0

--

--

0

1

TOTAL

258

173

85

9.0

0

4

1

1

0.0

1

0

1

1
Friday, February 1
Trenton Richardson Cleveland Bowns
At Escambia
He sat out most of his freshmen and sophomore year due to an injury.
As a junior, Richardson also reached the 400-yard plateau, as he ran for 407 yards in his opening game against Tate High School. He finished his junior season (8 games) with 1,390 yards and 13 touchdowns, and received FSWA All-State 5A second team honors.
Trenton finished his senior season with 2,090 yards on 228 carries scoring 25 touchdowns. In a game against Milton High School in September 2008, Richardson rushed for 419 yards on 29 carries and scored six touchdowns, a performance that earned him a selection as the first ESPN RISE National Football Player of the Week.
He made the FSWA 5A All-State First Team as a senior, and was named 5A Florida Player of the Year and a finalist for the 2008 Mr. Football. Richardson also received consensus All-American honors and was named to the Orlando Sentinel′s All Southern Team (Florida).
At Alabama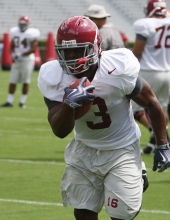 33 RB Cleveland Browns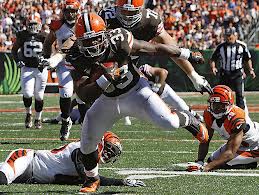 Originally drafted by Cleveland in the first round (3rd overall) of the 2012 NFL Draft with a choice acquired from Minnesota for the Browns' first (fourth), fourth (118th), fifth (139th) and seventh (221th) round picks in 2012.

Height: 5-9 Weight: 230
Age: 22 Born: 7/10/1991
Pensacola , FL
College: Alabama
Experience: 2012 Rookie
Career Stats
Season

Team

Rushes

Receiving

Fumbles

G

GS

Att

Yds

Avg

Lng

TD

Rec

Yds

Avg

Lng

TDs

FUM

Lost

2012

15

15
267
950
3.6
32T
11
51
367
7.2
27
1
3
3

TOTAL

267

950

3.6

32

11

51

367

7.2

27

1

3

3