ECFC: Futsal
Tuesday, October 29
Sign Up Now for Winter Futsal!!!
5V5 Youth Indoor Soccer

U8-U19 Boys and Girls

Beginning to Advanced Level

8-Week Season Starting In Ieary Januay

Weekly Games on Saturday OR Sunday

Most games at El Cerrito High School Gym

$650/TEAM* + $9/player & $14/coach US Futsal Registration
*($700 after 11/30/13)
Click HERE for more information
OR
Call or email today to get started:
510-414-1039
Register by 11/30/13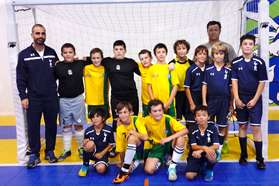 U11B Spurs after exhibition match with Australian National Futsal Team
International Friendly: El Cerrito x Australia
The Spurs U12B opened the winter futsal season early with 10/28 match against Team Australia in Burlingame.
ECFC Futsal is BACK!!!
PLAYERS, COACHES, REFEREES, and TEAMS:
It's easier than ever to get involved with our new

Full Service Registration & Support
Focused on learning more about you and what you're looking for, and then lining up the best possible experience for you.


Players or Coaches looking for a Team? Teams looking for Players or Coaches? Trainers or Refs looking for paid work or volunteer support roles to learn? We'll help with the matchmaking


Will there be enough teams in my age group? Will we face opponents with a similar skill level? These are top priorities that we'll work with you on, including collaborating with other local futsal leagues to find you the best options available.


Your first stop for any other questions, doubts, or concerns, before or during the season

Training for Coaches
On
12/8
, all registered coaches are invited to attend a half-day crash course in coaching futsal. The course will be held at E
l Cerrito High School
, and will be led by the Assistant Coach of the U.S. National Futsal Team.
Training for Referees
Our expectation is 100% referee coverage, always, so we don't leave it up to last-minute volunteer sign-ups. We're looking for a small group of dedicated referees that want to work the season. We're forming the group now, and in December we'll divide up assignments for the season.
Qualifications: Futsal experience would be great, but if you're a licensed soccer referee with a little experience under your belt and can attend a 5-hr referee clinic on 12/1, that'll work too. The only other really important qualification is the willingness to work a lot of games (either a half or whole day on the days that you work.
ECFC Futsal Enhanced Registration Packages
Albany-El Cerrito Futsal League Partner ECFC Futsal[1] provides its member teams with additional league registration options that include the following benefits:
Uniforms

Practices

Training

ECFC Futsal Coach attire and player uniforms

Indoor practice facilities for one or two weekly one-hour practices on weekday evenings. Practices start 4 weeks prior to the winter season and run through the end of the season for a total of 12 weeks (12/9/13 – 3/7/2014). There are no practices the week of 2/17 due to the presidents day holiday.

Premium Coach/Trainer
| | | | | |
| --- | --- | --- | --- | --- |
| Package | Base League Reg | Development | Competitive | Competitive Plus |
| Uniform | n/a | √ | √ | √ |
| Weekly Practices | n/a | 1 | 1 | 2 |
| Premium Training | n/a | n/a | √ | √ |
| Per/Team Fees | $650 | $1,380 | $1,980 | $2,820 |
---
[1] (Note: The Albany-El Cerrito Futsal League's Full Service Registration & Support is provided via a partnership with the El Cerrito Futbol Club (ECFC). ECFC performs these services entirely on behalf of the league to provide a streamlined experience to all league members and promote the sport of futsal. As part of these services, ECFC offers enhanced registration packages to teams choosing to directly affiliate with ECFC. These enhanced offerings are completely optional. Using and deriving the full benefits of Full Service Registration & Support does not require or imply any direct relationship with ECFC.)
Wednesday, October 30
Use the following age grid to determine player age group for the winter 2014 futsal season:
Fall 2013/Winter 2014
AGE GRID
AGE
GROUP
BORN
AFTER
BORN
BEFORE
Under 8
8/1/2005
--
Under 9
8/1/2004
7/31/2005
Under 10
8/1/2003
7/31/2004
Under 11
8/1/2002
7/31/2003
Under 12
8/1/2001
7/31/2002
Under 13
8/1/2000
7/31/2001
Under 14
8/1/1999
7/31/2000
Under 15
8/1/1998
7/31/1999
Under 16
8/1/1997
7/31/1998
Under 17
8/1/1996
7/31/1997
Under 18
8/1/1995
7/31/1996
Under 19
8/1/1994
7/31/1995