ECFC: Club News
Monday, November 4
Gunners Celebrate!!!
U12 Spurs Gunners scored in the opening minutes of their match against the Alameda Islanders White '01 yesterday morning at El Cerrito High. The Gunners would go on to win 4-0.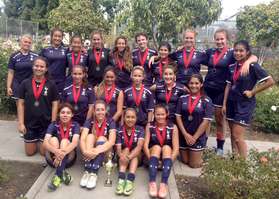 U19G ECFC Spurs Elite
Copa Madera Finalists!
Redwood City, 9/1/2013
ECFC's U19G Spurs Elite finished off the pre-season with back-to-back tournaments, emerging undefeated from last week's Stanford Summer Classic and reaching the finals in this weekend's Copa Madera.  Their overall record in 7 games:  3-3-1.  Looking good, Spurs Elite!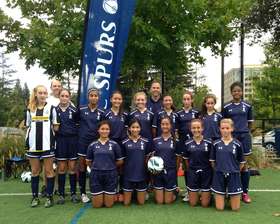 Spurs Tornados at Stanford
Camp pays off!
Spurs Tornados after tournament final
Palo Alto, August 18, 2013. 
Coming off of their first week of training camp, the U14G ECFC Spurs Tornados hit the ground running in their fall 2013 season debut. 
  
Competing in the Division 1 round of the Stanford Summer Classic tournament,  the Tornados swept their opponents 6-0, 2-0, and 3-0, racking up 29 of a possible 30 tournament ranking points, and earning the top spot in the group phase standings in their 12-team age bracket.  Although they came up short in the championship game against a very impressive Marin FC team, that didn't lessen the overwhelming sense of accomplishment for the weekend's performance. 

Congratulations Tornados on a fantastic start to the season!
---
Monday, May 6
U15B Earthquakes take 2012/13 State Cup!!!
Congratulations to Coach Bejan and the Earthquakes!! Well done!
Wednesday, April 17
U19 Elite Girls Reach CalNorth Association Cup Semi-final!
Congratulations to the U19G ECFC Elite Team!!

Elk Grove, CA
From a pool of 26 teams, the Elite made it to the final four with a string of four consecutive shut-out victories, culminating with their quarterfinal win this Saturday in Elk Grove. They came up short against a very strong opponent in Sunday's semi-final, but came home clutching medals and feeling a great sense of achievement for having exceeded their own expectations.