ECFC: Welcome
Register Now for Spring Break Camps!
There's still time to sign up for Session 3!
Session 2 currently in progress. Drop-ins welcome! ($50/day).
Session 1 (Niall & Gina)
3/31 - 4/4
Gilman South Turf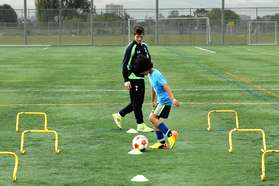 Coach Niall works with player at last week's session.
Spring Season Late Registration
Click HERE to Register For Recreational Teams (Open to all boys and girls aged 5 - 18)
Click HERE to Register For Competitive Teams (Only when you have been directed to do so by a team or club representative)
Wednesday, April 9
Place your team or individual order for optional Spurs gear now!
Warm-ups, practice tees, backpacks, exta socks? Get the latest in official ECFC Spurs merchandise by Under Armour at discount prices in our
online store
.
For general inquiries, please leave a message at
510-414-1039
For matters requiring urgent attention, contact ECFC President Art Machado
510-604-8991
---