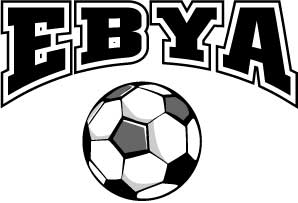 Wednesday, January 16


Registration news for Spring 2013




Registartion now open for Spring 2013

"Early Registration discount will be applied up to Midnight March 15, 2013"

Click Here to register for Outdoor Soccer Spring 2013

EBYA Soccer Families

Please sign up by March 15th as the registration fee will increases significantly on March 16th.

Weather permitting; practices will start the week of April 8th with first games played on April 13th. The season will end with our traditional family day on Saturday, June 8th . As teams will be drafted the week of April 1, it is not likely that you will hear from a coach prior to end of that week. Practice nights are determined by the coaching staff and are 1 hour in duration. All games are played at Community Park on Saturday's and there will be one game that is played during the week of Memorial Day as there will be no games played on Memorial Day weekend.

Please indicate your willingness to volunteer during the registration process as we are always in need of coaches. If you are a first time coach, we have a complete practice curriculum that you can follow which makes coaching very simple.

We are looking forward to a great spring season!





EBYA Activated Military Families


If you are an EBYA family, and your wife or husband has been activated by the military, EBYA understands the financial strain that this has on you. EBYA understands that youth sports programs may not fit into your current budget. Please contact EBYA (email) at Contact Us EBYA will waive all registration fees.


Wednesday, June 27


Chevrolet Youth Soccer program


For the third year in a row, EBYA is pleased to have our Fall Soccer program sponsored, in part, by the Chevrolet Youth Soccer program, and our local Chevrolet dealer, Roberts Chevrolet of Downingtown. Please support our sponsors.


Sunday, August 26


Coupon from Dick's Sporting Goods


We are also sponsored by Dick's Sporting Goods, and appreciate their support. Click on the image above to get a coupon that is good until the end of the year.



Some Current FAQ's


Below are some of the current FAQ's


Will EBYA accept 4 year olds? EBYA will accept 4-year-old children. Parents are made aware that the 4-year-olds will be playing against 5-year-old children. EBYA understands that children mature at different speeds so we do not exclude 4-year-old players.


Format EBYA uses for the younger players is:

For the 5 year old division, the teams are made up of 6 kids per team and they play 3v3 on Micro fields at East Brandywine Community Park which is on Dillworth Road across from Brandywine Wallace Elementary. The kids play games on Saturday morning and practice for one hour one night during the week. Cleats are recommended, but not required. Shin guards are required. We provide the kids with a jersey and socks.