East Wicomico LL: Welcome
Wednesday, May 27
Letter from President Malta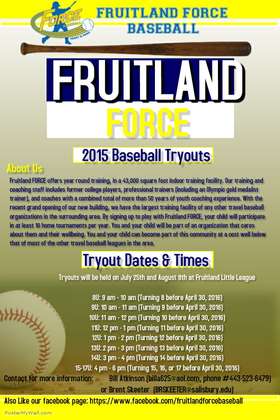 ATTENTION!!! Today - On Tuesday, May 26, 2015 there were 27 vehicles parked in the back parking lot and I am well aware that we do not have 27 Managers/Coaches, Umpires, Board Members and Concession helpers. I will have tow away signs posted as soon as I can obtain them and all unauthorized cars will be towed. This is needed for the safety of our small children as well as concession workers who need to be close to the stand for their safety in getting to their vehicles in the dark after everyone else has left. This has been an ongoing problem all year and the signs have been ignored and the requests have fallen on deaf ears. Additionally, an ongoing problem is people not showing up for their shifts in the concession stand. Last night, we had five fields of baseball yet only ONE parent out of the FIVE scheduled even showed up. We are (10) volunteers working very hard to make EWLL an enjoyable and affordable place for our children to play and learn the game of baseball, while learning life lessons and making lifelong friends. When you show up each time your team plays and the grass is cut and the fields are lined for your children to play ball you can thank Mal Price who works by himself every day. We have over 20+ acres to care for and this is paid for by our concessions and fundraising. The fee that you have paid to register your child covers the cost of jerseys, hats, baseballs, equipment, line chalk, fertilizer, grass seed, improvements to fields and umpire fees for intermediate and above. These costs are substantial and ongoing as jerseys alone cost almost $7000 and baseballs over $2000, field improvements this year totaled over $3000, electric at $550/mo, the loan for scoreboards at another $280/mo and the common area lawn care (this is a bid) as another substantial cost to the league. These costs are only offset by our fundraising that we do and in large part by the concession stand monies we raise through volunteers. We have worked very hard to make the concession stand a food court instead of the same old little league food. The only thing that I ask is for each of you to give us a few hours in the concession stand to help make all this possible so that our children can play baseball in a safe and fun environment. Some of you feel it is not your responsibility or you just don't care to help and I say shame on you! I am asking you to stand back and look at the beautiful place where our children can learn and play and to become a part of all this. With all of life's problems, deadlines and bad news, let's all help make EWLL the best place for our children! Life goes by quickly and our children are only this age for a short time so I try not to miss any of it and I love being a part of something good with so much bad in the world. I ask you to join me and take some time while you're at EWLL and help make it the best place for our children while you then take another minute to just stand back and admire what we have all created for our children. We do not want to have to stop games for teams that are not showing up in the concession stand but this is what other leagues are resorting to and would be an absolute last resort if this continues to occur. The kids want to play and we all want to see them enjoy this national pastime. Please help us make EWLL better than ever by helping out in the stand. I would like to thank everyone who helps make EWLL possible I appreciate all of your efforts and support. Phil Malta EWLL President

Tuesday, July 14
Help needed
East Wicomico Little League needs your help. We are one of the host sites for the USSSA softball tournament. We need your help with the concession stand and field work. Anyone, 14 years or older, that needs community service hours, is welcome. Please send us an e-mail at ewllmd@hotmail.com if you can help. We need people there on Thursday, Friday, and Saturday from 7:30 - 6:00.
Saturday, June 27
Shorebirds Game Cancelled.
The Shorebirds game for Saturday 6/27 has been cancelled, due to the weather. Your ticket will be good for any game the rest of the season. We still have tickets for sale if you would like to buy more.
Sunday, June 21
Hitting Derby Postponed
The Hitting Derby has been cancelled today because the field is under water. We will post the new date as soon as we have one. Have a Happy Father's Day.
Monday, January 19