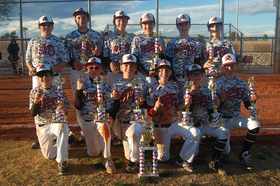 12U Rattlers RWB Champions
Welcome to the 2016-2017 travelball season for the East County Rattlers. The Rattlers organization is based in East San Diego County. This will be the TENTH year of existence for the Rattlers and several of their players and families have had the opportunity to play all around Southern California including San Diego, Orange, Los Angeles and Riverside Counties as well as traveling as far as New York, Nebraska, Colorado,, Utah, Nevada and Arizona to experience travelball at its highest level.
The philosophy of the Rattlers organization is to provide a positive atmosphere for each player to better themself as a skilled baseball or softball player, teammate and person through the game of baseball. Our focus is for each player to learn life skills such as self-respect, confidence, teamwork and inclusion to be successful both on and off the field. Many of our players have moved on and are now playing at the high school level throughout San Diego County.
**Great job 12U Rattlers for winning the Red, White and Blue President's Day Classic in Las Vegas. The Rattlers went 5-0 and were undefeated in the tournament in bringing home another Championship!
**Congratulations to the 12U Rattlers for their performance in the TCS Fall Classic Oct. 1-2. The team went 4-1 overall in the 13 team tournament, losing their only game in the D1 Championship to a solid San Diego Swarm team 9-6. Overall, a great start to the 12U season.
RATTLERS COLLEGE COMMITMENTS!!!
**Dawson Enright, Williamette University (Northwest Athletic Conference, NCAA Div 3)
**Cole Henderson, University of Nevada, Reno (Mountain West Conference, NCAA Div 1).
**Andrew Shebloski, Saint Marys College of California (West Coast Conference, NCAA Div 1)
**Jack Dashwood, UC Santa Barbara (Big West Conference, NCAA Div 1)
**Daniel Bender, Washington State University (Pac-12 Conference, NCAA Div 1) *Football
**Devin Lawson, Lucas Medeiros and Drew Andersen (UCLA, Temple University and Occidental College) *Students only
** Ryan Lovato, CSU San Bernardino (California Collegiate Athletic Assoc., NCAA Div 2).**
**Trevor Halsema, University of Southern California (Pac-12, NCAA Div 1)
**Casey O'Sullivan, San Diego State University (Mountain West Conference, NCAA Div 1)
**Lewis Dirkes, CSU Bakersfield (Western Athletic Conference, NCAA Div 1)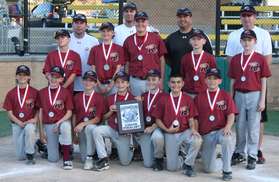 Original Rattlers 11U 2011