East Coast DRAMA Fastpitch: Drama News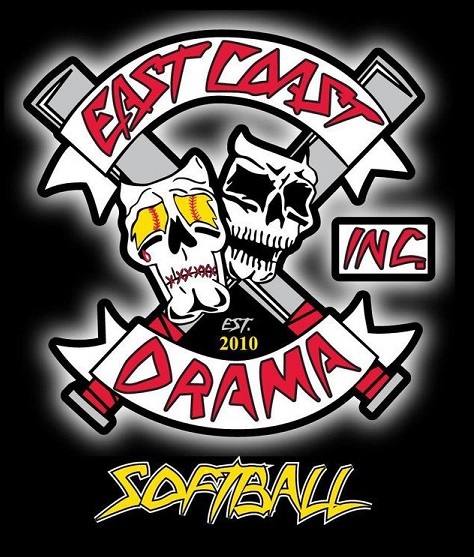 LOOKING FOR
STUDENT ATHLETES!
DRAMA 10U GOLD
ASA EASTERN "A"
NATIONALS
UPDATE!
DRAMA 10U GOLD
Finished 4-3
Coach Hank Perry recieving the Hardware @ the ASA EASTERN NATIONALS!
1st Row: Sophia Patterson, Sylvie Patterson, Hailey Perry, Lindsey Perry, Narali Trek
2nd Row: Coach Dexter Patterson, Audrey Concannon, Mallory Gilmore, Sydney England, Coach Hank Perry,
Angelina Lynch, Meghan Gordon, Breezy Riel, Coach Norm England
COOP & his 10U Gold Team representing RI very proudly!
Living it up with thier NEW Trading Pins!
10U Gold
2015 Results:
8 Tourneys
6 Finals
3 Championships
3 2nd Place Finishes
1 3rd Place Finish
ASA EASTERN NATIONALS
3 Coaches, 11 Players =
1 Family!
CONGRATS TO
WOMENS SLOWPITCH
2ND PLACE
USSSA RI STATES
RI ASA STATES UPDATE!
10U GOLD 2nd PLACE
12U GOLD 3rd PLACE
16U GOLD 5th PLACE
18U GOLD 3rd PLACE
AWESOME JOB BY ALL OF OUR DRAMA TEAMS!
This is the first year EVER that a 10U or any DRAMA Team made it to the Final Game!
1st Year Ever that a 12U DRAMA Team finished 3rd!
And also a 16U DRAMA Team first year Ever finished in the top 5!
I am so Proud of all of you for the dedication and hard work you all have put into your teams!
2015 Cranston Ravens Invitational CHAMPIONS
2015 State Line Stinger CHAMPIONS
2015 Bash At The Beach CHAMPIONS
AWESOME JOB LADIES!
2ND PLACE RI ASA STATES
CONGRATULATIONS TO THE FOLLOWING DRAMA PLAYERS ON THEIR HS ACCOMPLISHMENTS:
DII North Champs Davies
Madison Cooper
Carissa Kent
Waleska Kelly
Samantha Lisi
Brionna Vieira
Taylor Moreau
DII West Champs N Prov
Shavana Armstrong
Tamalie Santana
18U Gold
Madison Cooper
RIIL DII North TEAM 1
18U Black
Samanta Lisi
RIIL DII North TEAM 3
18U Gold
Waleska Kelly
RIIL DII North
Honarable Mention
18U Gold
Scott Cooper
RIIL DII North/East
Coach Of The Year
DII North ALL STARS
18U Gold
Madison Cooper
18U Gold
Waleska Kelly
ECD expanding it's Horizons!
SLOW PITCH TEAM
HAS ARRIVED!!!
Starting this May 2015
ECD will have their
1st EVER
Womens Slowpitch Team
under the Leadership of Janice DiNobile
GO DRAMA GO!
EAST COAST DRAMA, INC.
SOFTBALL
~ Presents ~
in
APRIL
GOOD LUCK
TO ALL
MIDDLE SCHOOL
&
HIGH SCHOOL
SOFTBALLERS
GO DAVIES LADY PATRIOTS GO!
.
.