East Anaheim Little League: Welcome
Thank you for your $1000 donation
"Like" us above on our

Facebook page

so you can get all the latest updates and info as the season progresses.
50/70 Intermediate New Division for 11-13 years old
The Intermediate (50/70) Baseball Division program for 11- 13 year olds which utilizes a 50-foot pitching distance and 70-foot base paths. Runners are permitted to lead off bases, runners may attempt to steal at any time, and allows an on-deck batter.
**************************************************************************************
Phone number to find out about fields conditions
714-765-5242
Your child is eligible to play in EALL if he/she lives or goes
to any of the public/Private schools within the leagues boundaries.
Su hijo/a es elegible para jugar en EALL si el/ella vive o asiste a cuaquier escuela publica/Privada dentro de los limites de la liga.
We Love Baseball!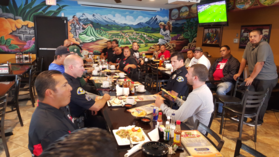 April 10, 2016
Monday, April 11
Officers arrest one in gang shooting in Anaheim park, find no injured victims
April 11, 2016
EALL Parents and Guardians,
Sunday morning April 10th, we had a tremendous turnout at EL NopaL restaurant to discuss the incident that took place on April 6th at Boysen Park and other problems at our city parks. We had command level representatives from the Anaheim Police Dept. as well as the Gang Unit Sargent participate in the discussion with our coaches and board. We also had County Supervisor Nelson office representative there and many parents present. We all shared our experience and frustrations which helped "pin point" where the need for service is. Basically we all agreed that a higher level of visibility from our Police Dept. would be a great start.
However, it cannot end there. We as a organization and community leaders need to take the next steps in this process to let our city leaders and policy makers know that this problem cannot be ignored. That is why we as board members ask our EALL family to assist us in the following:
1. Please do not hesitate to call if you see any dangerous activity, infraction or vandalism. Even if you don't see the service from the police, the call for service is documented and will be addressed. Many calls for service gives us the attention we need.
2. Please don't be afraid to report. You do not need to leave your info if you do not want to. But if you do, you can ask for a follow upcall 714-765-1900.
3. Spread the word to your coaches and families so they can call. Again this creates calls for service documentation.
The following is a call to action for our EALL family:
We need as many people as possible to join us this Tuesday at City Hall, 1st floor older city hall building, to address the Mayor and Council on our concerns at our parks. Please be there a little before 5p and ask to fill out a speaker's card for public comments. Public comments are at the beginning of the agenda.
Then we need people to join us at the East Neighborhood District meeting on April 21st at 7pm. This meeting will be held at the Canyon hills Library 400 S. Scout Trail 92807. This is another opportunity again to address our concerns and share our experiences.
This is a great beginning to start taking control of our parks. We need to let city leaders know that we are concerned about the safety of our children and that we are caring adults who are organized, involved and invested in our community. So please let's all stand together and voice our concerns for the sake of our community and children.
Sincerely,
EALL Board