Escondido American Little League: Welcome
The Opening Day Ceremonies are ON!!!!
They will proceed, as scheduled, at 9am.
Also, players should come prepared to play, as the games will occur as planned as long as we don't get any more rain.
Please pass this information along to anyone in the league you know as we are unable to send email blasts at this time.
Click on the following link to subscribe to receive text notifications or emails of cancellations of practices and games due to weather conditions:
Join Escondido American Little League text alerts on RainedOut
---
---
OPENING DAY IS COMING.........
February 28th
Mark your calendars!!
OPENING DAY CEREMONIES START AT 9AM
Introduction of our 2015 teams
Various special presentations
Special guests will include Mayor Sam Abed and Assemblywoman Marie Waldron
FOLLOWED BY THE SILENT AUCTION...
Be sure to invite your family and friends to join in the fun. Each team will be contributing at least one prize basket to the auction. There is something for everyone! We have golf outings, fishing trips, horseback riding, restaurant gift cards, "staycations" with passes to several local attractions, and we even have 4 parkhoppers tickets to the Disneyland Resort, valued at $600!
AND THEN WE WILL, "PLAY BALL!"
---
---
A BIG THANK YOU TO THE FOLLOWING BUSINESSES AND ORGANIZATIONS THAT HAVE MADE GENEROUS DONATIONS TO OUR OPENING DAY SILENT AUCTION:
Aerosports, Murrieta
Pine Tree Lumber
AMF Eagle Lanes Rancho Carlsbad Golf Club
Bev Mo Rancho Cucamonga Quakes
Birch Aquarium Randy Jones
Buffalo Wild Wings, Oceanside Reuben H. Fleet Science Center
Check Center San Diego Air & Space Museum
Clay 'N Latte (Carmel Mountain) San Diego Automotive Museum
CVS San Diego Bike & Kayak Tours
Disneyland Resort San Diego Botanic Garden
Dixieline Lumber and Home, Escondido San Diego Chargers
Eufora International
Flagship Cruise Harbor Excursion San Diego Hall of Champions
Get Air - Vista San Diego Museum of Art
Hawthorne Machinery Company, RB San Diego Natural History Museum
H&M Landing San Diego Padres
Home Depot
Hornblower Cruises San Diego Zoo
Ice-Plex Sky High Sports, San Diego
Inland Empire 66ers St. Mark Golf Course
Invasion Laser Tag Stone Brewery
Jalapeno Grill & Cantina T&H Prime Meats and Sausage (San Marcos)
Jamie Moore-Chapel, Photographer
JUGS Sports Equipment The Living Desert
Karl Strauss, Rancho Bernardo The Music Playce, Sam Roberson, Music Instructor
Lake Elsinore Storm The New Children's Museum (downtown SD)
Lowes
Maritime Museum of San Diego The Ranch at Bandy Canyon
Medieval Times Toyota of Escondido
Mike's BBQ USS Midway
Museum of Making Music Wet 'n' Wild - Palm Springs
Nickel City And, of course, OUR EALL FAMILIES!!
Palm Springs Air Museum
Peterson's Donut Corner
---
---
Come over and "Like" our new Facebook page
and have yet another way to stay up to date on the happenings at EALL:
https://www.facebook.com/pages/Escondido-American-Little-League/901231729901182
---
If you are not currently on our email mailing list and want to stay up to date on all EALL announcements, please send an email request for being added to the distribution list to webmaster@escondidolittleleague.com
---
---
Upcoming Events
2/28 OPENING DAY
3/14 Picture Day
5/2 EALL day at Lake Elsinore Storm
---
---
December 13, 2014
Escondido Jaycees 64th Annual Christmas Parade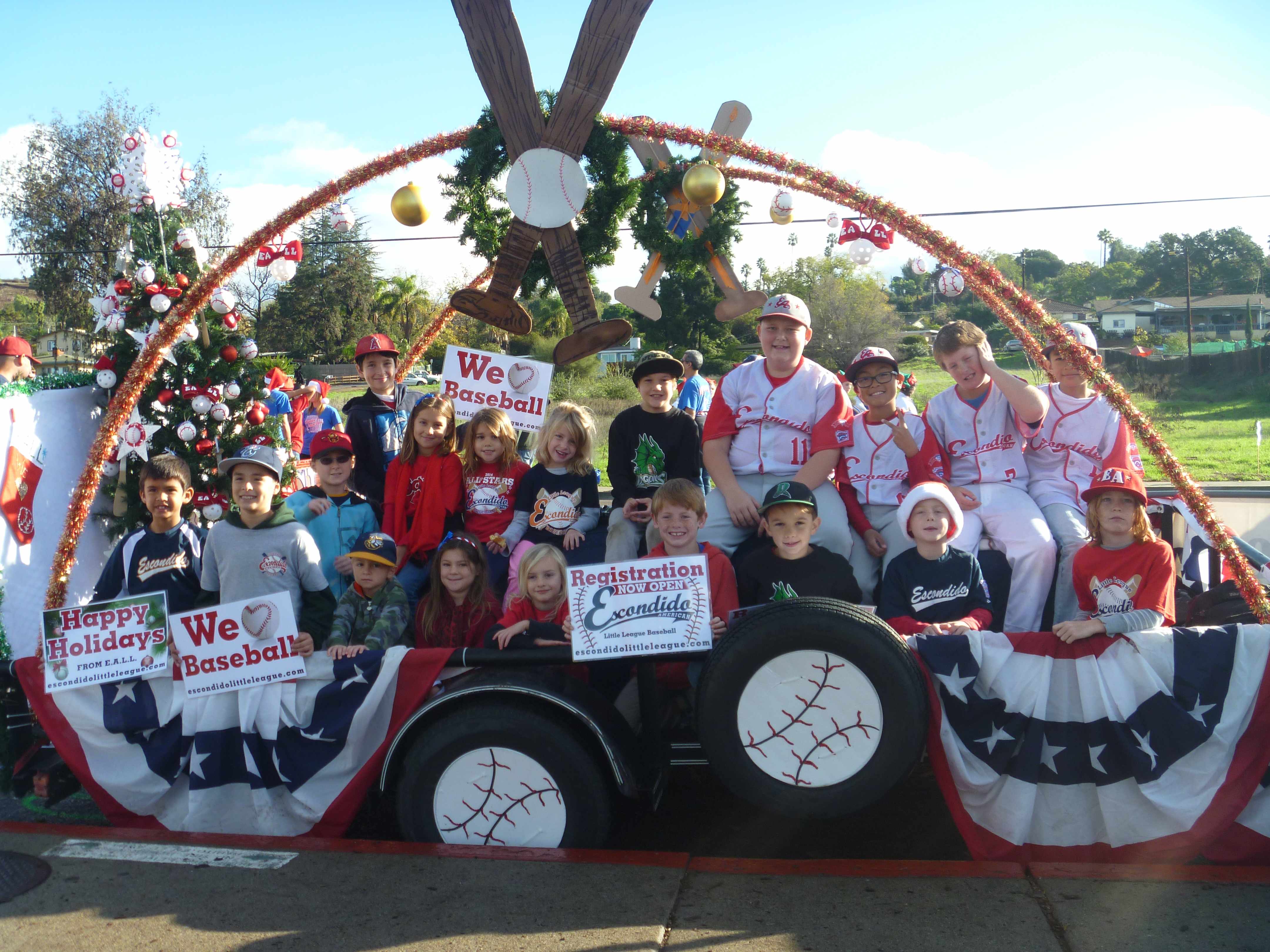 ---
---
SAVE THE DATE!
May 2, 2015 is EALL Day at the Lake Elsinore Storm game.
Please plan to join the fun with your family and friends.
More details to be available soon.
---
---
GOLDEN EGG OMELET HOUSE
EALL Fundraiser
Dine at Golden Egg Omelet House and mention that you are supporting EALL, and the restaurant will graciously donate 10% of your purchase to the League!
*** No flyer/coupon is required, but you must notify them that you are supporting EALL ****
Golden Egg Omelet House
Address: 316 W Mission Ave Suite 101, Escondido, CA 92025
Phone:(760) 489-6420
Daily Hours: 7am - 2:30pm

---
---
Take Me Out to the Ball Game