Escondido American Little League: Welcome
Join Escondido American Little League text alerts on RainedOut
THANK YOU FROM THE GRIFFIN FAMILY....
Graden Griffin and his family want to send out a Big Thank You to our extended Little League family. No words can express our sincere gratitude for all your prayers, support and generous donations.
Thank you EALL board members and to All who put in their time and effort for the League fundraiser. Also for the Get Well Banner and to all who signed it and wrote get well wishes and words of encouragement for Graden. Thank you Lee Ann Munoz for organizing both the youcaringwebsite and the round table pizza fund raiser events. And thank you to the many friends, families and strangers who supported the fund raising events and made them a success. Thank you Coach Danny Serrano and Coach Mike Reynoso for your house calls and pep talks. Thank you Holly Dull and the whole Angels Team and their families for your kindness and ongoing efforts.
The outpouring of love for Graden has been overwhelming and appreciated. He had surgery on March 28th and is recovering well. We're grateful that your support and generosity have helped us to be able to focus on his healing.
The Griffin Family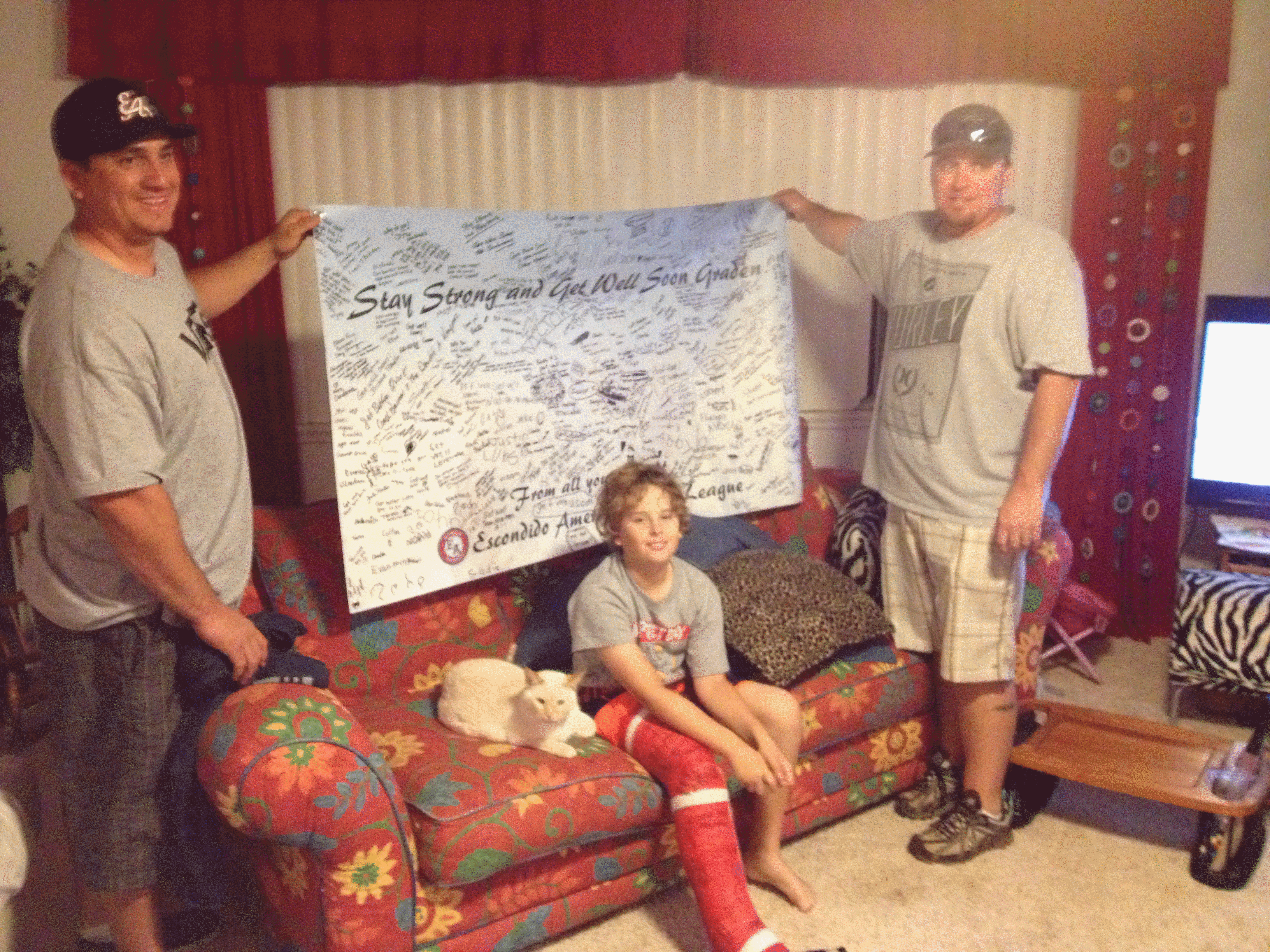 Danny Serrano, Majors Angels Manager; Graden Griffin; Steve Elkins, EALL President
---
---
MAKE-UP PICTURE DAY
SATURDAY, APRIL 12TH
12:15-1:15pm
For anyone who was unable to make it to picture day this month, the make-up day
is slated for Saturday, April 12th, 12:15-1:15pm
---
---
FOR THOSE OF YOU WHO HAVE PURCHASED TICKETS......
EALL DAY
at the
LAKE ELSINORE STORM GAME
SUNDAY, APRIL 13TH
The league's BBQ will be in the large parking lot, south of the stadium, available for your use. Bring whatever you want to cook and let's tailgate! (look for 2 motorhomes and 2 truck and trailers, that is where it will be). There will be a group be camping there so, come as early as you want!
The children tend to play whiffle ball, football, etc. in the parking lot before and after the game...so, get there early!
Just before 11:45am, the players will report to the service road for the pregame parade. Please have your child wear his jersey and hat if possible! Be sure to have the child's ticket with them. From there, the parents will need leave the child with the team's coach/manager. Parents will enter through the main gate and can retrieve their children from the stands inside.
We still have a few people that have not picked up their Storm tickets. Be sure and pick them up tonight or Saturday. If you do not, Steve Elkins will bring them to the stadium for you. P.S. Don't forget to bring your camera!
---
---
Important upcoming dates:
4/12 Make-up Picture Day, 12:15-1:15
4/13 EALL @ Lake Elsinore Storm Day
---
---
Did you sign up for our rain out notification program yet?
Sign up now using the link above to receive the most up-to-date information on rain delays and cancellations
Take Me Out to the Ball Game