Escondido American Little League: Welcome
---
---
THANKS FOR A GREAT SEASON, EALL FAMILIES....
NOW, LET'S CHEER ON OUR ALL STARS!
Check the tournament schedule linked below and come out and cheer on our hard-working players!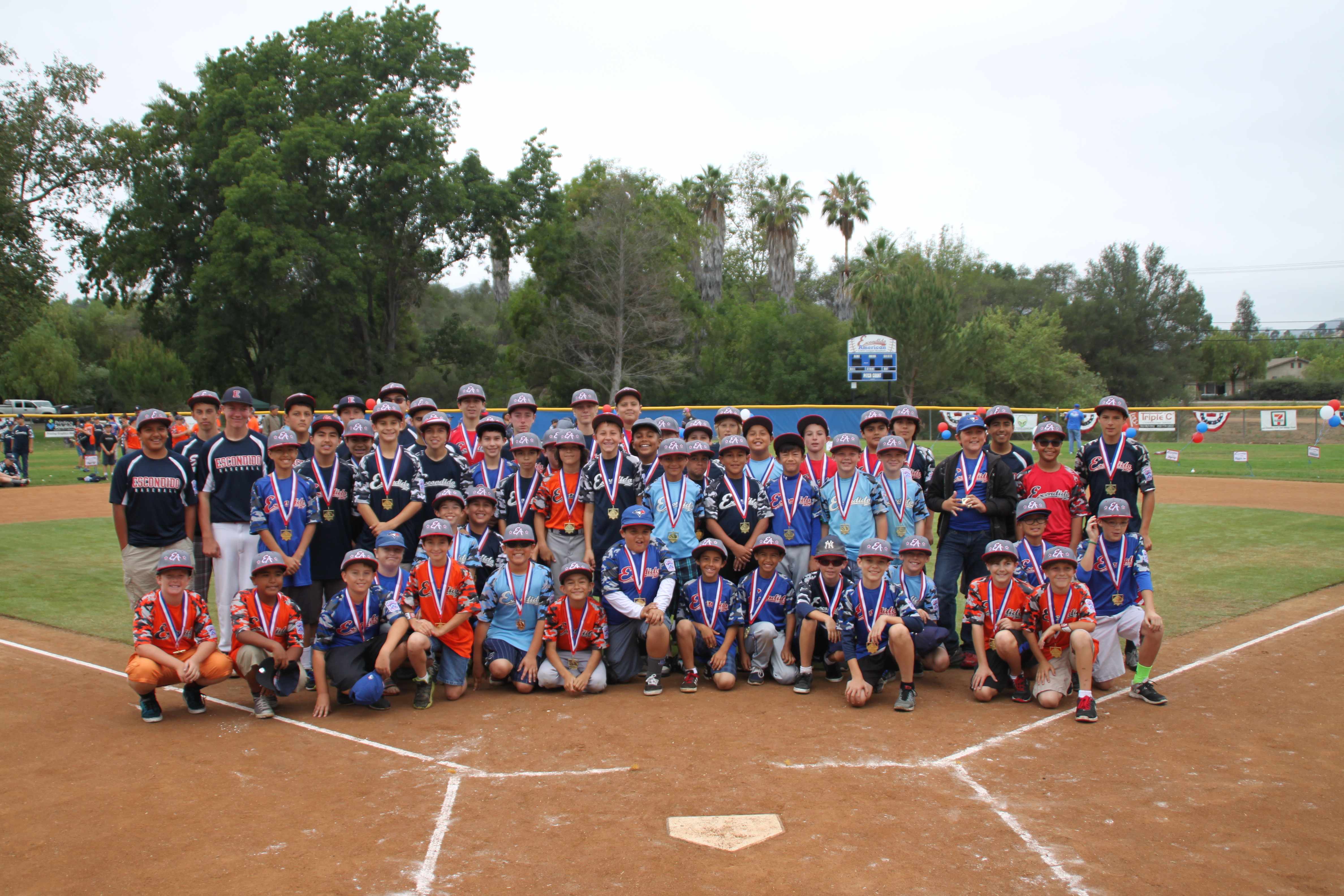 ALL STAR SCHEDULES
Schedules for the All Star season have been posted on the District 31 website. Schedules are subject to change, so check their website for the most current information at the following link:
https://www.eteamz.com/californiadistrict31/handouts/index.cfm?cat=121036#2441026
---
---
2015 Juniors (14-Year-Old)
All Stars!
---
Congratulations! 2015 50/70 (13-Year-Old) All Stars Aaron Amaya Nathan Boyer Jo-Jo Fogleman Kaleb Hatch Joshua Kim Mason Malone Diego Manriquez Alex Pandura Lucas Ojeda David Rodriguez Sam Serrano Elias Velasquez
---
Congratulations 2015 Majors (11/12-Year-Old) All Stars!
Flavio Jacob Barber
Isaiah Cisneros
Carlos Delgadillo
Shane Elkins
Aidan Garris
Casey Jackson
Cayden Kelly
Matt Malone
Kobe Montes-Adams
Michael Moody
Xavier Schwarm
Ethan Seneres
Jack Turner-Perkins
---
Congratulations 2015 10/11-Year-Old Team All Stars! Blake Bakkela Nathan Benson Isac Borja Keith Counts Jacob Daniel Daniel Felix Diego Figueroa Graden Griffin Luke Lepere Dominic Schwarm Colby Stanage Carter Torres Brenton Wheeler
---
Congratulations
2015 9/10-Year-Old Team
All Stars
Nolan Armenta
Ian Banuelos
Ezekiel Cervantes
Blake Cortez
Henry Davis
Mason Garris
Luke Hilton
Elijah Martinez
Nick Mora
Kaleb Souders
Xavier Terrazas
Lars Thorogood
Nicholas Womack
---
Click on the following link to subscribe to receive text notifications or emails of cancellations of practices and games due to weather conditions:
Join Escondido American Little League text alerts on RainedOut
---
---
Come over and "Like" our new Facebook page
and have yet another way to stay up to date on the happenings at EALL:
https://www.facebook.com/pages/Escondido-American-Little-League/901231729901182
---
If you are not currently on our email mailing list and want to stay up to date on all EALL announcements, please send an email request for being added to the distribution list to webmaster@escondidolittleleague.com
---
---
GOLDEN EGG OMELET HOUSE
EALL Fundraiser
Dine at Golden Egg Omelet House and mention that you are supporting EALL, and the restaurant will graciously donate 10% of your purchase to the League!
*** No flyer/coupon is required, but you must notify them that you are supporting EALL ****
Golden Egg Omelet House
Address: 316 W Mission Ave Suite 101, Escondido, CA 92025
Phone:(760) 489-6420
Daily Hours: 7am - 2:30pm

---
---
Take Me Out to the Ball Game