Duanesburg Little League: Welcome
Duanesburg Little League
Donations Received: $ 0
$0
$ 1,000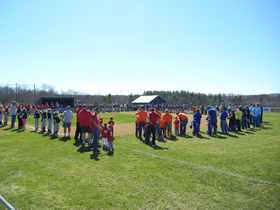 Opening Day 2015
Saturday, December 19
Thanks for a great season see you in the Spring!
2016 Board of Directors
Congratulations and welcome to the Board of Directors for Duanesburg Little League 2016
President: Chris Parslow
Tournament Coordinator: Chris Parslow
Vice President: Tom Smith
Vice President Softball: Dennis Kenney
Vice President Minors and Majors Baseball: Mike Coons
Vice President Farm and T-ball: Mike Lewandowski
Treasurer: Ashley Parslow
Safety Officer: Jason Myers
Secretary: Kelly Ostrander
Player Agent and Umpires: Frank Chiofalo
Information Officer: Jay Hyde
Concession Manager: Carey Raymond
Marketing: Dawn Johnson
Field Maintenance: Keith Hudson
Equipment Manager: VACANT
A special thank you to Ted Loukides and Brandy Fall for their years of service to the league. We wish you well in your future endeavors.