Dumfries District Little League: DTQLL News
Thursday, March 6
Tuesday, February 11
Want To Become A Sponsor?
DTQ Little League Sponsorship Opportunities
Sponsors have made DTQ Little League one of the strongest and most community involved little league organizations in Virginia. We encourage all of our players, parents, fans, and administrators to take the time and thank our sponsors by visiting their stores and places of business and utilizing their products and services. We want to show them our appreciation for their sponsorship of the wonderful experience that is DTQ Little League Baseball. For more information about sponsorship opportunities, please download the DTQLL Sponsorship form. If you have any questions, you may contact Jerrie Williams, Sponsorship Coordinator, at jerrienjon@comcast.net for additional information. All sponsorship donations are tax deductible.
Thursday, March 6
Thursday, March 6
DTQLL Used Equipment Sale
Do you have equipment that your child has outgrown? If so, DTQLL is now taking donations. This is your chance to ensure your equipment is put to good use. You can donate cleats, gloves, pants (without holes) and bats to the league. Our final equipment collection will be at the first camp on February 23rd.
Gently used equipment will be on sale during the DTQLL Used Equipment Sale at the camps on March 2nd, 9th and 16th.
If you have any questions, please contact Will Smith at WSmith23_2001@yahoo.com.
Thursday, March 6
Apparel Fundraiser
Collegiate, NFL, NBA, MLB and NHL Spirit Cup and Apparel Fundraiser Last season the Brax Spirit Cup optional fundraiser was so successful we have decided to do it again this season but we have amped-up the ante. Why stop at spirit cups and popcorn? Why not offer sports apparel, hats, sweatshirts, towels and flags from your favorite sports teams? We couldn't come up with a good reason so we are offering both Brax Spirit Cups and Super Fan Sports Apparel this season. Catalogs will be available at the spring skills camp. If you have any questions, please contact Will Smith at WSmith23_2001@yahoo.com.
Thursday, March 6
DTQLL Night with the Potomac Nationals - April 26, 2014
Join the Potomac Nationals for DTQLL Night on Saturday, April 26th @ 6:35 pm. The PNats will be hosting the Lynchburg Hillcats at Pfitzner Stadium. Plan to arrive early and stay late - all DTQ Little League Players will be allowed on the field during the National Anthem and after the game there will be fireworks. Grandstand tickets are $8.00 and will be sold on a first come, first reserved basis. Children 5 years-old and younger do not need a ticket. Don't delay, reserve your tickets today! Be a part of this great night of baseball, family fun and a sense of community. Send an email to Will Smith at wsmith23_2001@yahoo.com to reserve your tickets. Tickets will be available starting Opening Day for purchase.
Thursday, March 6
Sponsoring for the DTQLL Golf Tournament
DTQLL will be
hosting a Golf Tournament
. This exciting event is the perfect opportunity for your company to showcase themselves out on the golf course. We are looking for hole sponsors, beverage cart sponsors, a Hole in One sponsor, a Closest to the Pin sponsor, a Longest Drive sponsor and sponsors for the putting contest. By choosing to sponsor, your company will get recognition on one Tee Sign. Formal Recognition of your company on our event signage. The right to provide special gifts and/or promotional items to all participants in our golf event give away bags. Company recognition will be posted on our website. If you are interested in sponsoring, please contact Mike Colangelo at 703-405-0455 or via email at
Mike_Colangelo@comcast.net
or Michelle Slaughter at 703-615-8487 or via email at
Michelle.Slaughter@comcast.net
.
Thursday, March 6
Sunday, January 26
District 9 Umpire Clinic March 8-9, 2014
The D9 Umpire Consultant Staff will conduct a FREE weekend umpire clinic for new and returning umpires. The clinic will cover what you need to prepare for the upcoming LL regular season, and will serve as a viable part of our local league training. Please contact our Umpire In Charge Ed Marotske at edwardmarotske@yahoo.com by February 28 to reserve your spot. Additional Clinic info is available under the League Documents section tab on the left.
Thursday, March 6
The DTQLL BOD Is Looking For A Few Good Volunteers
DTQ Little League is looking for a few good members to join the Board of Directors (BOD). We are looking for a Concessions Shift Lead and a Tournament Coordinator. Please review the following position descriptions. If you have any additional questions about the positions, you may contact the League President, Mel Barlow at DTQLittleLeague@comcast.net or the League Vice President, Michelle Slaughter at michelle.slaughter@comcast.net.
Concessions Shift Lead
The Concessions Shift Lead shall (this position is April-June and September-October):
1. Work with the Concessions Coordinator to open and close the concession stand at Gardziel Field TWO weekday nights.
2. The Concessions Coordinator will be responsible for setting the schedule for opening and closing the concession stand. This is not a BOD position.
a. On nights when the Concessions Shift Lead opens/closes the stand, they will be responsible for the day-to-day management of the concession stand, and
b. Manage the concession volunteers working the concession stand.
Tournament Coordinator
The Tournament Coordinator shall (this position is primarily June/July):
1. Attend all District Tournament Meetings on behalf of DTQLL; and
2. Solicit volunteers to cover the tournament games assigned to DTQLL, the volunteers will: help with field setup, game announcers, scorekeepers, pitch counters, concession volunteers, help with field maintenance, help with field breakdown.
Tuesday, August 6
DTQ LITTLE LEAGUE - A LOT OF LITTLE THINGS DONE RIGHT!!!!
2013 JR League Champs
2013 DTQ District 9 Champs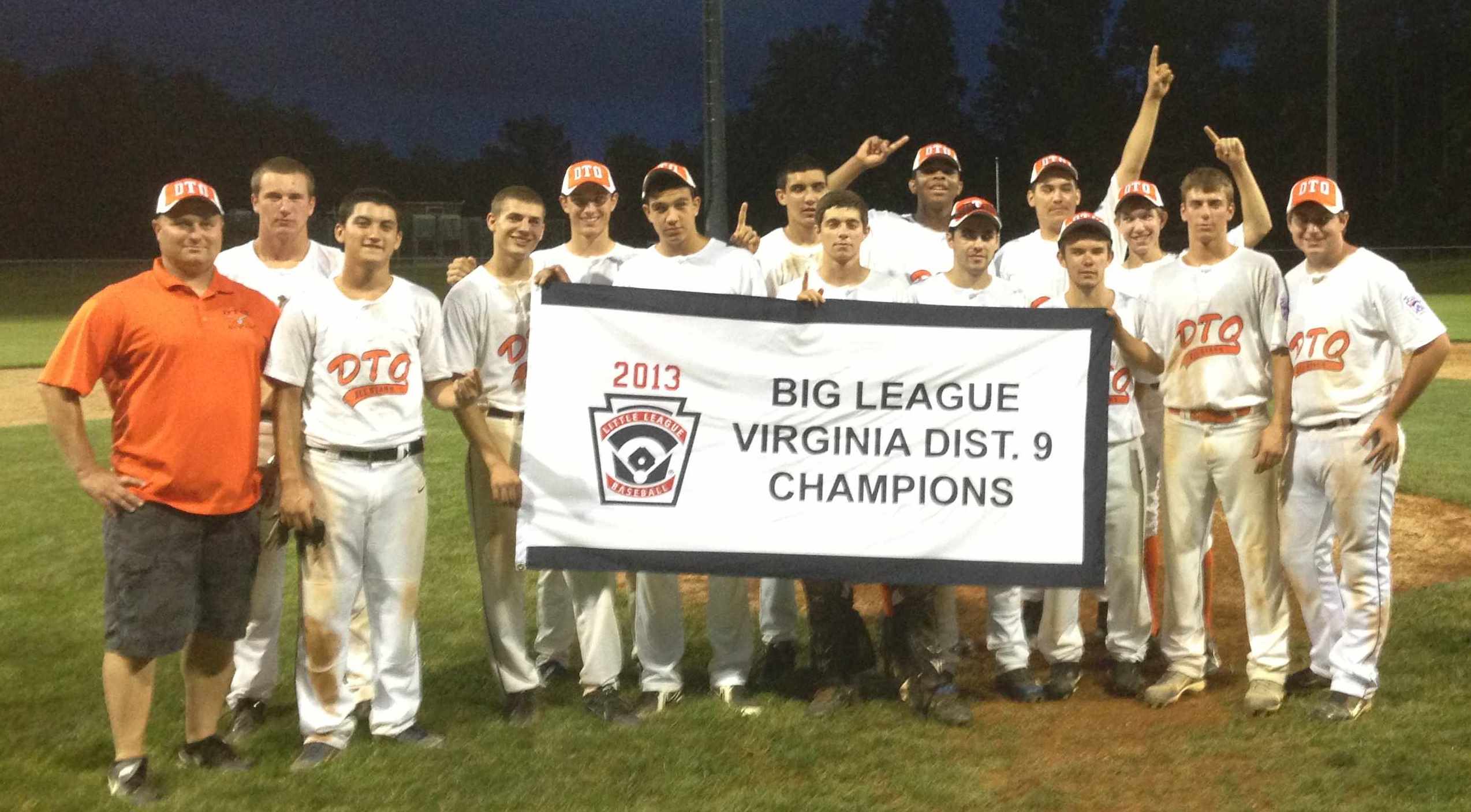 2013 Big League Champs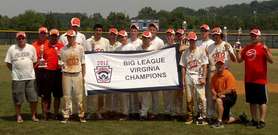 2012 VA Big League Champs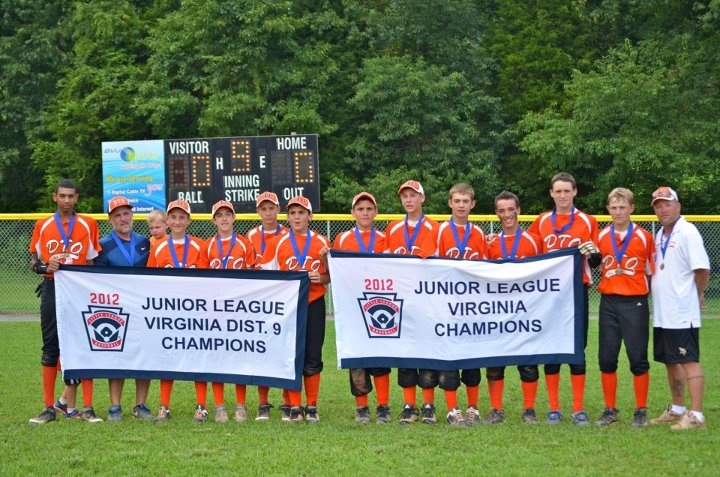 2012 VA Junior League Champs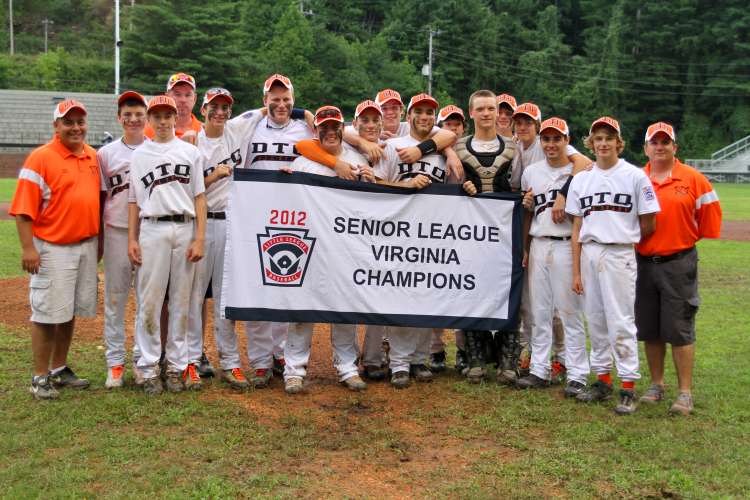 2012 VA Senior League Champs
Wednesday, November 27
2014 DTQ Challeger Info Located Under League Documents Tab
Celebrating 25 Years of Challenger
2014 marks the 25th Anniversary of the Little League Challenger Division. During the past 25 years many dedicated individuals and leagues have worked together and made a difference in the lives of over 100,000 Little League Challenger Division participants.
DTQ Little League has one of the BEST Challenger programs in the area, please help spread the word!
Saturday, September 15
Did You Know??????
DTQ Little League is where champions play!  Check out our success throughout the years.
Titles By Division
9&10 - 3 District 9 championships - 1 State championship - 1 Tournament of Champions championship
10&11 - 1 District 9 championship
Majors - 2 District 9 championships - 1 State championship
Juniors - 12 District 9 championships - 3 State championships - 1 Division championship
Seniors - 10 District 9 championships - 3 State championships - 1 Divison championship
Big League - 5 District 9 championships - 2 State championships
Girls Softball - 1 State championship 
Inclement Weather
Call 703-792-3284 ALL DTQ FIELDS
Call the Prince William County Park Authority hotline to find out if fields will be open due to inclement weather. Field status is updated at 3:00 pm daily and at 7:00 am and 12:00 pm on the weekends.