Dumfries District Little League: DTQLL News
DTQ Little League Used Equipment Collection
DTQ Little League Is Looking For Umpires
2014 DTQ Adult Umpire Program:
DTQ Little League is always looking for adult volunteers who want to umpire. We provide the training and equipment; you prvide your time and enthusiasm. Umpiring is a great way to be involved with Little League and to watch games from the best seat in the house! Plus, you'll get to work with our great corps of teenage umps. If you want to volunteer to be an adult umpire, please contact UIC Ed Marotske at 703.232.5709 or email: edwardmarotske@yahoo.com.
2014 DTQ Junior Umpire Program:
Are you be a teenager (13-19) and looking for a fun part time job? Are you a former Little Leaguer, knowledgable about baseball and looking to earn some cash? If so, then the DTQ Little League Junior Umpire Program might be for you! We are looking for teens who know baseball and who want to umpire games on weeknights after school and on weekends during the day. We will train you and provide the equipment you need. We pay $20 a game. You need to commit to attend the umpire training and have the time to work at least one game a week. If you want to join the program, please contact UIC Ed Marotske at 703.232.5709 or email: edwardmarotske@yahoo.com. He'll get back in touch with you and let you know how to get started.
Colangelo Baseball Winter Camps
Colangelo Baseball is offering two winter Baseball Camps
Youth Camp (ages 7-12)
Middle School / High School Camp
Handout:
Winter camps
2014 Senior League World Series
DTQ Juniors Win 2014 Virginia State Championship
DTQ Junior's go 5-0 to win the 2014 Virginia state championship!
For the 4th year in a row DTQ Seniors are VA State Champions!
DTQ Senior's go 5-0 at states to win the Virginia State Senior League tournament!!
DTQ Big's Capture First State Title For 2014!
DTQ has now won 3 state Big League titles, 2009, 2012 and now 2014!
DTQ Junior's Win Our Third District 9 Banner In 2014!
DTQ Seniors Grab 2nd District 9 Title In 2014!
DTQ Big League wins the first District 9 title
DTQ's Big League All-Stars beat Woodbridge Big League All-Stars 10-4 to take the District 9 championship!! BACK TO BACK DISTRICT 9 BIG LEAGUE CHAMPIONS!!
Wednesday, March 12
DTQ Glove Fund - Please Click On The "DTQ Logo" Below Link To Donate
DTQLL Discounted Kings Dominion Tickets
DTQLL has partnered with Kings Dominion to
bring you discounted admission tickets
to the amusement park for the 2014 season. These tickets are only
$38.00
each and are valid from April 5th through November 2nd, 2014. During May 25th through August 31st there is also a coupon to enter the park after 5:00 pm for only $10.00 the night before your full day visit. This is a great bargain! The current promotion is "Everyone Pays Kids Price" at $41.00 each through June 15th if you purchase on-line. If you buy your tickets at the gate, they are $54.00. So don't delay, purchase your tickets through DTQLL and head to Kings Dominion -
The fun begins now!
If you are interested in tickets, please send an email to Lilet Smith at
ldsmith2027@gmail.com
.
Tuesday, February 11
Want To Become A Sponsor?
DTQ Little League Sponsorship Opportunities
Sponsors have made DTQ Little League one of the strongest and most community involved little league organizations in Virginia. We encourage all of our players, parents, fans, and administrators to take the time and thank our sponsors by visiting their stores and places of business and utilizing their products and services. We want to show them our appreciation for their sponsorship of the wonderful experience that is DTQ Little League Baseball. For more information about sponsorship opportunities, please download the DTQLL Sponsorship form. If you have any questions, you may contact Jerrie Williams, Sponsorship Coordinator, at jerrienjon@comcast.net for additional information. All sponsorship donations are tax deductible.
Tuesday, August 6
DTQ LITTLE LEAGUE - A LOT OF LITTLE THINGS DONE RIGHT!!!!
2013 JR League Champs
2013 DTQ District 9 Champs
2013 SR League Champs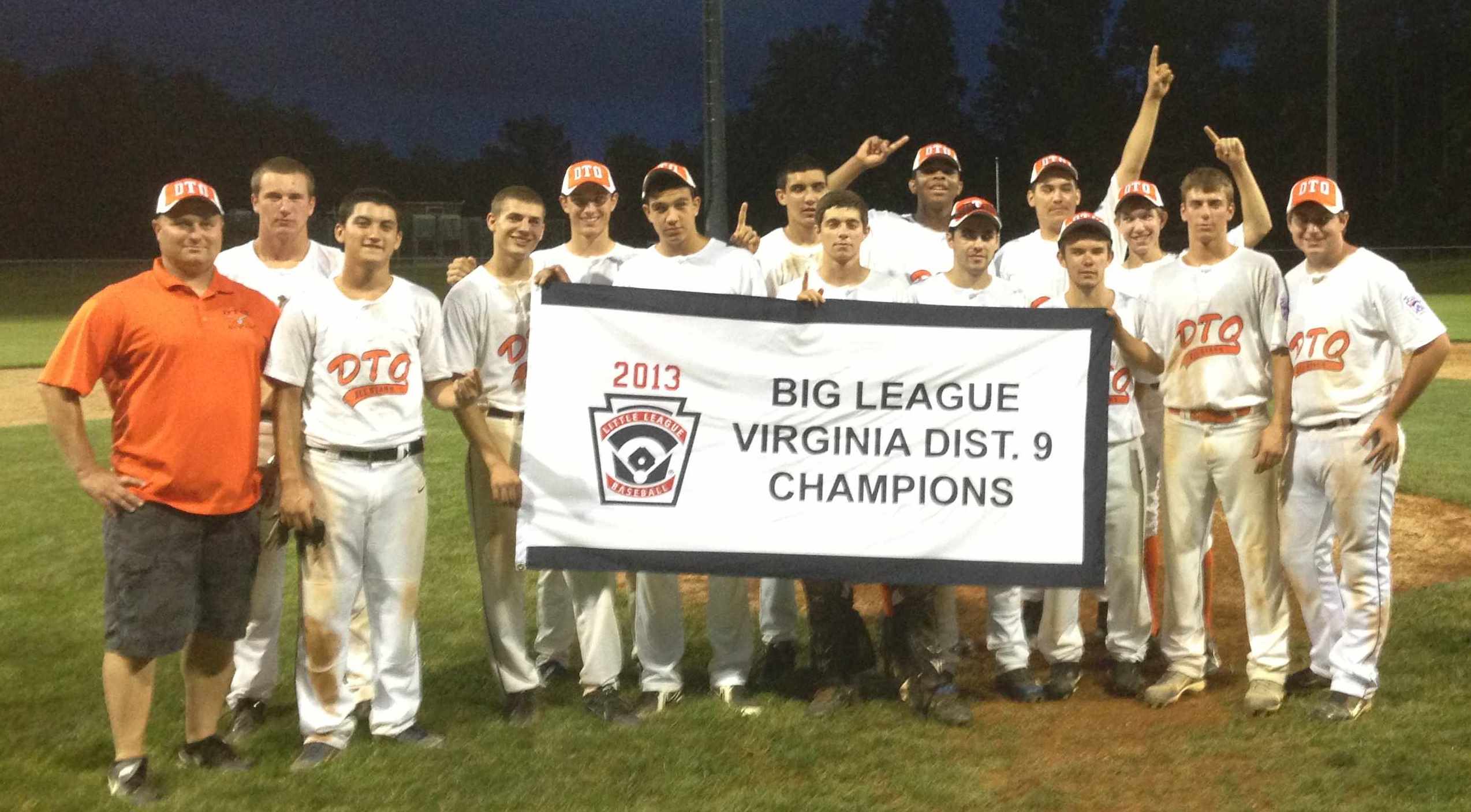 2013 Big League Champs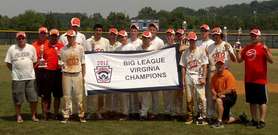 2012 VA Big League Champs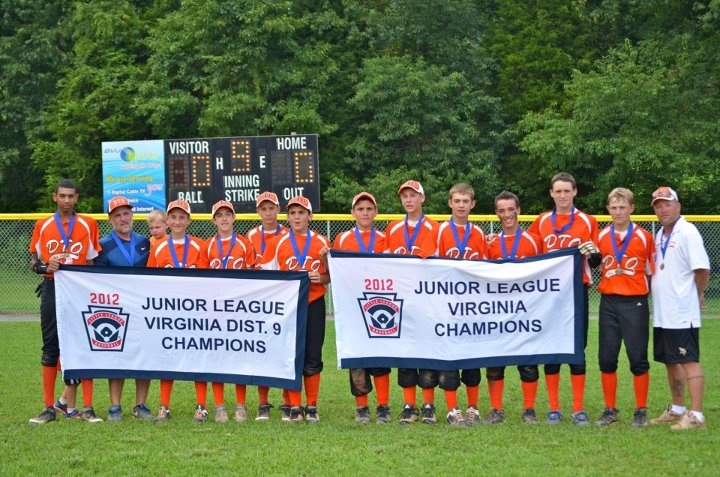 2012 VA Junior League Champs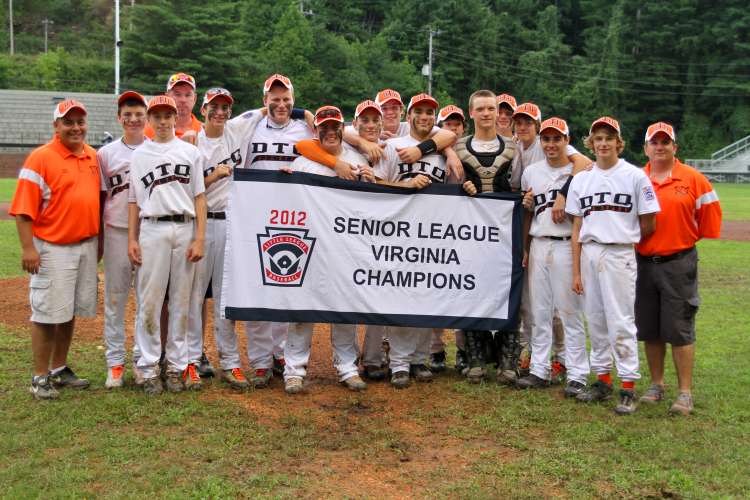 2012 VA Senior League Champs
Celebrating 25 Years of Challenger
2014 marks the 25th Anniversary of the Little League Challenger Division. During the past 25 years many dedicated individuals and leagues have worked together and made a difference in the lives of over 100,000 Little League Challenger Division participants.
DTQ Little League has one of the BEST Challenger programs in the area, please help spread the word!
Did You Know??????
DTQ Little League is where champions play! Check out our success throughout the years.
Titles By Division
9&10 - 3 District 9 championships (05,08,10) - 1 State championship (05) - 1 Tournament of Champions championship (05)
10&11 - 1 District 9 championship (11)
Majors - 2 District 9 championships (89, 12) - 1 State championship (89)
Juniors - 12 District 9 championships (87, 89, 90, 98, 99, 02, 03, 04, 11, 12, 13,14) - 4 State championships (90, 04, 12, 14) - 1 Division IV championship (90)
Seniors - 11 District 9 championships (89, 90, 00, 01, 08, 09, 10, 11, 12, 13, 14) - 5 State championships (00, 11, 12, 13, 14) - 1 Divison IV championship (00) - 1 Southeast Region championship (14)
Big League - 6 District 9 championships (87, 88, 09, 12, 13, 14) - 3 State championships (09, 12, 14)
Girls Softball - 1 State championship (82)
Inclement Weather
Call 703-792-3284 ALL DTQ FIELDS
Call the Prince William County Park Authority hotline to find out if fields will be open due to inclement weather. Field status is updated at 3:00 pm daily and at 7:00 am and 12:00 pm on the weekends.