Dumfries District Little League: DTQLL News
DTQ Fall Little League Information
2014 DTQ Fall Little League
Registration
Players should hear from their team manager by August 4. Practices are to start by August 9.
Questions
President Mel Barlow 703-441-8747,
DTQLittleLeague@comcast.net
Challenger: League VP Michelle Slaughter,
Michelle.slaughter@comcast.net
Divisions
T Ball (Ages 4-5) $90
Open
Senior League Baseball (Ages 13-15) $140
1 Space left!
Challenger Baseball Children with Disabilities (Ages 5-22) $50
Open
LEAGUE AGE IS PLAYER'S AGE ON 4/30/2014
Sunday, July 27
Websites For The Upcoming Junior & Senior All-Stars Southeast Regional Tournaments
Our Junior All-Stars leave Thursday for Greenville, SC for the 2014 Southeast Regional tournament. You can follow them here: https://sites.google.com/site/jrbbseregional/home. Their games can be watched at this link: http://www.ustream.tv/channel/jr-se-regional.
Our Senior All-Stars leave Thursday for Safety Harbor, FL for the 2014 Southeast Regional tournament. You can follow them here: http://www.eteamz.com/District12Florida/news/index.cfm?cat=312452.
Sunday, July 27
DTQ Little League Holding A Fundraiser To Help Support Our Teams Headed To Regionals!!
DTQ Senior's Holding Fundraiser's For Their Upcoming Regional Trip
DTQ Juniors Win 2014 Virginia State Championship
DTQ Junior's go 5-0 to win the 2014 Virginia state championship!
For the 4th year in a row DTQ Seniors are VA State Champions!
DTQ Senior's go 5-0 at states to win the Virginia State Senior League tournament!!
DTQ Big's Capture First State Title For 2014!
DTQ has now won 3 state Big League titles, 2009, 2012 and now 2014!
DTQ Junior's Win Our Third District 9 Banner In 2014!
DTQ Seniors Grab 2nd District 9 Title In 2014!
DTQ Big League wins the first District 9 title
DTQ's Big League All-Stars beat Woodbridge Big League All-Stars 10-4 to take the District 9 championship!! BACK TO BACK DISTRICT 9 BIG LEAGUE CHAMPIONS!!
PLEASE SUPPORT OUR ALL STAR TEAMS!
We need your support as this is an very exciting time for DTQ! The Junior League, Senior League & Big League teams all won the District 9 Championship. Big League, SR League & JR League went on to win the VA State Championship. This is the third year in a row that DTQ won all three 90' field District 9 championships . This is the second time in the last three years that they have won all three VA State Championships. Unfortunately success comes with a price. It takes about $5,000 to send a team to a state tournament. DTQ is a nonprofit organization, you can claim the donation on your taxes and help support these outstanding young men.
If you need any other information or have any question please contact me at jerrienjon@comcast.net or Michelle.Slaughter@comcast.net Please consider donating now if you can!
Handout:
2014 Allstar Sponsor Form
Thursday, May 29
DTQ LITTLE LEAGUE IS GETTING BETTER!!!
Dear DTQLL Families,
Below is a picture of our new facility called Fuller Park! The new park will have 3 - 60' fields to start and 1 - 90' field will be added after the park is opened. All fields will have lights!! We're on schedule to be able to play on these new fields starting opening day next year!!!
Thank you Prince William County and DTQ League President Mel Barlow!!
View of Fuller Park Progress
DTQLL Discounted Kings Dominion Tickets
DTQLL has partnered with Kings Dominion to
bring you discounted admission tickets
to the amusement park for the 2014 season. These tickets are only
$38.00
each and are valid from April 5th through November 2nd, 2014. During May 25th through August 31st there is also a coupon to enter the park after 5:00 pm for only $10.00 the night before your full day visit. This is a great bargain! The current promotion is "Everyone Pays Kids Price" at $41.00 each through June 15th if you purchase on-line. If you buy your tickets at the gate, they are $54.00. So don't delay, purchase your tickets through DTQLL and head to Kings Dominion -
The fun begins now!
If you are interested in tickets, please send an email to Lilet Smith at
ldsmith2027@gmail.com
.
Tuesday, February 11
Want To Become A Sponsor?
DTQ Little League Sponsorship Opportunities
Sponsors have made DTQ Little League one of the strongest and most community involved little league organizations in Virginia. We encourage all of our players, parents, fans, and administrators to take the time and thank our sponsors by visiting their stores and places of business and utilizing their products and services. We want to show them our appreciation for their sponsorship of the wonderful experience that is DTQ Little League Baseball. For more information about sponsorship opportunities, please download the DTQLL Sponsorship form. If you have any questions, you may contact Jerrie Williams, Sponsorship Coordinator, at jerrienjon@comcast.net for additional information. All sponsorship donations are tax deductible.
Tuesday, August 6
DTQ LITTLE LEAGUE - A LOT OF LITTLE THINGS DONE RIGHT!!!!
2013 JR League Champs
2013 DTQ District 9 Champs
2013 SR League Champs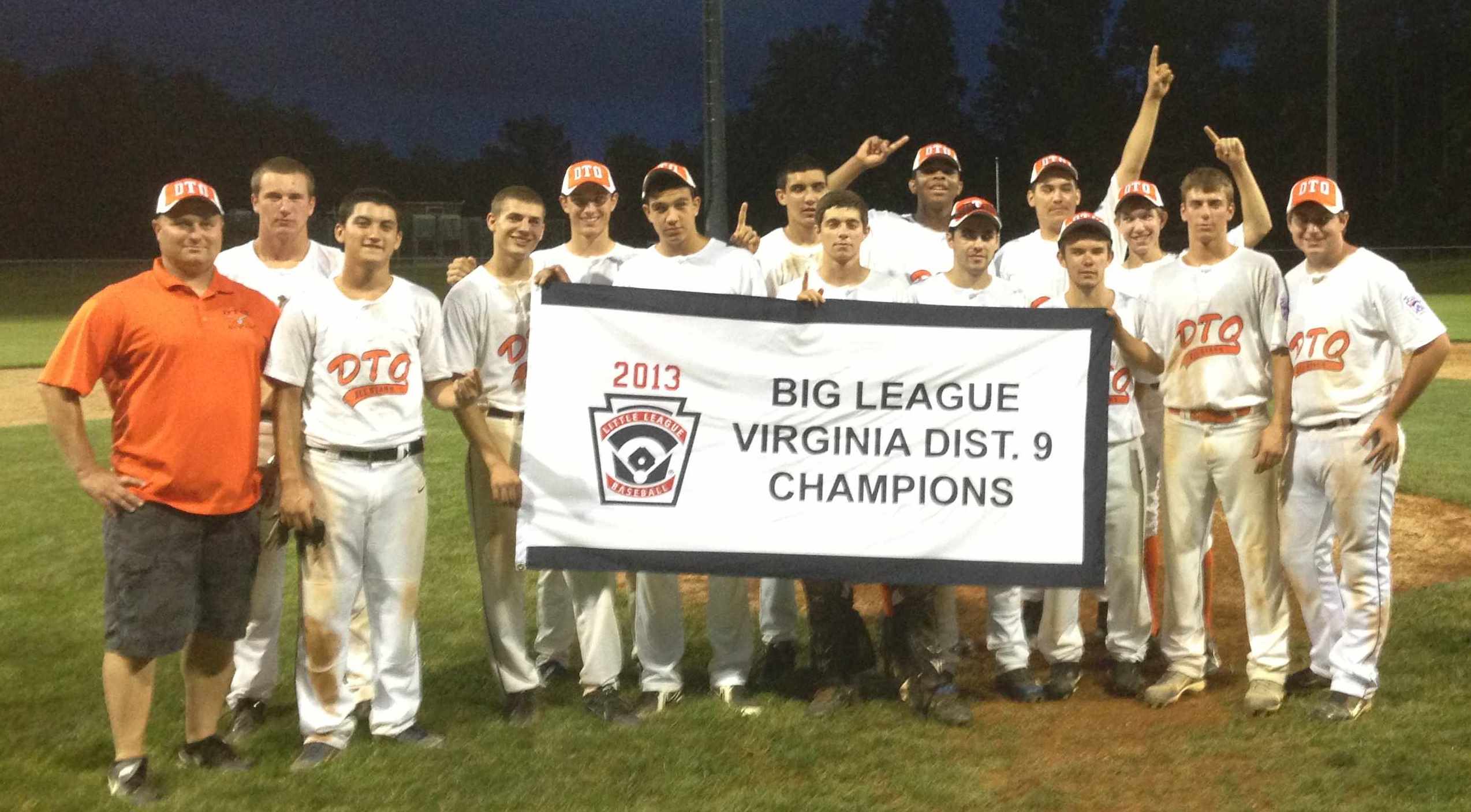 2013 Big League Champs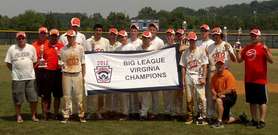 2012 VA Big League Champs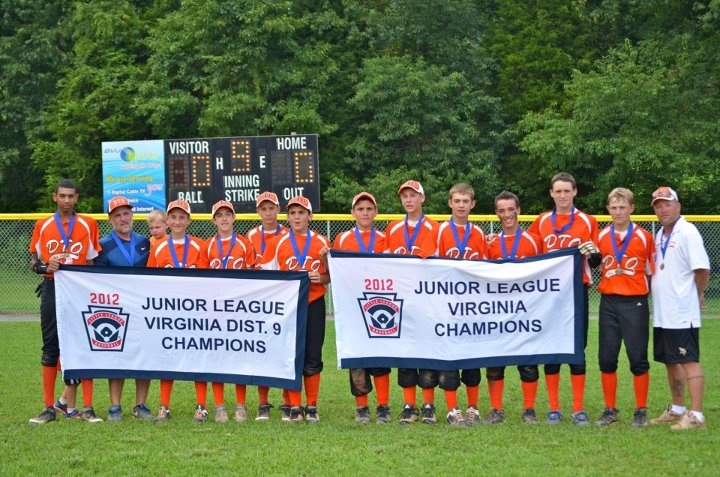 2012 VA Junior League Champs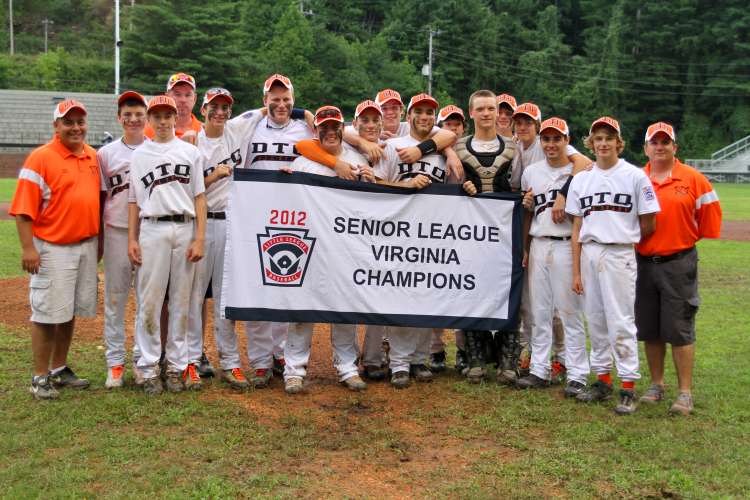 2012 VA Senior League Champs
Celebrating 25 Years of Challenger
2014 marks the 25th Anniversary of the Little League Challenger Division. During the past 25 years many dedicated individuals and leagues have worked together and made a difference in the lives of over 100,000 Little League Challenger Division participants.
DTQ Little League has one of the BEST Challenger programs in the area, please help spread the word!
Did You Know??????
DTQ Little League is where champions play! Check out our success throughout the years.
Titles By Division
9&10 - 3 District 9 championships (2005, 2008, 2010) - 1 State championship (2005) - 1 Tournament of Champions championship (2005)
10&11 - 1 District 9 championship (2011)
Majors - 2 District 9 championships (1989, 2012) - 1 State championship (1989)
Juniors - 12 District 9 championships (87, 89, 90, 98, 99, 2002, 03, 04, 11, 12, 13,14) - 3 State championships (90, 2004, 12) - 1 Division championship (1990)
Seniors - 11 District 9 championships (89, 90, 2000, 01, 08, 09, 10, 11, 12, 13, 14) - 5 State championships (2000, 11, 12, 13, 14) - 1 Divison championship (2000)
Big League - 6 District 9 championships (87, 88, 09, 12, 13, 14) - 3 State championships (09, 12, 14)
Girls Softball - 1 State championship (1982)
Inclement Weather
Call 703-792-3284 ALL DTQ FIELDS
Call the Prince William County Park Authority hotline to find out if fields will be open due to inclement weather. Field status is updated at 3:00 pm daily and at 7:00 am and 12:00 pm on the weekends.