Dumfries District Little League: Welcome
Welcome to Dumfries-Triangle-Quantico Little League Baseball & Softball
Celebrating 52 years of Little League Baseball & Softball
DTQ Is The Home Of The
***2012 Big League VA State Champions***
***2012 Senior League VA State Champions***
***2012 Junior League VA State Champions***
First Time In VA Little League History That ANY Little League Has Won All Three 90' State Championships!!!!!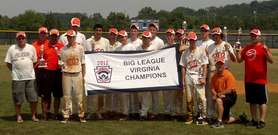 2012 VA Big League Champs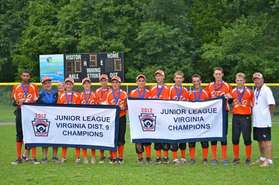 2012 VA Junior League Champs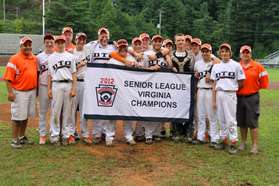 2012 VA Senior League Champs
Friday, April 26
Team Picture Day May 18th At Pattie Elementary - RAIN or SHHINE
Team Schedule
9:00AM
Tball Orioles
Tball Royals
9:15AM
Tball Yankees
Tball White Sox
9:30AM
Tball Braves
Tball Cubs
10:00AM
Tball Nationals
Tball Pirates
10:15AM
Softball Thunder
Softball Express
10:30AM
MP Angels
MP Athletics
10:45AM
MP Rangers
MP Red Sox
11:00AM
Challenger Rangers
MP Dodgers
11:15AM
Challenger Nationals
11:45AM
Major Orioles
Major Nationals
12:15PM
Challenger Nationals (M)
MP Mets
12:30PM
Challenger White Sox (M)
1:00PM
Major Pirates
Major Yankees
1:15PM
Major Braves
NL Dodgers
1:30PM
NL Mets
NL Padres
1:45PM
NL Giants
NL Phillies
2:00PM
AL Astros
AL Athletics
2:15PM
Softball Bees
Softball Storm
2:30PM
AL Rangers
AL Red Sox
DTQ Tournament Teams
Dear DTQ Parents,
As the season is progressing along, it is necessary to prepare for the upcoming All Star and Fun tournaments. All of our Minor and Major Baseball players age 8-12 yrs. old are eligible to participate in either the All Star or Fun Tournament. There are two levels of play in the Fun Tournament. Age 10 and under & Age 12 and under. There are three levels in All Stars. 9 & 10 year old team, 11 year old team & a 12 year old team.
All of our Junior League & Senior League players age 13-16 yrs. old are eligible to be selected to an All Star tournament team. The two levels of play are Junior League (age 13-14) and Senior League (age 15-16). Those teams are selected by the player's age not by the division they played in. A league age 14 year old that played in the Senior League can only play on the JR League (age 13-14) tournament team.
The typical commitment for an All Star tournament player will be practices starting June 16 and continuing with games starting June 29 for about 2 weeks. This commitment can go much longer if the team goes past the district level onto the VA state tournament.
The typical commitment for a Fun tournament player will be practices starting June 16 and continuing with games starting June 20 and lasting about 8 days.
The managers will be selecting players based on a specific selection policy approved by the DTQ Board of Directors.
____________________________________________________________
Circle the appropriate choices (League age is the player's age on 04/30/13)
Little League age: 08* 09 10 11 12 13 14 15 16
League age 08 is only eligible for the Fun Tournament

League age 13-16 are only eligible for the All Star Tournament

Player name: ___________________________________
Player would like to be consider for selection and will commit to the team for the length of the tournament: YES NO _____ Fun (only) _____ All Stars (only)
Parent's signature: _________________________________
Please complete and return to DTQ before May 27, 2013
Fax: 703-441-8747
Email: DTQLittleLeague@comcast.net
Tuesday, May 7
DTQ Little League Night With The Potomac Nationals - Saturday June 22 At 6:35PM
The Potomac Nationals will be hosting the Carolina Mudcats.
Join us at Pfitzner Stadium for a night of BASEBALL, family fun, and a sense of community.
It is Sentara Youth Glove Giveaway Night. Make plans to stay after the game for fireworks!
Grandstand Tickets are $7.00 per ticket and will be sold on a first come, first serve basis. Don't delay. Reserve your tickets today! To reserve tickets contact Michelle Slaughter at michelle.slaughter@comcast.net.
Sunday, May 5
DTQ Little League Challenger Division
This year DTQLL has 51 Challengers and still growing. This is an amazing program designed to allow all children, regardless of their physical or mental disabilities, the chance to play baseball. One of the aspects of the Challenger Division which makes the program so strong is the use of buddies to help the Challengers play baseball. On Friday, May 3rd, the Hylton High School baseball team came out to buddy for the Challengers. The Varsity team helped during the 6:00 game and the JV squad, pictured here, helped during the 7:30 game. If you have any questions about the Challenger Program or would like to buddy, please contact Michelle Slaughter at michelle.slaughter@comcast.net or 703-615-8487.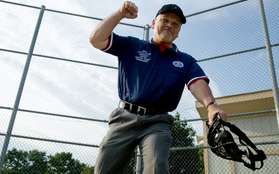 Come Out and Make A Difference
Tuesday, January 15
COME OUT AND GET THE THE BEST SEAT IN THE HOUSE!!!
DTQ is looking for a few good men and women to augment our Umpire Staff!
Junior Umpires (Ages 13 – 19) can earn money and gain a different perspective of America's Greatest Game!
DTQ will be hosting its 2nd annual Umpire Clinic April 6th at 1:00PM. Location for this event is at the DTQ Clubhouse.
For more information contact DTQ Chief Umpire Edward Marotske at 703-232-5709 or edwardmarotske@yahoo.com (Please contact Ed and let him know if you are going to attend the DTQ clinic so he can log your name)
NO EXPERIENCE NECESSARY!!!!!
Tuesday, September 25
"New" DTQ Game Score Line
Coaches,
Thanks to Coach Arguin for a great suggestion! Going forward i'd like the winning teams coach to email me the game score to DTQscores@gmail.com. I can also post some quick highlights and or pictures if you can send them to me too.
Friday, March 29
DTQLL BOMB SQUAD
We'll be tracking homeruns during the season, coaches please email any homerun info to DTQscores@gmail.com.
We have our first member of the DTQ Bomb Squad!
1. Brandon Cleveland (2) - Majors Braves
2. Brody Mack - Majors Yankees
3. Nick Fontana - Majors Braves
4. Josue Cumba - Majors Pirates
Friday, March 29
Colangelo Baseball Summer Camp
Parents this camp sells out quickly every year so please sign up early! The camp info and registration form can be found by clicking the League Documents tab on the left side of the web page.
Saturday, September 15
Social Media Info
For all of you social media junkies DTQ Little League has joined you! We're on the web @ http://www.eteamz.com/dtqll, Facebook @ DTQ Little League and now Twitter @ DTQGUY. Check us out, like us and also follow us. These sites will be updated regularly so stay tuned.
Saturday, April 13
Opening Day Recap
A BIG THANK YOU goes out to everyone for helping make todays opening day a successful one! We had plenty of volunteers which made things go smoothly. It was great to see and hear from our special guests and dignateries that showed up for todays event. Even more exciting was the commitment from the park authority that our new fields are PRIORITY ONE for their department!
Also if anyone has any pictures from opening day that I can use for the website please email them to dtqscores@gmail.com. Unfortunately I wasn't able to take any since I was on the mic the whole time.
In the first game of the season it was the Majors Braves vs the Majors Nationals, the Braves won 12-0.
The second game of the day had the Majors Pirates going up against the Majors Orioles, the Pirates won 22-0.
Thursday, March 28
2012 District 9 Champs!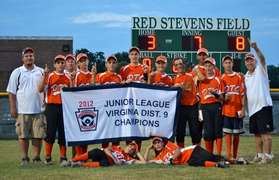 2012 JR LEAGUE CHAMPS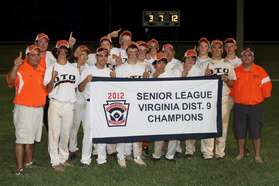 2012 SR LEAGUE CHAMPS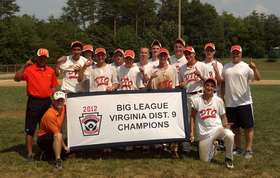 2012 BIG LEAGUE CHAMPS
2012 District 9 Champs!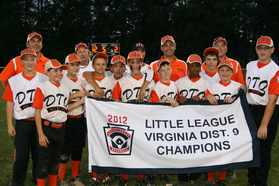 2012 LITTLE LEAGUE CHAMPS
Saturday, September 15
Did You Know??????
DTQ Little League is where champions play! Check out our success throughout the years.
Titles By Division
9&10 - 3 District 9 championships - 1 State championship - 1 Tournament of Champions championship
10&11 - 1 District 9 championship
Majors - 2 District 9 championships - 1 State championship
Juniors - 10 District 9 championships - 3 State championships - 1 Division championship
Seniors - 9 District 9 championships - 3 State championships - 1 Divison championship
Big League - 4 District 9 championships - 2 State championships
Girls Softball - 1 State championship