Dumfries District Little League: Welcome
Online Registration for 2014 Spring Little League Season is now open. Register early so you don't miss out!
Welcome to Dumfries-Triangle-Quantico Little League Baseball, Challenger & Softball
Celebrating 53 years of Little League Baseball & Softball
Home of 2013 Senior League VA State Champs!
2013 VA State SR Champs
DTQ Little League Update
All divisions are full and on a wait list. To be placed on the list email player's name and birth date to DTQLittleLeague@comcast.net
If you have a question about a certain division, please contact the division coordinator!
T Ball - Julie Casperson
Machine Pitch - Damian Norris
Minor American - Dave Alachnowicz
Minor National - Ellis Cooper
Major Division - Wayne Arguin
Softball - Will Smith
Junior-Senior League - Brian Hills
Challenger - Michelle Slaughter
Michelle.slaughter@comcast.net
Tuesday, March 25
DTQ Little League and Colangelo Baseball Announce 2014 Summer Camp Dates!!!!
Parents,
Make sure you sign up your player as soon as possible for this camp as spots fill up quickly EVERY year! Dates, times, and all other camp information can be found uner the League Documents tab on the left of the web page. Also Mike Colangelo can be reached at 703.405.0455 for more details.
Handout:
2014 Summer camp
Wednesday, March 12
DTQ Glove Fund - Please Click On The "DTQ Logo" Below Link To Donate
Tuesday, February 11
Want To Become A Sponsor?
DTQ Little League Sponsorship Opportunities
Sponsors have made DTQ Little League one of the strongest and most community involved little league organizations in Virginia. We encourage all of our players, parents, fans, and administrators to take the time and thank our sponsors by visiting their stores and places of business and utilizing their products and services. We want to show them our appreciation for their sponsorship of the wonderful experience that is DTQ Little League Baseball. For more information about sponsorship opportunities, please download the DTQLL Sponsorship form. If you have any questions, you may contact Jerrie Williams, Sponsorship Coordinator, at jerrienjon@comcast.net for additional information. All sponsorship donations are tax deductible.
DTQLL Discounted Kings Dominion Tickets
DTQLL has partnered with Kings Dominion to
bring you discounted admission tickets
to the amusement park for the 2014 season. These tickets are only
$38.00
each and are valid from April 5th through November 2nd, 2014. During May 25th through August 31st there is also a coupon to enter the park after 5:00 pm for only $10.00 the night before your full day visit. This is a great bargain! The current promotion is "Everyone Pays Kids Price" at $41.00 each through June 15th if you purchase on-line. If you buy your tickets at the gate, they are $54.00. So don't delay, purchase your tickets through DTQLL and head to Kings Dominion -
The fun begins now!
If you are interested in tickets, please send an email to Lilet Smith at
ldsmith2027@gmail.com
.
DTQLL Night with the Potomac Nationals - April 26, 2014
Join the
Potomac Nationals for DTQLL Night
on Saturday, April 26th @ 6:35 pm. The PNats will be hosting the Lynchburg Hillcats at Pfitzner Stadium. Plan to arrive early and stay late. The first 1,000 fans through the gate will get a free Bryce Harper T-Shirt. All DTQ Little League Players and Coaches will be allowed on the field during the National Anthem. Those Players and Coaches planning to go on the field need to line-up at the first base gate at 6:00 pm. After the game players will be allowed to run the bases. Those players planning to run the bases will need to line-up at the first base gate at the conclusion of the game. Directly following the game will be fireworks. Grandstand tickets are $8.00 and will be sold on a first come, first reserved basis. Tickets can be upgraded at the box office. Children 5 years-old and younger do not need a ticket. Don't delay, reserve your tickets today! Be a part of this great night of baseball, family fun and a sense of community. Send an email to Lilet Smith at
ldsmith2027@gmail.com
to reserve your tickets. Tickets will be available starting Opening Day for purchase.
DTQLL Sweet Frog Week
One of our newest Hall of Fame Sponsors, SweetFrog, will be partnering with DTQLL the week of May 12th through the 17th to donate 25% of your purchases back to the league. Locations at both Southbridge, 17177 Wayside Drive, Dumfries VA and Smoketown, 13796 Smoketown Road, Woodbridge, VA 22192 will be participating from 11:00 am - 10:00 pm. Bring in
this flyer
or tell your cashier that you support DTQ Little League. Help spread the word by telling a friend or neighbor to stop in and support DTQLL.
2014 Washington Nationals Youth Baseball and Softball Day - May 18, 2014
DTQLL is excited to announce it will be participating in the
Washington Nationals Annual Youth Baseball and Softball Day
on Sunday, May 18, 2014. All DTQLL Coaches and Players that attend the game will be allowed to participate in a special pre-game parade around the warning track at Nationals Park prior to the game. You should plan to arrive at Nationals Park by 11:00 am if you plan to participate in the parade. Parents, friends and neighbors will be able to take pictures from the stands during the parade. Everyone will be able to get player autographs, then after the game players will be allowed to run the bases. So don't delay, reserve your tickets today! See the Nats play the New York Mets. Tickets are $22.50 and are located in the "Outfield Reserve" section and will be sold on a first come, first reserved basis.
Children 2 years-old
and younger are not required to have a ticket to enter Nationals Park. If attending without a ticket, they must sit on the lap of an accompanying adult.
Strollers must adhere
to Nationals Park policies. Send an email to Lilet Smith at
ldsmith2027@gmail.com
to reserve your tickets. Payments will be collected starting Opening Day April 5th. Tickets will be available starting Opening Day for purchase.
DTQLL Golf Tournament - May 30, 2014
DTQ Little League is excited to announce it will be hosting a Golf Tournament on Friday, May 30, 2014 at the Montclair Country Club. There will be a 9:00 am shotgun start with 8:00 am check in, continental breakfast and use of the practice facility. Things will conclude around 1:00 pm with a lunch buffet and 1st, 2nd & 3rd place team cash prize payouts. There will be a Hole in One; Closest to the Pin; Longest Drive and Putting Contests.
This exciting event is the perfect opportunity for your company to showcase themselves out on the golf course. We are looking for hole sponsors, beverage cart sponsors, a Hole in One sponsor, a Closest to the Pin sponsor, a Longest Drive sponsor and sponsors for the putting contest. By choosing to sponsor, your company will get recognition on one Tee Sign. Formal Recognition of your company on our event signage. The right to provide special gifts and/or promotional items to all participants in our golf event give away bags. Company recognition will be posted on our website.
If you are interested in signing up your foursome or sponsoring, please contact Mike Colangelo at 703-405-0455 or via email at Mike_Colangelo@comcast.net or Michelle Slaughter at 703-615-8487 or via email at Michelle.Slaughter@comcast.net.
Thursday, March 6
The DTQLL BOD Is Looking For A Few Good Volunteers
DTQ Little League is looking for a few good members to join the Board of Directors (BOD). We are looking for a Concessions Shift Lead and a Tournament Coordinator. Please review the following position descriptions. If you have any additional questions about the positions, you may contact the League President, Mel Barlow at DTQLittleLeague@comcast.net or the League Vice President, Michelle Slaughter at michelle.slaughter@comcast.net.
Concessions Shift Lead
The Concessions Shift Lead shall (this position is April-June and September-October):
1. Work with the Concessions Coordinator to open and close the concession stand at Gardziel Field on Monday and Thursday nights.
2. The Concessions Coordinator will be responsible for setting the schedule for opening and closing the concession stand. This is not a BOD position.
a. On nights when the Concessions Shift Lead opens/closes the stand, they will be responsible for the day-to-day management of the concession stand, and
b. Manage the concession volunteers working the concession stand.
Tournament Coordinator
The Tournament Coordinator shall (this position is primarily June/July):
1. Attend all District Tournament Meetings on behalf of DTQLL; and
2. Solicit volunteers to cover the tournament games assigned to DTQLL, the volunteers will: help with field setup, game announcers, scorekeepers, pitch counters, concession volunteers, help with field maintenance, help with field breakdown.
Tuesday, August 6
DTQ LITTLE LEAGUE - A LOT OF LITTLE THINGS DONE RIGHT!!!!
Friday, March 7
2013 JR League Champs
2013 DTQ District 9 Champs
2013 SR League Champs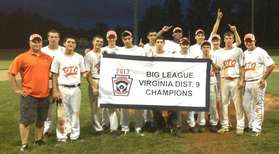 2013 Big League Champs
Celebrating 25 Years of Challenger
2014 marks the 25th Anniversary of the Little League Challenger Division. During the past 25 years many dedicated individuals and leagues have worked together and made a difference in the lives of over 100,000 Little League Challenger Division participants.
DTQ Little League has one of the BEST Challenger programs in the area, please help spread the word!
Saturday, September 15
Did You Know??????
DTQ Little League is where champions play!  Check out our success throughout the years.
Titles By Division
9&10 - 3 District 9 championships - 1 State championship - 1 Tournament of Champions championship
10&11 - 1 District 9 championship
Majors - 2 District 9 championships - 1 State championship
Juniors - 12 District 9 championships - 3 State championships - 1 Division championship
Seniors - 10 District 9 championships - 3 State championships - 1 Divison championship
Big League - 5 District 9 championships - 2 State championships
Girls Softball - 1 State championship 
Inclement Weather
Call 703-792-3284 ALL DTQ FIELDS
Call the Prince William County Park Authority hotline to find out if fields will be open due to inclement weather. Field status is updated at 3:00 pm daily and at 7:00 am and 12:00 pm on the weekends.