Dixie Terra Linda Little League: Welcome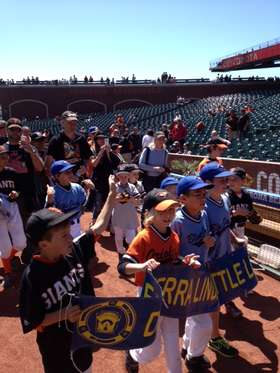 LL Day @ ATT Park May 2014
Tuesday, July 29
Welcome! We are your Little League for residents of Terra Linda, Santa Venetia, Lucas Valley, and Marinwood!
Final League Playoff Results are posted on the links below.
2014 Playoff Brackets (click on the division): Minors Majors Juniors
Congratulations to the Juniors Giants, 2014 League Champions!
Congratulations to the Minors Braves, 2014 League Champions!
Congratulations to the Majors Yankees, 2014 League Champions!
---
ALL STARS SCHEDULES AND RESULTS:
NEWSFLASH: MILL VALLEY LITTLE LEAGUE 11/12S WON SECTION 1 TOURNAMENT and Advanced to the DIVISION 2 TOURNAMENT. AFTER A STRONG EFFORT, the team was eliminated in the semifinal game.
We still want to say CONGRATULATIONS to these kids and tell them we are proud of their accomplishment!
THIS IS THE FARTHEST ANY DISTRICT 3 LL DIVISION TEAM HAS GONE SINCE 1964!! Division game details are found at: http://www.eteamz.com/ca12/
NEXT: WESTERN REGION TOURNAMENT Click on this link to follow the action on the road to the Little League World series. Games start August 1.
---
The winning District 3 2014 All Stars teams were:
SFLL Jrs, MVLL 11/12s, MVLL 10/11s, and RVLL 9/10s Congratulations to all!
Results and information are posted on the District 3 Website www.eteamz.com/CAD3LL
All Stars Teams: Click Here for DTLLL ROSTERS
---
UMPIRES:
If you are interested in becoming an umpire next season please email UIC Dale Carrigan at
DCarr5424@aol.com
We NEED more Adult Umpires as well.
Each League will be responsible in 2015 to provide at LEAST 2 more adult umpires who will also be privileged to serve as District Umpires in the Tournament of Champions and the All Stars tournament. Consider extended service to the program now and contact us as soon as possible. TRAINING WILL BE PROVIDED to make you an excellent umpire!
---
Are you interested in being a Coach? Click here.
Want to be a volunteer?
Click here
for info.
Looking for additional division and other general league info? Click here

---
---
Fall Ball (Instructional program for Training and Development) will be offered from mid-September through October. We will announce registration during late August. For players who will be Entering Minors through Junior league.


WE WILL ALWAYS REMEMBER and CHERISH OUR MEMORIES of

OUR LITTLE LEAGUE FAMILY and FRIENDS ...

DANTE, EMILY GRACE, VERNA, RYAN, ERIC, JEFF, FRANK, STACEY, TAYLOR LYNN, CASSIDY & TONY
---
Wednesday, March 26
Are the fields open today? The field hotline (721-4784) is updated by 3:30 pm on a day when it has rained to address field conditions. League members are notified directly by email when fields are closed or games cancelled 3:30 pm Weekdays, 8:00 Saturdays or Sundays. If no notification report to your game site ready to play and the 2 Managers will assess the field for fitness (safety) at that time.
Rained out games are subject to the Automatic Reschedule system. Click here for more information.
Everyone needs to help restore fields after practices and games, including filling in the divots and holes in batters box, mound, and base paths. Please drag the field after every use! If mound covers and plate tarps are provided please cover after the raking and anchor, especially if more rain is predicted in next 24 hours.
When you smooth out the fields then water cannot puddle. If puddles occur BAIL OUT the water with a small bucket, butter tub, or similar to remove and throw water off the field. Do not rake muddy areas as they only worsen. Thanks!