Des Moines Cycle Club Race Team: Welcome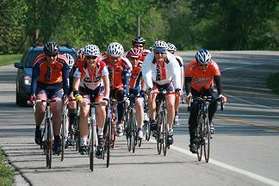 Arkansas Training Camp
Join the 2013 DMOS-Smart Honda-RDMB Junior Race Team!
Join the team by:
1) Carefully read and sign the 2013 team contract. It will be attached as a Handout on the bottom of this page.
2) Pay the race team annual dues which are $35 per year for adults, $15 per year for juniors.
!!!Women riders who are new to bike racing,OR to our team, will have their team dues waived the first year!!!
3) Ordering a current-year, race-legal jersey during the annual clothing order period (November 1 -December 15), or purchasing a team jersey out of team stock if one is available. If a jersey is not available, we will try to loan you one to wear at races, or you can wear a plain jersey (you would not be allowed to wear the jersey of another USA Cycling Team).
4) Contact Randy Catron at 515.480.7030, or email at randycatron@mchsi.com
5) Mail or give your signed contract and team dues to Randy. Make checks payable to DMCC Race Team. Randy's address is: Randy Catron, 8120 Sharon Drive, Urbandale, IA 50322.
6) You may also want to purchase a USA Cycling racing license. If you do not, you will be required to purchase a 1-day racing license for $10 which is in addition to the race entry fee. You purchase the license from USA Cycling. Here is the link: http://www.usacycling.org/news/user/story.php?id=579
You will probably be required to create USA Cycling account before you can buy the license. Adult licenses are $60 per year; junior licenses are $35 per year. After you have purchased your license, print your receipt and that will serve as your temporary license.
Handout:
2013 DMOS-Smart Honda-RDMB Junior Contract
Monday, June 4
DMOS/Smart Honda Riders Qualify for 2013 Senior Olympic Nationals!
I want to congratulate all of our master racers who competed in Saturday's Senior Olympics time trials. I think everyone from the DMCC race team who participated qualified for next year's national games. The wind made the Elkhart course it's usual challenge but some very fast times were posted. Great job Stan and Roz, Paul, Harry, Ann, Sandy and Ed. (hope I didn't forget anyone). Also thanks to Pat for his support. Hope all of you will join me at nationals in Cleveland the end of July, 2013.
Coach Danny