New Mexico District 8: Welcome
Register Online for SW Regional Road Show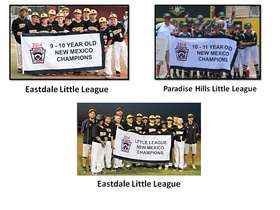 2014 State Champions
Gaeton Falance, New Mexico Little League District 8 Administrator, welcomes you to the NM District 8 website.
---
Little League International has placed a Moratorium on the use of Composite Bats for all Baseball Divisions of Little League Baseball.
---
New Mexico Little League Umpire Association (NMLLUA).
Did you know there is an umpire association in the state of New Mexico to support, encourage, and train Little League Umpires?
We are proud to announce the formation of the first ever state of New Mexico Little League Umpire Association. This association is open to all volunteer Little League umpires (baseball and softball) throughout New Mexico.
If you are interested in joining, please click on "Handouts" from the menu on
the left side of the Homepage. Download the membership application form. Complete
the membership form and send it to the address provided on the form for processing.
---
New for 2014: Players will be eligible to play for league only if they reside or the physical location of the school where they attend classes is within the boundaries. The complete rule can be found here. Proof of school attendance must show attendance on or before October 1, 2013.
Little League uses the following LEAGUE AGE DATES for Baseball and Girls Softball for the 2015 Season:
BASEBALL - December 31, 2015
Whatever Age the Player is on that Date, is his/her Baseball League Age Date
for the 2015 Little League Baseball Season.
There is a three transition for returning players with a birth date between May 1 and December 31.
GIRLS SOFTBALL - December 31, 2014
Whatever Age the Girl is on that Date, is her Softball League Age Date
for the 2015 Little League Girls Softball Season.

Players must be at least 4-years-old by April 30,2014 for the 2014 Season to be eligible to play Little League Baseball or Girls Softball.
Parents must provide an Original Birth Certificate and Proof-of-Residency or school attendance documentation.

Below are the individual
District 8 Little League Boundaries.
NOTE: Parents or Legal Guardians
MUST live or attend a school within a League's Boundaries
for the child to be eligible to play.


ALAMEDA LITTLE LEAGUE
Our League's boundaries are:
East boundary - Interstate 25 South boundary - From Interstate 25, Osuna Road to 4th Street From 4th to Rio Grande Blvd - Green Valley Road From Rio Grande Blvd to the Rio Grande – Roadrunner Road From the Rio Grande to Golf Course Road – Paseo Del Norte

West Boundary - Golf Course Road

North Boundary - Rio Rancho city limit to the "old" Sandoval County Line continuing along the Sandia Pueblo Reservation to I-25

Our Field location is 8536 Alameda Park Drive, Albuquerque, NM
CIBOLA LITTLE LEAGUE
Our League's boundaries are:
North of High Resort Blvd to Broadway.
Broadway to Northern.
Northern to Unser.
Everything North of Northern and
East of Highway 528, including Corrales.

CORONADO LITTLE LEAGUE
Our League's boundaries are:
The Town of Bernalillo limits, including the communities of
Placitas, Algodones, El Llanito and Pena Blanca.
The Pueblos of Jemez, Zia, Sandia, Santa Anna, San Felipe,
Sandia, Santo Domingo and Cochiti.

EASTDALE LITTLE LEAGUE
Our League's boundaries are:
BETWEEN Wyoming Blvd NE and Eubank Blvd NE;
NORTH of Menaul Blvd NE to Paseo del Norte NE;
NORTH of Paseo del Norte NE to Elena NE
BETWEEN Holbrook St NE and Louisiana Blvd NE.
Note: SOUTH of Paseo del Norte NE on Holbrook St NE only.
The Quintessence area is NOT in our League's boundaries.

NORTH VALLEY LITTLE LEAGUE
E-mail address: northvalleyll.abq@gmail.com
Our League's boundaries are:
North boundary: From I-25, Osuna Road to 4th St.,
From 4th St., Green Valley Rd. to Rio Grande Blvd.,
From Rio Grande Blvd., Roadrunner Rd. to the Rio Grande River
West boundary: Rio Grande River
South boundary: From the Rio Grande River, Central Ave. to Broadway Blvd.
From Broadway Blvd. to I-40 - From I-40 to I-25 - East boundary: I-25
Our Lady of Guadalupe Church, 1860 Griegos Rd. NW

PARADISE HILLS LITTLE LEAGUE
Our League's boundaries are:
Boundaries are the Bernalillo County line to the North and to the West.
Paseo Del Norte to the South, and
Golf Course Road to the East.
Our League Boundaries are as follows:
North Boundary: Bernalillo County Line
West Boundary: Bernalillo County Line
South Boundary: Paseo Del Norte NW
East Boundary: Golf Course NW
Visit our website for more details:
http://www.eteamz.com/phllbb/

PETROGLYPH LITTLE LEAGUE
Our League's boundaries are:
Boundaries are Paseo Del Norte on the North,
Western Trails on the South,
the Rio Grande river on the East, and
the Albuquerque city limits on the West.

SUNSET LITTLE LEAGUE
Field Location: 5815 high resort, Rio Rancho NM 87124
Our League's boundaries are:
West of State Highway 528 to Sara Road
to Broodmore to Northern to Unser to State Highway 550.
Our League website is www.leaguelineup.com/Sunsetbaseball
For aditional information, E-Mail us at: gerald.sunset@gmail.com

WEST MESA LITTLE LEAGUE
Our League's boundaries are:
Paseo Del Vulcan NW on the West to Interstate 40.
Rio Grande River on the East.
National Monument west of Atrisco.
Western Trail NW east of Atrisco.
South of Insterstate 40 on Unser Blvd to Central Ave.
South of Interstate 40 on Palisades to Central Ave.

For additional information about a League's Registration,
please click on one of the League links below.

Alameda Little League
Cibola Little League
Coronado Little League
Eastdale Little League
North Valley Little League
Paradise Hills Little League
Petroglyph Little League
Sunset Little League
West Mesa Little League

From the Safety Code for Little League
Regulations prohibit on-deck batters.
This means no player should handle a bat, even while in an enclosure,
until it is his/her time at bat.
This applies only to Little League Majors, Minor League, Rookies, and Tee Ball."
The umpires are instructed to allow a player when he/she comes to bat
to take some practice swings if they ask permission so long as they are
not purposefully trying to delay the game. A warning will be issued to
the manager for violating the above rule and a player is subject to ejection
if they continue to swing bats other than at the plate. If you have any
questions regarding this rule, please contact your League's Chief Umpire
or any member of our District 8 Umpire Staff;
Bruce Dinkel, Marc Guggino, or Barbara Stilwell.

The Little League Parent/Volunteer Pledge
I will teach all children to play and do their best.
I will positively support all managers, coaches and players.
I will respect the decisions of the umpires.
I will praise a good effort despite the outcome of the game.

The Little League Pledge
I trust in God.
I love my country and will respect its laws.
I will play fair and strive to win, but win or lose
I will always do my best.