District 24 Challenger League: Welcome
Welcome to D24 Challenger Division!!!
Now taking registration for the 2013 Spring Season!
For information please contact Fernando Rivera - fernando.rivera2165@gmail.com (321) 460-4740
or Hector Bonilla (407) 437-1841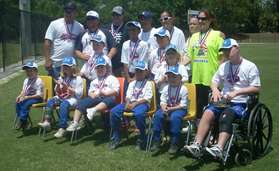 D24 First Challenger Team
Saturday, April 6
2013 CHALLENGER DIVISION
Practices for challenger division will be Thursdays at 6:00 pm. The location will be at Goldenrod Little League
behind Cheney Elementary School - 2000 Forsyth Avenue, Orlando FL.
CONTACTS: Fernando Rivera (321) 460-4740 or Hector Bonilla (407) 437-1841
Take Me Out to the Ball Game
Thursday, June 14
Our First Spring Season
Thursday, June 14
Our First Challenger Jamboree