Dance Connection, Home of the Diamond Ridge Cloggers: Schedule, Class Info & About Us
Friday, February 13
2014 SECOND SEMESTER SCHEDULE
Classes start in September. Registration is $30/individual or $40/family. Tuition is due before the first class and may be made with 4 installment payments of $60 or 1 semester payment OF $216. Multiple class and family discounts are avialable. The schedule is subject to change based on min/max enrollment.
NEW LOCATION!!! 104 Vista Way, Kennewick; only 1 block from our former location
5 STUDIOS, 2 WAITING AREAS, OBSERVATION WINDOWS, PARENT WORKOUT ROOM & MORE!!
2014 SECOND SEMESTER SCHEDULE - BY DAY/TIME Subject to change based on class enrollment.
Scroll Right to view Tuesday, Thursday, Saturday classes/events on your mobile device.
DAY/TIME
DAY/TIME
CLASS
MONDAY
TUESDAY
5:00
Ballet III
4:30
Elemementary Musical Theater
5:45
Pre-Combo Ballet/Tap Ages 3-5; NEARLY FULL
5:15
Tap III
6:00
Intermediate Clog
5:15
Competition Technique Kids
6:00
Beginning Clog ages 7 & up
6:00
Pre-Combo Ballet/Jazz ages 5-7; FULL; Join us for ballet/tap at 6:45
6:00
Clog Minis ages 5-7
6:00
Reserved
6:00
Pointe Prep/Pointe
6:00
Adult Dance Workout - $5 Drop-in
6:30
2 yr olds - FULL; SEE NEW CLASS ON WEDNESDAY
6:30
Kids Hip Hop 1/2

6:45
Advanced Clog
6:45
Tweens & TeensHip Hop I/II
6:45
Beginning II Clog Teens/Adults
6:45
Pre-Combo Ballet/Tap ages 5-7
6:45
Beginning II Clog Kids
6:45
Int/Adv.Teen Jazz/Lyrical (Ballet required)
7:00
Reserved
7:15
Elementary Acro for Dance
7:30
Beg. Clog Team Classics
7:45
Dance Fusion (Jazz & Lyrical) - Teens/Tweens/Adult
7:30
Intermediate Clog Team
7:45
Dance Technique
8:30
Intermediate Adult Clog
WEDNESDAY
THURSDAY
4:30
Elememtary Jazz II
5:30
Primary Ballet 1 ages 7 & Up
4:45 NEW TIME!

Kids Hip Hop ages 6-12

5:30
Elementary Tap II
5:30
Ballet III
5:45 NEW TIME!!
Cheer & Tumbling Minis ages 5-7
5:45 NEW CLASS!
Beginning Ballet ages 7-12
6:30 NEW CLASS!
2 yr old Dance; NEARLY FULL
6:30
Primary Ballet II
6:30
Pointe Prep/Pointe
6:30
Elementary Tap I

ages 7 & Up

6:30
Reserved
6:30
Acro for Teens/Tweens
6:30
Beginning Elementary Jazz ages 7 & up
7:15
Tap I/II - Tweens/Teens/Adults
7:15
Pointe

7:30
Elementary Cheer & Tumbling

7:15
Reserved
7:30
Competition Technique Teens
7:15
Adult Dance Workout - $5 Drop-in
8:15
Ballet I/II - Tweens/Teens/Adults
8:15
Adult Ballroom
8:15
Contemporary
FRIDAY
SATURDAY
MOVED TO MONDAY
Ballet/Tap Combo ages 5-7
Competition Rehearsals
6:00 NEW CLASS!
Ballet/Tap Combo ages 3-5
Studio rental also available.
After School
Book your DANCE BIRTHDAY PARTY!!

You bring the cake, we bring the dance party!

Only $100 for you & 7 friends to dance & party for 1.5 hours.

$25 for each additional 1/2 hour. $5 for each additional child.

'Frozen' and other themes available.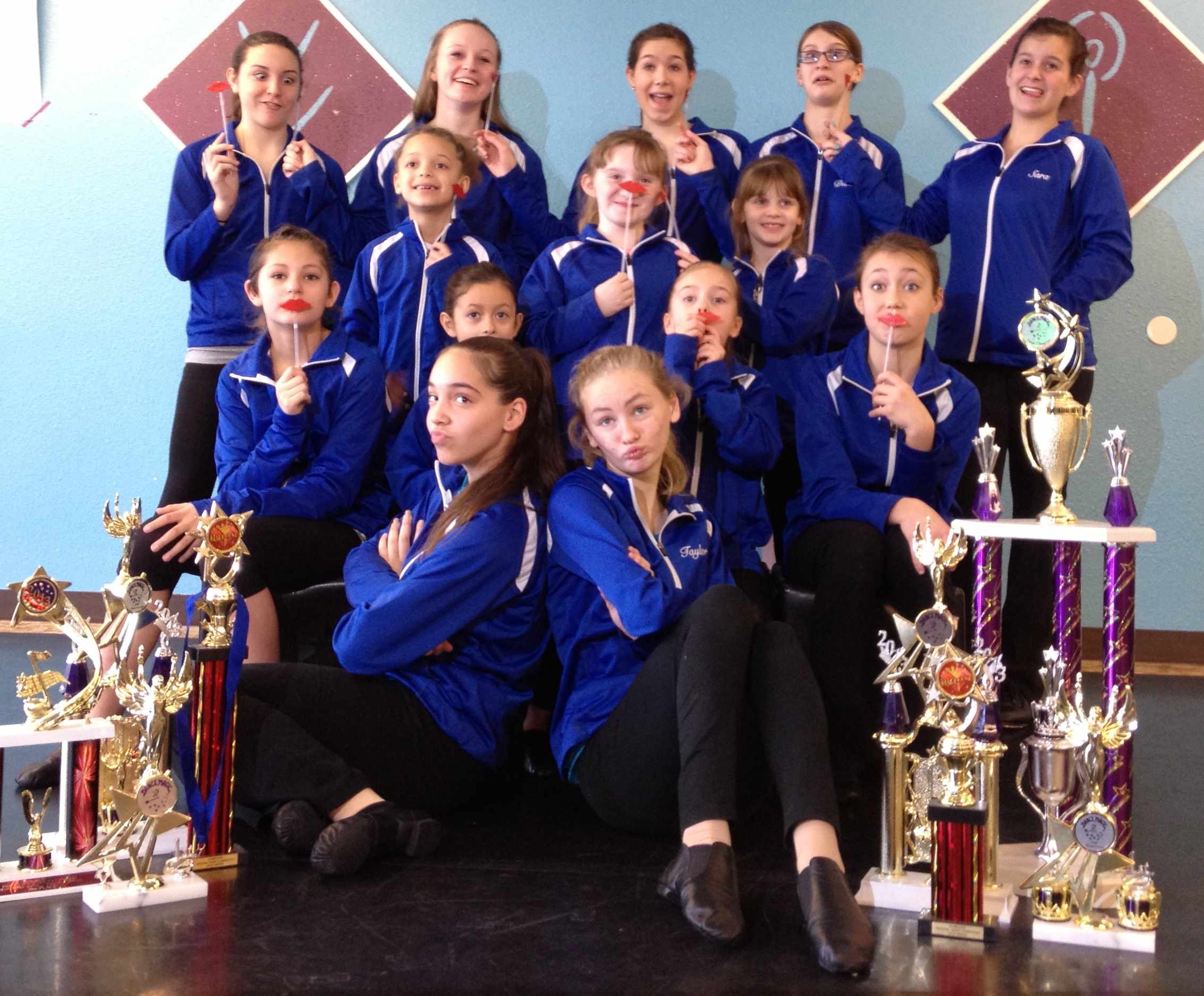 2014 Competition Team - 'We Love Dance!'
Thursday, August 8
CLASS INFORMATION, ATTIRE, & OTHER IMPORTANT DETAILS - click to open
See the Scholarship Info in the "Links" section.
High school students: Be sure to check the "links" section of our website for scholarship and internship info. Request any reference letters from your instructors early so we don't miss your deadlines.
Wednesday, August 26
ABOUT OUR PERFORMING AND COMPETITION TEAMS
PERFORMANCE OPPORTUNITIES We offer performing opportunities to ALL of our dancers throughout the year, regardless of age and ability. Each dancer is invited to perform at a minimum of 2 community performances each year in addition to our grand finale', the Kids In Motion Showcase. Our emphasis is on positive self-image, teamwork, and having fun! Our goal is to give each student opportunities to enhance their life skills while developing their ability as a dancer and presenting a positive image for today's youth. We also emphasize education, and school-aged dancers are encouraged to maintain a 3.0 GPA.
'SUMMER' SHOW TEAM Dancers of all ages and levels are encouraged to participate on our Summer Show Team. The Show Team performs for groups and community events from June-October. Some of our performances include the Dust Devils Pre-Game Show, Cancer Society Relay for Life, the Benton-Franklin Fair & Parade, Prosser Harvest Festival, Pasco Farmer's Market, and Adult Day Services. Our audiences love seeing our tiny dancers and beginners along with our seasoned performers.
THE CLOG TEAM The Clog Team is a year round group that performs an average of 30 shows each year. We use contemporary music and styling. A sub-set of our Show Team, the team enjoys clogging for a variety of groups and community events in Eastern Washington and Oregon. They've performed at the Florida Citrus Bowl Half-Time Show and Las Vegas National Clogging Convention, competed nationally, and were invited to dance in the Washington, DC 4th of July Parade in 2002. They also entertain regularly for residents at the local Life Care Centers. Cloggers of ALL ages and abilities are welcome to join the clog team.
COMPETITION TEAM The Competition Team competes 2-4 times each year throughout the Northwest. Our Competition Team has earned several high score awards and is very proud of the reputation they've earned as respectful, friendly competitors. Auditions for all dance styles and levels are held in October, and rehearsals begin in November. Competition Team dancers are required to have a minimum of a 2.0 GPA and strongly encouraged to maintain a 3.0 GPA. Additional details are provided at the competition informational meeting and in the audition packet.
CLOGGING HISTORY Clogging originated in the Appalachian Mountains as a mountain man's folk dance. The roots of this quick step dance come from Irish step dancing (as seen in River Dance) and Holland's wooden shoe dance. Traditionally, cloggers maintained a stiff upper body and danced to bluegrass music. As contemporary clogging emerges, other forms of dance are being incorporated and a variety of music is used. It's rumored that the Morris Shakers of Europe didn't allow women to clog. Today, people of all ages and gender enjoy clogging around the world.

Contact us at (509)628-9998 and don't forget to sign the guest book!
Friday, September 9
ABOUT OUR STAFF
The Dance Connection is directed by Wendy Robbins. Wendy's dance experience includes jazz, tap, ballet, theater, and clogging. She enjoys teaching all dance styles and focuses on correct technique while building each dancer's self-confidence. Wendy directed Dance In Flight ballet company's 2006 production of "Cinderella....Well Almost" and received rave reviews as one of the best productions in the company's history. A few of Wendy's other dance moments include several Richland Light Opera productions, performing with the Charlie Daniels Band at the Florida Citrus Bowl, dancing as a featured guest at the National Clogging Convention in Las Vegas, and performing with the inaugural Chinook Basketball dance team. Wendy is also the Director of the Diamond Ridge Cloggers and has taught clogging for 20 years! She also coached cheerleaders for 12 years and offers private coaching to future cheerleaders and dance team members. Wendy studied dance at WWU and holds a BA in Speech Pathology/Audiology.
Aurora Cody is our Guest Choreographer of Awesomeness. She's an accomplished point ballerina and dancer in all styles who spends her vacations at dance workshops. Having taken untold number of classes and performed in countless shows at the University of Idaho Center for Dance, dance is somethig Aurora can't live without. Aurora began her dance journey at the age of two. She added modern and jazz classes when she was ten and added tap dance in high school. We are very excited Aurora selected Dance Connection to continue her dance journey. Aurora is currently studying at The University of Idaho and snuggling with her kitties Deigo, Julie and Deidara.
Erin An is an all-around dance expert. She teaches hip hop, lyrical, tap, ballet, jazz and our little dancers. Erin moved from Texas 3 years ago where she taught all dance styles. Her Tri-Cities students love her as much as her Texas students did, and they can't get enough of her choreography.
Danielle Rothwell is a national clogging competitor, placing first at several national events. Danielle learned to clog with the Diamond Ridge Cloggers over 10 years ago before moving to attend college at Eastern Washington and then Boise, ID where she danced with a national competition team. With her Masters Degree in hand, she returned to the Tri-Cities and has been teaching our advanced cloggers, adults & competition teams for the past 5 years. We are honored to have her join us and share her experience and techniques with us.
Fred Shaffner has clogged for untold years and teaches our Carefree Senior Cloggers. You'll notice him at all of our shows - he's the youngest at heart! Senior classes are held on Mondays at 10:15 a.m. (8:00 am in the summer). Register for this fun activity through Fred at 627-0765. Fred also provides valuable assistance with our adult clogging classes and new show team dancers.
Taylor Bailey is our pre-ballet and pre-tap combination student helper. She's super excited to be helping again this year.
Sara Harris is our begining tap class student helper. She's super excited to help the younger kids find the same joy in tap as she has found. When she's not at the studio, she's a student at Cheif Joseph Middle School and loves her friends.
Shelby Randall is our begining ballet student helper. You might remember her as Princess Repunzel from our summer performances. When she's not at the studio, she's battling the forces of evil with the flag corp of the Southridge High School marching band.