Dance Connection: Welcome
Welcome to Dance Connection!
Creating an environment to learn, experience, and share the joy of dance.

Don't forget: regular scheduled classes June 11-June 13 (that's Monday, Tuesday, and Wednesday for those of us running low on caffeine). Thursday classes are at Southridge High for the Mandatory Showcase Meeting.

Summer Camps & Classes are here!!!

Click HERE to enroll for Summer Camps & Classes and the NEW 2018-2019 Dance Season! Pre-register in May for $10 OFF registration!! Enroll & pay ONLINE and come dance with us!!

Join us anytime for Adult Only Workout Classes Tuesdays at 6:30 or to use our Adult Only Workout Room.

COME TO OUR SHOW! 'The Little Mermaid, A Dansical' on Saturday, June 16 at 2:00 pm at Southridge High School Auditorium. Tickets on sale May 10th at www.tututix.com/danceconnectionwa

OFFICE HOURS SEPTEMBER - MAY: MONDAY-WEDNESDAY 5:00-7:00 PM

Great selection of dance classes to meet today's diversity.
Classes for Ages 2 - Adult
Watch your child grow and develop a love for dance from one of our 2 comfortable waiting areas.
Beginners through Advanced dancers
Highly Experienced Instruction Team

5 Studios to keep our classes small and your child dancing.
Online Enrollment for your convenience
Payment options for everyone! Pay online, Autopay, cash or check
We love to showcase ALL of our dancers! Dancers can join our Summer Show Team and be part of the largest Community Performing Group in the Tri-Cities! Check out pics of our dancers on our Face Book page.
Competition Teams for the ultimate dance fans
Adult Workout Room - $15/month or $5 Drop in
One of 20 studios to perform for the 75th Anniversary of Pearl Harbor and Holiday Bowl Half-time Show
Entertaining the Tri-Cities, and Southeastern Washington and Oregon since 1994. See our calendar and join us at our next show!

We are located at 104 Vista Way, Kennewick, WA 99332. We are on the diagonal street between Highway 395 and Kennewick Avenue next to Chase Bank and across the street from Highlands Health Foods. We're 15 minutes from just about anywhere in the Tri-Cities! We look forward to dancing with you!

Contact us at 509-628-9998 or 509-528-3398 with any questions. LIKE us on Facebook too! Kennewick Dance Connection!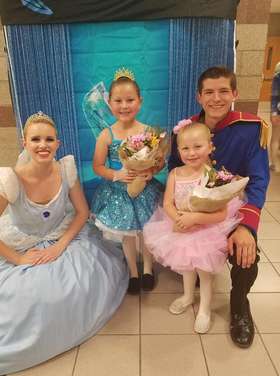 Cinderella, A Dansical 2017