Dance Connection, Home of the Diamond Ridge Cloggers: Welcome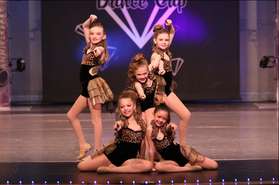 I Wanna Be Like You!
Thursday, August 6
Welcome to Dance Connection, Home of the Diamond Ridge Cloggers!
Our Beautiful 2015 Competition Teens!!
Creating an environment to learn, experience, and share the joy of dance.

WELCOME!!

We are.............Everything Dance!!

Serving Southeastern Washington and Oregon since 1994

Free Classes August 26 & Septmber 2 at 6:30 pm. Try a sample of our classes with our Fabulous Instructors and see our wonderful studio space. Save room after dinner for a treat from We Ice, bring a friend to dance with you on Aug. 26 and you'll recieve $0.50 off your We Ice order.

FALL CLASSES ARE HERE!! CHECK 'EM OUT ON THE SCHEDULE PAGE AND REGISTER TODAY!

REGISTER NOW FOR FALL CLASSES!! Mondays-Wednesdays 5:00 pm-7:00 pm August 17-September 2. The studio is closed September 7 in honor of Labor Day. You can also call Miss Nancy at 509-528-3398 to schedule an appointment.

OUR WORKOUT ROOM IS OPEN! ONLY $15/MONTH or $5 Drop In! A great way to spend your time while your child is in class.

Check out our NEW STUDIO at 104 Vista Way, just one block from our previous location on Kennewick Avenue!! 5 STUDIOS, 2 WAITING AREAS, OBSERVATION WINDOWS, Adult Workout Room, & MORE!!

We hired more Fabulous Instructors, and we are giving away REALLY BIG PRIZES to CELEBRATE our NEW SPACE!! Like our FACE BOOK page - Kennewick Dance Connection to win EVERY MONDAY.

We are also honored to be one of only 20 studios selected to perform during half-time for the Holiday Bowl! We're going to San Diego!!

OVER 50 CLASSES TO CHOOSE FROM in Ballet, Tap, Jazz, Hip Hop, Clogging, Dance Team, Musical Theater, Lyrical Jazz, Ballroom, and Contemporary Dance! NEW MORNING CLASSES!! CLASSES FOR BEGINNING TWEENS & TEENS! ACRO FOR DANCE! CHEER & TUMBLING TOO! Ballroom is back! Classes for our Minis! Our ADULT WORKOUT ROOM is open too!

Serving Southeastern Washington and Oregon since 1994

The 2015 Competition Team is off to Nationals!! Good Luck Shelby Randall, Danille Gore, Taylor Bailey, Kayleighann Stiles, Aliyah Malone, Josie Gore, Alexis Rice, Madelyn Miller, and Sara Harris.

Our Show Team is very busy entertaining the Tri-Cities and surrounding communities. They are having a great time! Check out pics of some of their shows on our Facebook page, and join us at the next one. See the schedule on our web calendar.

We accept credit card and Online/Paypal Payments.

Please note that a 5% processing fee is required for credit card payments.

See the PayPal buttons in 'Links and Payments' for Online Payments. Registration and the first installment need to be paid by cash or check at the studio during registration hours.

We're located at 104 Vista Way, Kennewick, WA 99332. We are in the former Goodwill location between Chase Bank and Umpqua Bank and across the street from Highlands Health Foods. We're 15 minutes from just about anywhere in the Tri-Cities! We look forward to dancing with you!

Contact us at 628-9998 or 528-3398 with any questions. Check us out on Facebook too! Kennewick Dance Connection!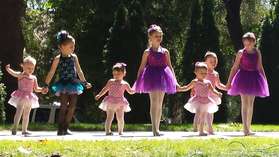 Our Precious Little Dancers