Desoto Cardinals: Welcome
Welcome to the Home of the
13U DeSoto Cardinals!
*2010 Mississippi 11U Major State Champions*
*2008 Mississippi 9U Open State Champions*
*2007 Mississippi 8U Open State Runner-Up*
We hope that the addition of our website will provide our players, fans, and families with access to important information regarding the DeSoto Cardinals organization, players, and upcoming events.
---
Tuesday, January 4
2011 Tournament Schedule
Subject to change and we will keep the schedule updated here and on the calendar link.
| | | |
| --- | --- | --- |
| March 4-6, 2011 | First Tennessee Opening Weekend | Cordova, TN - Rainout |
| March 11-13, 2011 | It's Time to Play the Game | Oxford, MS - Champs! |
| March 18-20, 2011 | OFF | OFF |
| March 25-27, 2011 | Early Bird Classic - Global World Series Qualifier | Southaven - 2nd (rain) |
| April 1-3, 2011 | Southeastern Elite | Florence, AL |
| April 8-10, 2011 | Best Of The South USSSA NIT | Southaven, MS |
| April 15-17, 2011 | I'm Your Huckleberry | Oxford, TN |
| April 22-24, 2011 | EASTER WEEKEND - OFF | OFF |
| April 29-May 1, 2011 | Jackpot II Weekend | Cordova, TN |
| May 6-8, 2011 | Snowden Slam - Global World Series Qualifier | Southaven, MS |
| May 13-15, 2011 | MIDSOUTH USSSA SUPER NIT | Southaven, MS |
| May 20-22, 2011 | OFF | OFF |
| May 27-29, 2011 | Memorial Day USSSA NIT | Southaven, MS |
| June 4-9, 2011 | American Youth Baseball Hall of Fame Invitational Tournament | Cooperstown Dreams Park, NY |
| June 10-12, 2011 | OFF | OFF |
| June 16-19, 2011 | FCA Weekend - Heart of a Champion | Cordova, TN |
| June 23-26, 2011 | 2011 MISSISSIPPI STATE CHAMPIONSHIP | Tupelo, MS |
| July 3-8, 2011 | NABF WORLD CLASSICS | Southaven, MS |
Monday, June 13
Cooperstown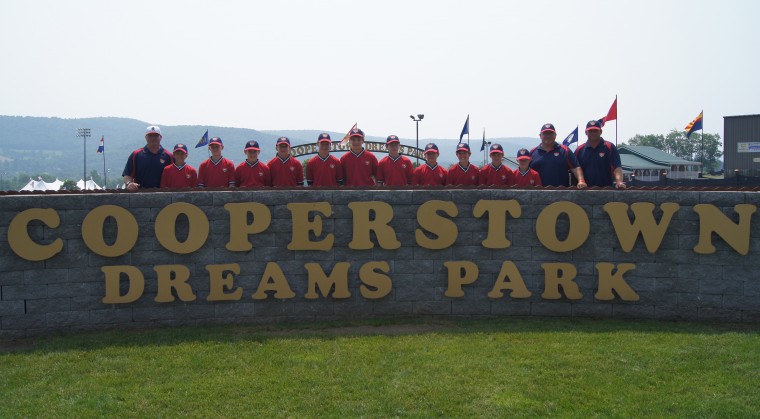 Monday, March 14
12U Cardinals Win Oxford Tournament
12U Cardinals go undefeated in Oxford to bring home the trophy. Great pitching and defense kept the opponents total scores to 12 runs in 5 games. The bats come alive in the championship beating the Germantown Giants 6 to 2. See final bracket update here