AZ DESERT THUNDER GOLD: Welcome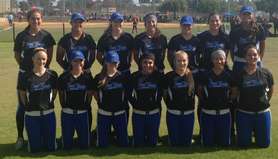 DT Gold PGF 2014
Welcome to the website of AZ DESERT THUNDER GOLD!!!
AZ DESERT THUNDER GOLD is a second year 18U fastpitch, college prep softball team from Tucson, Arizona. The team consists of 2015 and 2016 graduates. Our goals are to compete successfully at the National level and to showcase our talented athletes. We believe in maintaining a challenging schedule and pushing our players to attain their maximum potential. The Desert Thunder organization has a history of developing elite softball players and moving them on to the collegiate level. AZ Desert Thunder Gold plans to do the same!
Team Accomplishments
*16 Tournament Championships
*2009 TCS Sparkler - 4th Place
*2010 TCS Sparkler - Silver Bracket Finalist
*2011 PGF Nationals
*2012 So Cal's Finest Zoom into June Showcase
*2012 Louisville Slugger Independence Showcase - Top Ten Finish
*2012 PGF Nationals
*2013 So Cal's Finest Zoom into June Showcase
*2013 Louisville Slugger Independence Showcase
*2013 PGF Nationals - 13th Place Finish
*2014 Louisville Slugger Independence Showcase - 3rd Place Louisville Bracket
*2014 PGF Platinum Nationals
*2015 Louisville Slugger Independence Showcase
*2015 PGF Nationals
AZ Desert Thunder Qualifies for 2013 PGF Nationals!!!
http://tucsoncitizen.com/highschoolsports/2013/05/27/az-desert-thunder-qualifies-for-premier-nationals/
AZ Desert Thunder Featured in Students First Softball
http://www.studentsports.com/softball/2013/10/03/daily-update-10-03-13/
***College Commitments***
Brittany Woolridge Texas A&M University-Commerce
Melanie Cross University of Wisconsin
Niki Gonzalez Mount St. Mary's University
Becca Rodriguez Ball State University
Allie Curtis Central Michigan University
Merrilee Miller University of Arizona
Robyn Young Ft. Lewis College
Delfina Morales Trinity University
Amanda Allread Adams State University
Kellye Springstead Cal Baptist University
Monique Castillo Indiana State University
Jordyn Binnion Southern Utah University
Desert Thunder Places Kids in College Programs
Tucson's most productive travel team, any sport, is probably the Desert Thunder softball team coached by Lance and Kelly Fowler, parents of UA pitching star Kenzie Fowler. Their summer teams have helped to send 39 players to college with scholarships. That number will grow to 43 on Wednesday when Ironwood Ridge outfielder Dani Colwill signs with North Alabama, shortstop Mattie Fowler signs with Nebraska, outfielder Chelsea Dohrwardt signs with New Mexico State and outfielder Kayla Henry signs with Grand Canyon. The list will grow to at least 46 next November when high school juniors - with Desert Thunder experience - Sammi Noland of CDO signs with Nebraska, Willcox infielder Nikki Dunlap goes to Texas Tech and Ironwood Ridge pitcher Makayla McAdams signs with New Mexico State. Impressive. All 46 girls have played multiple seasons for the Fowlers. …
Sunday, November 7, 2010
Happy Birthday to .....
VISIT DESERT THUNDER TEAM WEBSITES
AZ Desert Thunder GOLD (2012)
Desert Thunder 16U - Noland
Desert Thunder 12U Cole