Denton All-Star Youth Football League: Flag Football (5&6)
Flag Football FAQ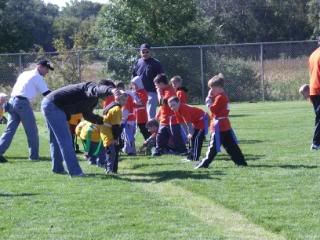 Get your questions answered here!

1. How much does it cost to play flag football?
Answer: The registration cost is $95 after early registration.
We have an early registration fee, normal registration fee
and a late registration fee that is significantly more!
Our registration fee includes the cost of your custom jersey,
mouthpiece and flag belt use. Also includes trophy.
2. Who are the coaches of the flag football teams?
Answer: All of our coaches are volunteers that normally have
children playing on the team or within the league. All
of our coaches must be certified through the league
and all are members of the NYSCA which is our coaching
resource. Each coach is required to sign and agree to
uphold the high coaching ethics that NYSCA sets for our
youth.
3. Can my child be hurt playing flag football?
Answer: Our flag football teams do not wear pads for protection as it
is a non-contact sport. We realize that kids will be kids
and keeping the occasional bump or bruise from
happening is virtually impossible but we supervise your
child and commit to minimizing any significant injuries
while participating in the DAYFL. You child will have a
very enjoyable time while participating in flag football.
4. When and where do they practice for games?
Answer: For the most part, your practice times and locations are
left up to your head coach. Our league policy is to be
notified of all practice locations as well as expected dates
and times of practices. Our policy also directs each coach
to not exceed 6 hours of practice each week. We also will
not be practicing on game days(saturday) or on sundays.
The majority of head coaches like to find practice areas that
are close to where all families live or a common area where
it is convenient to meet for your practice. Your coach will
try to work with you but he must fit practices into his or
her schedule as well.
5. Tell me about the games on saturday?
Answer: Games are held at the North Lakes Athletic Facility for
Football. We currently have 3 football fields that we play
on each saturday. The games for flag will normally be held
on saturday morning starting at 8:30am. We try to get
our flag games completed by 10am in the morning as
tackle football takes up the majority of the day after 10am.
See - you will still be able to have a saturday to yourself
after all!
6. How is my child rewarded for participation?
Answer: The DAYFL rewards all participants at the end of
the season. This reward normally comes in the form of a
participant trophy and the team has a party as well. Your
coaches and team mom will continually keep you updated
as to the goings on of your team. The coaches provide
rewards for the kids throughout the season as well.



If you have additional questions - you can contact us at dentonyouthfootball@yahoo.com or leave a message at 940-566-3293. Email is the quickest form of communication that we currently have!
Ghostbusters Theme