Deloraine Royals: Welcome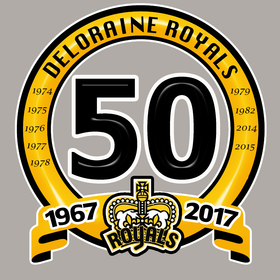 Deloraine Royals
Welcome Back Royals' Fans!
The Deloraine Royals are preparing to embark on a new Tiger Hills Hockey League Season. The 2017-2018 schedule is out and the Royals have held a few pre-season skates.
The Royals will have a new look behind the bench this season with the retirement of long-time coach, Mike Vanrobaeys. The Royals appreciate the many hours he has devoted to senior hockey in Deloraine over numerous years. The on-ice personnel may also require fans to consult their programs for roster changes early in the season. While a number of veteran local players will be returning this year, others have retired and some past Royals have moved on to new teams. The most notable of these losses will be goaltender Cody Matthewson who helped lead Deloraine to two THHL Championships. The good news for the Royals is that they have signed a couple of very capable netminders in Rylen Rommelaere and Curtis Goldie to man the pipes this season.
The 2017-2018 Schedule has been posted on the link beside this home page.
Stay tuned for a complete look at this year's roster once the final team has been established.
Get a look at the newest version of the Deloraine Royals as they host their perennial rival, the Hartney Blues in their first home game on Saturday, October 28 at 7:30 pm at the Doc Bonar Arena.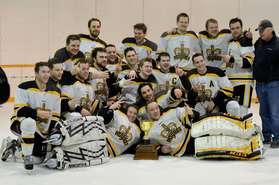 Back To Back THHL Championships 2014/2015 & 2015/2016