Deloraine Royals: Welcome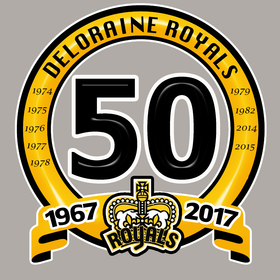 Deloraine Royals
Royals Fall to Border Kings - Sat. Dec. 9
Final Score: Boissevain Border Kings 5 - Deloraine Royals 0
Despite the best efforts of goaltender Rylan Rommelaere who faced 51 shots in goal, the Royals dropped their second game in as many meetings with the host Boissevain Border Kings. Deloraine limited a high-powered Boissevain offense to just one goal in the opening period but the Border Kings added 2 more in the second and 2 in the third to skate away with a 5-0 victory. The Royals took 2 of the 3 minor penalties called in the game. Deloraine will attempt to get their offense back into gear on Friday, December 15 when the team returns home to face the Wawanesa Jets. Wawanesa is back in the League after a few years absence and have former Royals' goaltender Cody Matthewson in net.
Blues Down Royals - Fri. Dec. 8
Final Score: Hartney Blues 9 - Deloraine Royals 1
The Royals' offense could not get into gear in a Friday night game in Hartney versus the Blues. The opposition struck for 3 goals in the first period, 4 more in the second and added 2 in the third. Jay Sunaert broke up the shutout bid early in the final period with the lone goal for the Royals as they went down to a 9-1 defeat.
Scoring Summary:
1. Jay Sunaert ( unassisted )
Royals Fall To Bombers - Fri. Dec. 2
Final Score: Minnedosa Bombers 9 - Deloraine Royals 3
The Royals kept it close in the opening period however the offense of the host Minnedosa Bombers was too much to handle as they skated to a 9-3 win. Deloraine opened the scoring in the 1st period on a goal by Mitch Olson assisted by Jay Sunaert. Minnedosa came back with 3 of their own before Olson added his second of the period to cut the lead to 3-2 at the end of the period. It was all Minnedosa in the second as they scored 3 unanswered goals to take a 6-2 lead. Olson completed his hat trick in the final period assisted by Jared Maxwell and Jordan Barnes however the Bombers also put another 3 tallies on the board to close out their 9-3 victory. The Royals' next action comes on Saturday, December 8 when they head to Hartney to take on the Blues.
Scoring Summary
1. M. Olson - Sunaert
2. M. Olson - Barnes
3. M. Olson - Maxwell - Barnes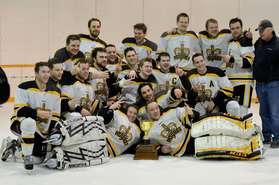 Back To Back THHL Championships 2014/2015 & 2015/2016